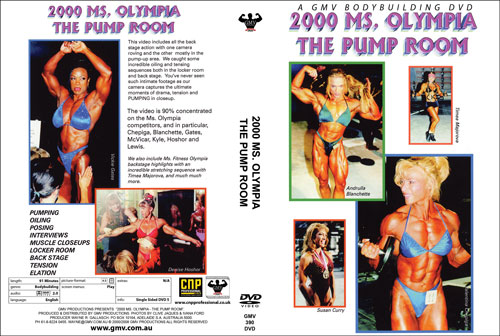 Click here for preview clip
2000 Ms. Olympia: The Pump Room
Also on Digital Download.

This historic release is the first ever Ms. Olympia PUMP ROOM DVD!! You've never seen these muscular women up close like this before. Shot with 2 cameras.

The DVD features:
PUMPING
OILING
POSING
INTERVIEWS
MUSCLE CLOSEUPS
LOCKER ROOM
BACK STAGE
TENSION
ELATION

This DVD includes all the back stage action with one camera roving and the other mostly in the pump-up area. We caught some incredible oiling and tensing sequences both in the locker room and back stage. You've never seen such intimate footage as our camera captures the ultimate moments of drama, tension and PUMPING UP in closeup. The DVD is 90% concentrated on the Ms. Olympia competitors, and in particular, Chepiga, Blanchette, Gates, McVicar, Kyle, Hoshor and Lewis.
VICKIE GATES PHOTO GALLERY.

We also include Ms. Fitness Olympia backstage highlights with an incredible stretching sequence with Timea Majorova, and much much more.
As there was no overall posedown this year between the 2 class winners, this meant that two new Ms. Olympias were crowned for 2000 in Valentina Chepiga and Andrulla Blanchette. Interestingly both were born outside USA with Andrulla from UK and Valentina from Ukraine. The total field may have been small but the
quality was exceptional.

2000 Ms Olympia Results
Lightweights up to 135 pounds
1 Andrulla Blanchette England
2 Brenda Raganot USA
3 Renee Casella USA
4 Cathy LeFrancois Priest Canada
5 Jennifer McVicar USA
Heavyweights over 135 pounds
1 Valentina Chepiga Ukraine
2 Vickie Gates USA
3 Lesa Lewis USA
4 Yaxeni Oriquen Venezuela
5 Iris Kyle USA
6 Denise Hosher USA
7 Th-resa Bostick USA

Please click here for the 2000 Olympia: Women at the Expo & Solo Posing, GMV-389DVD.
Please click here for the 2000 Ms Olympia DVD, A-1002DVD.
Please click here for the 2000 Fitness Olympia DVD, A-1003DVD.
Please click here to see Valentina and Lesa Lewis featured in Women's Muscle Power #11, GMV-438DVD.
Please click here to see a young Andrulla Blanchette in GMV-045DVD.
Please click here to see Yaxeni Oriquen in GMV-569DVD.

Running time: 90 mins

NTSC DVD Only, Open Region.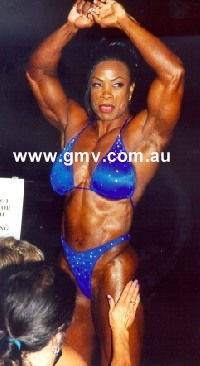 Vicki Gates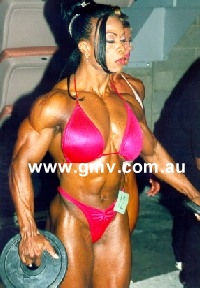 Vicki Gates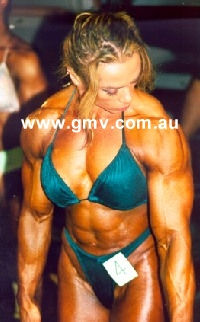 Andrulla Blanchette
Lesa Lewis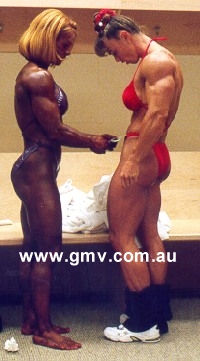 Cathy Priest & Denise Hoshor