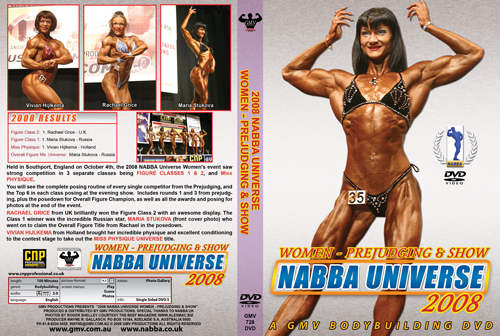 Click here for preview.

2008 NABBA UNIVERSE: WOMEN – PREJUDGING & SHOW
Also available on Digital Download.
Held in Southport, England on October 4th, the 2008 NABBA Universe Women's event saw strong competition in 3 separate classes being FIGURE CLASSES 1 & 2, and Miss PHYSIQUE.
You will see the complete posing routine of every single competitor from the Prejudging, and the Top 6 in each class posing at the evening show. Includes rounds 1 and 3 from prejudging, plus the posedown for Overall Figure Champion, as well as all the awards and posing for photos at the end of the event.
RACHAEL GRICE from UK brilliantly won the Figure Class 2 with an awesome display. The Class 1 winner was the incredible Russian star, MARIA STUKOVA who went on to claim the Overall Figure Title from Rachael in the posedown.
VIVIAN HIJLKEMA from Holland brought her incredible physique and excellent conditioning to the contest stage to take out the MISS PHYSIQUE UNIVERSE title.
Includes a Photo Gallery.
All photos by Roger Shelley courtesy Alex McKenna – The Beef Magazine.
www.alexmac.biz

Special thanks to NABBA UK. www.nabba.co.uk
RUNNING TIME: 100 mins
For details on the 2008 NABBA Universe Men's Prejudging which is GMV-725DVD, please click here.
For details on the 2008 NABBA Universe Men - The Show which is GMV-726DVD, please click here.

SPECIAL DEAL: To purchase both men's DVDs as a Special Deal 2 DVD set, please click here for GMV-727DVDSP.
SUPER SPECIAL DEAL: To purchase the triple pack of both Men's DVDs PLUS The Women's DVD as a Super Special Money Saving Deal, 3 disc set, please click here for GMV-729DVDSP.
Click here to read Wayne's full contest report on the 2008 NABBA Universe.
THE RESULTS: WOMEN'S CLASSES
Figure Class 2

1. Rachael Grice - U.K.
2. Auxiliadora Barbosa - Brazil
3. Viviane Romoguera Santos - Brazil
4. Silvia Finocchi - Brazil
5. Andree Gioanni - France
6. Enza Cordio - Italy
7. Anzhelika Musalimova - Ukraine
8. Irene Nickole - Australia
9. Leticia Garcia Flores Cruz - Mexico
10. Marie Falzon - Malta
Figure Class 1

1. Maria Stukova - Russia
2. Ira Mayan - Israel
3. Lisa Carrodus - Australia
4. Maria Kuzmina - Russia
5. Sonia Chiarabini - Italy
6. Jane Oliveira - Brazil
7. Joanne Sperring - U.K.
8. Coral Moody - Australia
DNP:
Ellen Joppe - Holland
Donna McDonald - U.K.
Klara Dvorakova - Czech Rep
Monique Silleman-Ballema - Holland
Alicia Castillo Soria Lluvia - Mexico
Miss Physique

1. Vivian Hijlkema - Holland
2. Trish Porter - U.K.
3. Valentyna Yefymchuk - Ukraine
4. Riana Beech - Southy Africa
5. Simone Sousa - Brazil
6. Caroline Gaume - France
7. Barbara Carita - Italy
8. Mona Johansson - Sweden
9. Jessica Ghigo - Malta
OVERALL FIGURE MISS UNIVERSE: Maria Stukova - Russia
For the complete 2008 NABBA Universe Results for Men & Women, please click here.
NTSC DVD, OPEN REGION