Click here for preview.

Women's Muscle Power # 14 – Magnificent Muscle Moments
Also available on Digital Download.
Enjoy another international feast of magnificent, muscular, women from our very best shoots over the past 7 years. This material is 99% brand new and exclusive to this latest annual edition of Women's Muscle Power # 14.

It is a combination of mostly posing and pumping by physique women along with some training and pump room segments featuring some top FIGURE and FITNESS women. Another highlight is the various interviews by Kenny Kassel, and then posing by LISA AUKLAND who placed 4th in the 2008 Ms. Olympia.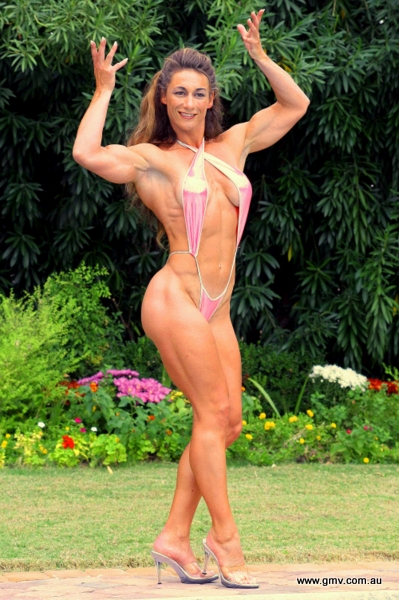 There is a major segment on Dutch IFBB Pro Figure star, MASCHA TIEKEN (PICTURED RIGHT).
SEE MORE PHOTOS BELOW!

The Stars Include:

USA – Lisa Aukland, Betty Pariso, Jenny Lynn, Jen Hendershott, D.J. Wallis, Rosemary Jennings, Monica Brant, Kelly Ryan, Denise Masino, Kim Klein, Nancy DiNino, Sharon Kouvaras, Dina Al-Sabah, Hannah Park.
Canada – Cathy LeFrancois, Kyla McGrath.
Australia – Jo Rogers, Kim Knott.
Germany - Sabine Froschauer, Maria Stigler, Heike Jung, Annett Wittig.
Holland – Mascha Tieken, Desiree Dumpel, Anja Timmer.
Russia – Svitlana Sydoruk, Victoria Zabourdiaeva.
Slovakia – Timea Majorova, Klaudia Kinska.
Venezuela – Betty Viana, Fannie Barrios.
Poland – Aleksandra Kobielak.
Italy – Claudia Casalini.
Brazil – Flavia Crisos.


This DVD also includes scenes from the 2002 Ms. Muscle Beach in Las Vegas, plus
unseen Pump Room footage from the 2003 Women's Olympia and 2004 NABBA Worlds.

Running time: 133 mins including Extra Scenes
Includes a Photo Gallery.

NTSC DVD, OPEN REGION

This DVD is dedicated to our GMV interviewer and my very dear friend, Kenny Kassel 1955-2008, RIP.
Kenny was a GMV team member since 2003.
Special thanks to Raymond Cassar for the photos from the 2008 Ms. International.
All other photos below copyright Wayne Gallasch, GMV Productions.
To see our complete list of Women's Muscle Power releases, please click here.