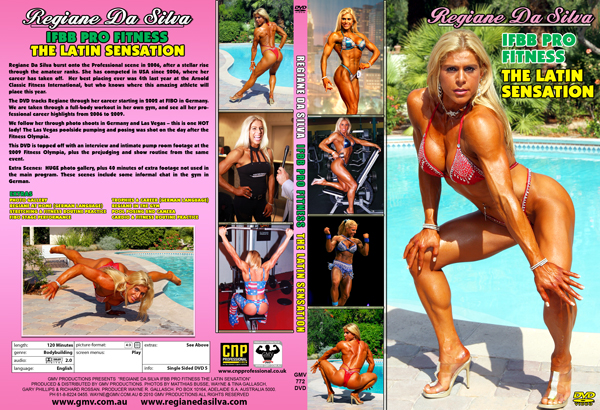 click here for preview.


REGIANE DA SILVA - IFBB FITNESS PRO

Also on Digital Download.

Regiane Da Silva burst onto the Professional scene in 2006, after a stellar rise through the amateur ranks. Regiane has been one of the world's top Fitness Professionals over the last 10 years. The DVD follows Regiane through her career starting in 2002 where she was a sensation at FIBO in Germany.
We are taken through a full-body workout in her own gym, and see her professional career highlights from 2006 to 2009. The routines performed by Regiane are extraordinary in their strength and power.
Our cameras follow her through photo shoots in Germany, and Las Vegas poolside pumping and posing, shot on the day after the Fitness Olympia. As usual Regiane is in sensational shape.
This DVD is topped off with a brief interview with John Hansen and closeup pump room footage at the 2009 Fitness Olympia, plus the prejudging and show routines from the same event. This is the most important Professional Fitness DVD we have ever produced. See more PHOTOS below.
Photo Gallery

Extra Scenes:
PHOTO GALLERY (MASSIVE)
REGIANE AT HOME
STRETCHING & FITNESS ROUTINE PRACTICE
FIBO STAGE PERFORMANCE
TROPHIES & CAREER
REGIANE IN THE GYM
POOL POSING 2ND CAMERA
CARDIO & FITNESS ROUTINE PRACTICE

Running time: 120 mins
Partial Contest History:
2016 IFBB Arnold Classic 5th
2015 IFBB Nordic Pro Fitness 1st
2015 IFBB Arnold Classic 3rd
2015 IFBB Fitness Olympia 4th
2014 IFBB Fitness Olympia 2nd
2014 IFBB Arnold Classic 2nd
2013 IFBB Arnold Classic 5th
2012 IFBB Arnold Classic 12th
2011 IFBB Arnold Classic 7th
2011 IFBB Fitness Olympia 12th
2011 IFBB FIBO Power Pro Germany 1st
2011 IFBB Arnold Classic Europe 3rd

2010
8th IFBB Olympia
4th IFBB Europa Super Show
2nd IFBB Europa Show of Champions
8th IFBB Arnold Classic, Fitness International

2009:
4th Arnold Classic Fitness International and qualified for the 2009 Fitness Olympia
9th Fitness Olympia
2008:
6th Arnold Classic Fitness International and qualified for 2008 Fitness Olympia.
6th Fitness Olympia
2007:
4th New York Pro Fitness
13th Fitness Olympia
(Pro Debut 2006)
2006:
8th Arnold Classic Fitness International
3rd All Stars Pro Fitness Championships - Arkansas (USA) and Qualified for the 2006 Fitness Olympia
10th Fitness Olympia
1st Dutch Grand Prix and Qualified for the 2007 Fitness Olympia.
IFBB Amateur Contests:
2005 IFBB World Fitness Championships 1st place
2005 IFBB European Championships 3rd place
2004 IFBB European Championships 7th place
2003 IFBB World Championships, Santa Susanna, Spain 4th place
2002 IFBB European Championships, Budapest, Hungary 7th place
2002 IFBB International German Championships 2nd place
2001 IFBB World Championsips - Fitness, Rio De Janeiro, Brazil 3rd place
2000 IFBB South American Fitness Championships, Paraguay 1st place
1995 World Aerobics Championships in USA 1st place

Special thanks:
To our FIBO partner and good friend Willy Zdenek of bodyhits.de
Weider/Flex magazine/Mr. Olympia LLC
Bodybuilding.com for the Fitness International footage
Regiane for supplying many of the photos
Andy Olson for the use of his pool and garden, as seen on the front cover and pix below
Photographers Matthias Busse, Richard Rossan, Wayne & Tina Gallasch, Gary Phillips, Clive Jaques
Matthias Busse also shot the gym workout scenes for us in Germany
Steve Wennerstrom for training photos in blue bikini
Ollie Parke for this brilliant cover design!
NTSC DVD, OPEN REGION