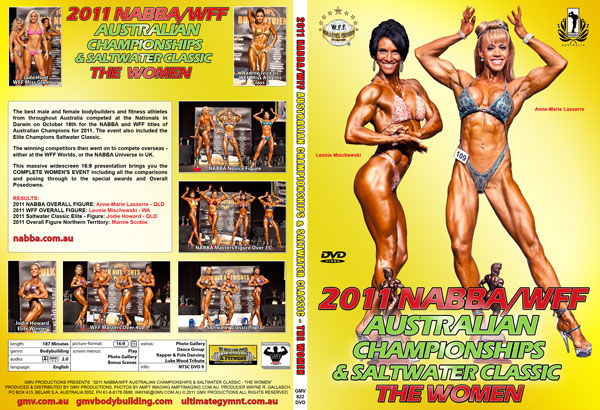 Click here for preview.

2011 NABBA/WFF Australian Championships: The Women

The best male and female bodybuilders and fitness athletes from throughout Australia competed at the Nationals in Darwin on October 16th for the NABBA and WFF titles of Australian Champions for 2011. The event also included the Elite Champions Saltwater Classic and Northern Territory titles.
The winning competitors then went on to compete overseas - either at the WFF Worlds, or the NABBA Universe in UK.
This massive widescreen 16:9 presentation brings you the COMPLETE WOMEN'S EVENT including all the comparisons and posing through to the special awards and Overall Posedowns.
Running time: 187 mins
THE MAIN WINNERS:
2011 NABBA OVERALL FIGURE: Anne-Marie Lasserre - QLD
2011 WFF OVERALL FIGURE: Leonie Mischewski - WA
2011 SALTWATER CLASSIC ELITE - FIGURE: Jodie Howard - QLD
2011 Overall Figure Northern Territory: Marnie Scobie
Shot in Wide Screen 16:9
Click here for the COMPLETE 2011 MEN'S CONTEST, GMV-821DVD.
Click here for the COMPLETE 2011 EVENT 2 DVD SET - MEN & WOMEN, GMV-823DVDSP.
EXTRAS:
Photo Gallery
Dance Group
Rapper & Pole Dancing
Luke Wood tribute
**************************************
Testimonial from Anne-Marie Lasserre, 2011 NABBA Overall Ms. World.
Hello Wayne, 13th January, 2012

Happy New Year and wishing you a successful 2012!!
I just received my copy of the 2011 NABBA Australia DVD and I'd just like to say thank you for the excellent footage and editing. Again you have delivered a masterful piece of documentary. Well done.

As I have mentioned before, thank you for placing me on the cover and on the menu page, it's quite thrilling. I have a big year this year and will keep you posted when I make my TV appearances.

Hope to see you again soon and my regards to Tina.

Best Wishes,
Anne-Marie Lasserre
bodybeyond.net.au
******************************************************
COMPLETE WOMEN'S RESULTS:
Darwin, NT Sunday 16th October, 2011
WFF Miss Glamour
1. Jade Hunt - WA
2. Jennifer Brown - WA
3. Juliet Cotterill - NSW
4. Kelly Trouchet - NT
5. Heather McGee - WA
6. Kylie Stephens - NT
6. Roxanne Dulnoan - NT
6. Siobhan McCloud - VIC
6. Kalila Frewen-Lord - NT
6. Vlatka Dragic - QLD
WFF Masters Women Over 40 yrs
1. Mandy Butler - QLD
2. Simone Moore - VIC
3. Kathy Shaw - QLD
4. Kay Wiseman - NT
WFF Miss Athletic Class 2
1. Nadine Ivicevic - WA
2. Dianna Broderen - QLD
3. Dominique Hathaway - WA
4. Angela Wiseman - NT
5. Cathy McGee - NSW
6. Cassie May - QLD
WFF Miss Athletic Class 1
1. Leonie Mischewski - WA
2. Renata Stojanovski - VIC
3. Georgia Holton - VIC
4. Joanna Wood - VIC
5. Mandy Francisty - TAS
6. Diane Beningfield - NT
6. Mamie Scobie - NT
6. Louise Simonetto - NT
Saltwater Classic Elite - Figure
1. Jodie Howard - QLD
2. Karen Jeffrey - QLD
3. lldiko Gaspar - QLD
4. Coral Moody - QLD
5. Dianne Hunt - WA
6. Vicki Sauerwald - SA
6. Hayley Bertram - QLD
6. Leonie Mischewski - WA
NABBA Novice Figure
1. Linda Dobsey - QLD
2. Deeanne Gabriel - QLD
3. Cleo Ancuta - WA
4. Tara Suomalainen - QLD
5. Kerry Albury - NT
6. Bianca McKenzie - NT
NABBA Masters Figure Over 35
1. Karen Jeffrey - QLD
2. Susan Mansfield - WA
3. Coral Moody - QLD
4. Leisa Wone - QLD
NABBA Open Figure Class 2
1. Jodie Howard - QLD
2. Kyme Brandhoff - WA
3. Dianne Hunt - WA
4. Iva Carnivale - SA
NABBA Open Figure Class 1
1. Anne-Marie Lasserre - QLD
2. lldiko Gaspar - QLD
3. Vicki Sauerwald - SA
4. Sharon Tonkin - WA
5. Hayley Bertram - QLD
2011 NABBA OVERALL FIGURE AUSTRALIA: Anne-Marie Lasserre - QLD
2011 WFF OVERALL FIGURE AUSTRALIA: Leonie Mischewski - WA
2011 SALTWATER CLASSIC ELITE - FIGURE: Jodie Howard - QLD
2011 WFF Miss Glamour: Jade Hunt - WA
2011 Overall Figure Northern Territory: Marnie Scobie
EVENT PROMOTER
Phil Primmer
ULTIMATEGYMNT.COM.AU
NABBA NT PRESIDENT
Chris Hosking

MAJOR SPONSORS
ULTIMATE GYM & FITNESS
ULTIMATEGYMNT.COM.AU
MAX'S
BIOFLEX

MC
Nick Jones

HEAD JUDGE
Mike Divens
NABBA AUSTRALIA & WORLD PRESIDENT
Graeme Lancefield
NABBA.COM.AU
Photos by AMPT Imaging
NTSC DVD, OPEN REGION