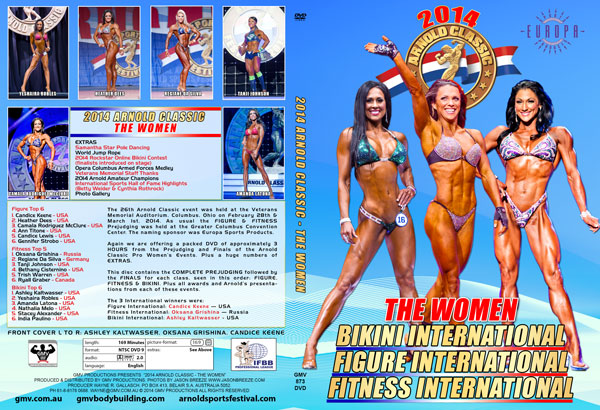 Click here for preview.
2014 Arnold Classic - The Women
Figure International, Fitness International & Bikini International.

FIGURE & FITNESS DOWNLOAD.
BIKINI INTERNATIONAL DOWNLOAD.
The 26th Arnold Classic event was held at the Veterans Memorial Auditorium, Columbus, Ohio on February 28th & March 1st, 2014. As usual the FIGURE & FITNESS Prejudging was held at the Greater Columbus Convention Center. The naming sponsor was Europa Sports Products.
Enjoy a packed DVD of approximately 3 HOURS from the Prejudging and Finals of the Arnold Classic Pro Women's Events.

Click here for the large PHOTO GALLERY.

This disc contains the COMPLETE PREJUDGING followed by the FINALS for each class, seen in this order: FIGURE, FITNESS & BIKINI. Plus all awards and Arnold's presentations to the winners from each of these events.
Plus an amazing number of Extra Scenes.
The 3 International Winners were:
Figure International: Candice Keene – USA
Fitness International: Oksana Grishina – Russia
Bikini International: Ashley Kaltwasser - USA
This was a multiple camera shoot using HD cameras at the Veterans Auditorium, (seen below with the Arnold statue), and accordingly producing outstanding video quality.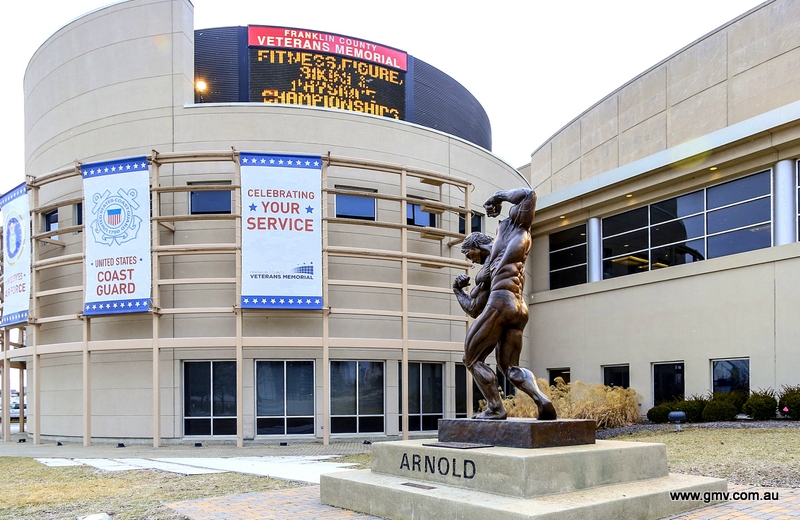 See shortly the PHOTO GALLERY HERE. I would like to specially thank my good friend and longtime helper at the Arnold Classic, JASON BREEZE jasonbreeze.com, for these wonderful contest photos.
EXTRAS:
(Seen in this order)
Samantha Star Pole Dancing - 5 mins
World Jump Rope - 9.5 mins
2014 Rockstar Online Bikini Contest (finalists introduced on stage) - 2.5 mins
Opera Columbus Armed Forces Medley - 6.5 mins
Veterans Memorial Staff Thanks - 1 min
2014 Arnold Amateur Champions - 3 mins
International Sports Hall of Fame Highlights (Betty Weider & Cynthia Rothrock) - 8 mins
Photo Gallery
RUNNING TIMES:
Intro and Opening titles - 2 mins
Figure International - Prejudging - 16 mins
Figure International - The Finals - 20.5 mins
Fitness International - Prejudging - 10.5 mins
Fitness International - The Finals - 49 mins
Bikini International - Prejudging - 17 mins
Bikini International - The Finals - 17 mins
Extra Scenes - 35.5 mins
End Credits - 1.5 mins
Total Running Time: 169 mins

See the COMPLETE ARNOLD CLASSIC DVD COLLECTION.

COMPLETE WOMEN'S RESULTS
2014 Figure International
1. Candice Keene - USA
2. Heather Dees - USA
3. Camala Rodriguez McClure - USA
4. Ann Titone - USA
5. Candice Lewis - USA
6. Gennifer Strobo - USA
7. Alicia Coates - USA
8. Ava Cowan - USA
9. Allison Frahn - USA
10. Amanda Doherty - Australia
11. Dana Ambrose - USA
12. Elissa Martis - USA
13. Larissa Reis - Brazil
14. Karina Grau - Paraguay
15. Giada Simari - Italy
16. Natalie Waples - Canada
17. Kati Alander - Finland
2014 Fitness International
1. Oksana Grishina - Russia
2. Regiane Da Silva - Germany
3. Tanji Johnson - USA
4. Bethany Cisternino - USA
5. Trish Warren - USA
6. Ryall Graber - Canada
7. Melinda Szabo - Hungary
8. Whitney Jones - USA
9. Michelle Blank - USA
10. Kizzy Vaines - UK
11. Allison Ethier - Canada
12. Danielle Ruban - Canada
13. Amanda Hatfield - USA
14. Babette Mulford - USA
2014 Bikini International
1. Ashley Kaltwasser - USA
2. Yeshaira Robles - USA
3. Amanda Latona - USA
4. Nathalia Melo - USA
5. Stacey Alexander - USA
6. India Paulino - USA
7. Courtney King - USA
8. Janet Layug - USA
9. Margret Gnarr - Iceland
10. Justine Munro - Canada
11. Anna Virmajoki - Finland
12. Jennifer Andrews - USA
13. Juliana Daniell - USA
14. Jessica Mone - USA
15. Noy Alexander - USA
16. Anna Starodubtseva - Russia


2014 Arnold Classic Amateur Women

See all of the lineups, key comparisons and callouts plus posing or fitness routines by the top women, and all awards and overall posedowns.

All classes for each division are shown from prejudging through to their finals, and then on to the next division. Bikini classes - Fitness - Bodyfitness (figure) - Masters Bodyfitness (figure).


2014 Arnold Classic Pro Men: Arnold Classic, Arnold Classic 212 & Cyr Dumbbell Lift

Congratulations to DENNIS WOLF of Germany for his victory at the final Arnold event to be held at the historic Veterans Memorial Auditorium. It was an emotional and memorable occasion. USA's Shawn Rhoden placed second with Cedric McMillan in 3rd place.

In the Arnold Classic 212 it was a titanic battle between Flex Lewis and David Henry with FLEX LEWIS emerging as the first ever winner of the Arnold Classic 212. The DVD presents the COMPLETE PREJUDGING & FINALS for both classes.
2014 Arnold Strongman Classic
Enjoy the complete coverage of this incredible display of skill and strength from Days 1 and 2. This DVD covers every moment of each of the 5 events. You will see the world's greatest Strongmen in action as they go head – to - head against each other in these unique challenges of strength, power, stamina and determination.

The DVD includes the COMPLETE ACTION from all five events: THE AUSTRIAN OAK, THE BALE TOTE (YOKE), TIMBER CARRY, THE TIRE DEADLIFT and THE CYR DUMBBELL LIFT. See Zydrunas as he sets an amazing NEW WORLD RECORD of 524.22 kg/1155.70 lb. on the Hummer Tire Lift.
2014 Arnold Classic on Blu-ray

This is the Blu-ray version of the 26th Arnold Classic, held at the Veterans Memorial Auditorium, Columbus, Ohio on February 28th & March 1st, 2014. The inaugural Arnold 212 Prejudging was held at the Greater Columbus Convention Center. It was won by Flex Lewis. The naming sponsor was Europa Sports Products. Congratulations to DENNIS WOLF of Germany for his victory at the final Arnold Classic event to be held at the historic Veterans Memorial Auditorium. It was an emotional and memorable occasion. USA's Shawn Rhoden placed second with Cedric McMillan in 3rd place.

GMV-875BRDVD

The 2014 IFBB Arnold Classic & Arnold Sports Festival are both presented by Classic Productions
www.arnoldsportsfestival.com
www.arnoldclassicbrasil.com.br
www.arnoldclassiceurope.es
www.arnoldclassic.com.au
This Event is Officially Sanctioned by the IFBB Professional League
International President
Rafael Santonja-Gomez
Chairman
Jim Manion
Event Promoters
Jim Lorimer
Bob Lorimer
Classic Productions

Meet Director
Arnold Schwarzenegger
Lifetime Achievement Award
John Balik – Iron Man Magazine
Amateur Contests
Bob Lorimer
Mike Davies
Talent Expeditors
Jeff & Jeanne Lorimer
Expo Administrator
Lucy Pinney
Expo & Events Coordinator
Paul Nagle
Expo & Events Director
Kathy Nagle
Director of Communications
Brent LaLonde
Public Relations
Lorz Communications
Head Judge
Sandy Williamson
Video footage
LIVE! TECHNOLOGIES
Columbus, Ohio
www.reallivepros.com
2014 Arnold Sports Festival
Crew List
Veteran's Memorial
Event Producer
Shawn Loevenguth
Assistant Event Producer
Ruth Payne
Video Director
Tim Jarmain
Stage Managers
Adriana Berger
Carrie Chew
Maxine Mendelson
FOH Audio Engineer
Steve Jones
Audio Engineer
Scott Robinson
FOH Lighting Technician
Michael Hesmond
Lighting Technician
Nathan Martin
Tape Operator
James Lewis
Camera Operators
Ron Caruso
Randy Silcott
Eric Obert
Head Carpenter
Dave Steinmetz
Carpenter
Marce Righthouse
Set Design
Jocelyn McDaniel
Expo Stage
Site Supervisor
Anthony DeMeglio
Audio Technician
Gus Caulk
Lighting Technician
Jon Gillie
Video Director
Greg Rufus
Tape Operator
Jerry Jack
Camera Operators
Dmitriy Kotlar
Mike Dunn
General Technician
Kevin Brown
Figure & Fitness Prejudging Camera
Wayne Gallasch
Masters of Ceremonies
Clint Richards
Lonnie Teper
Photography for DVD
Jason Breeze
Sponsors
Presenting Sponsor
Europa Sports Products
Diamond Sponsors
Hollywood Casino Columbus
MHP
Muscle Pharm
Gold Sponsors
Animal
Bodybuilding.com
BPI Sports
BSN
EAS
Abbott Nutrition
Gaspari Nutrition
Gasp
Better Bodies
Optimum Nutrition
GMV would like to thank:
Bob Lorimer
Brent LaLonde
Jerman Abney
Jason Breeze
Richard Barnet
DVD Produced by
GMV PRODUCTIONS
WEB:
GMV.COM.AU
GMVBODYBUILDING.COM
GMV PRODUCTIONS
ADELAIDE, AUSTRALIA
© WORLD COPYRIGHT 2014

NTSC DVD, OPEN REGION