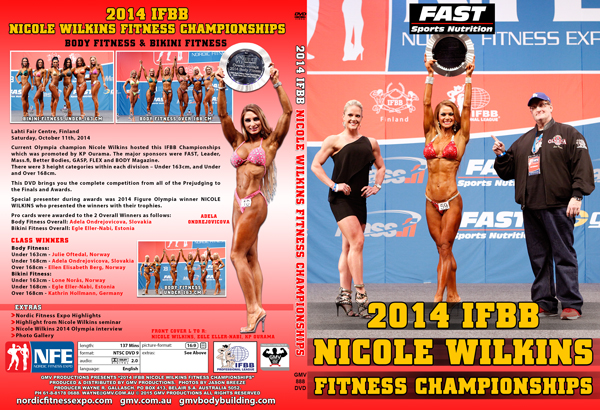 Preview clip.


2014 IFBB Nicole Wilkins Fitness Championships
Body Fitness & Bikini Fitness



Lahti Fair Centre, Finland
Saturday, October 11th, 2014
Current Olympia Figure champion Nicole Wilkins hosted this IFBB Championships which was promoted by KP Ourama. The major sponsors were FAST, Leader, Mass.fi, Better Bodies, GASP, FLEX and BODY Magazine.
There were 3 height categories within each division for BODY FITNESS and BIKINI FITNESS – Under 163cm, and Under and Over 168cm.
This DVD brings you the complete competition from all of the Prejudging to the Finals, Overalls and Awards.

See the PHOTO GALLERY.

Special presenter during awards was 2014 Figure Olympia winner NICOLE WILKINS who presented the winners with their trophies. She was assisted by 1981 Miss Olympia Kike Elomaa.

Pro cards were awarded to the 2 Overall Winners as follows:
Body Fitness Overall: Adela Ondrejovicova, Slovakia
Bikini Fitness Overall: Egle Eller-Nabi, Estonia
Egle Eller-Nabi went on to compete in Nordic Pro Bikini Class that followed.

2014 IFBB Nordic Pro Championships - Pro Men & Pro Bikini

The Men's Prejudging includes all of the compulsory poses and comparisons for each competitor, followed by the evening Finals along with all men's posing routines. This was concluded by the top 5 posedown and awards where ROELLY WINKLAAR was a popular second time winner of this event with Steve Kuclo and Johnnie Jackson taking 2nd and 3rd.

In the Women's Pro Bikini competition TAWNA EUBANKS of USA was the winner from Christina Fjaere of Norway and Sara Back of Finland in 3rd place.
2014 IFBB Finnish Nationals - Men's Bodybuilding, Body Fitness, Fitness & Bikini Fitness

We feature the complete MEN'S BODYBUILDING Competition and all of the Women's Classes that took place on Sunday – BODY FITNESS, FITNESS & BIKINI FITNESS. There were 3 weight divisions for the Men's Bodybuilding, 3 height categories for Body Fitness and 5 height categories for Bikini Fitness.

This DVD brings you the complete competition for the classes listed above.


CLASS WINNERS:
Body Fitness -163cm: Julie Oftedal, Norway
Body Fitness -168cm: Adela Ondrejovicova, Slovakia
Body Fitness +168cm: Ellen Elisabeth Berg, Norway
Bikini Fitness -163cm: Lone Norås, Norway
Bikini Fitness -168cm: Egle Eller-Nabi, Estonia
Bikini Fitness +168cm: Kathrin Hollmann, Germany
EXTRAS:
Nicole Wilkins seminar highlight: 10 mins
Expo - NFE highlights: 4 mins
Nicole Wilkins 2014 Olympia interview: 3 mins
Photo Gallery
RUNNING TIMES:
Prejudging: 44 mins
Finals: 76 mins
Running time of contest: 120 mins
TRT including Extras: 137 mins
PHOTOS:
Jason Breeze & the Nordic Fitness Expo Photo Crew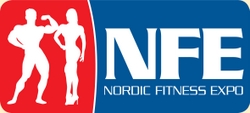 See our Complete List of all DVDs from the NFE and Finland.




2014 IFBB Nicole Wilkins Fitness Championships - Complete Results

Body Fitness -163cm
1. Julie Oftedal, Norway
2. Renata Marcinkute, Lithuania
3. Angela Derzapf, Germany
4. Iina Levanoja, Finland
5. Emelie Lundberg, Sweden
6. Hanna Autti, Finland
Iisa Launiemi, Finland
Sara Karhunen, Finland
Marie Evers , Sweden
Rada Kircheva, Bulgaria
Lill Nicolaisen, Norway
Kristina Skjelberg, Norway
Vibeke Hermansen, Norway
Body Fitness -168cm
1. Adela Ondrejovicova, Slovakia
2. Nadia Isabella Pettersen, Norway
3. Hanna Saario, Finland
4. Katja Paju, Finland
5. Kristine Skjelberg, Norway
6. Sanna Kankaanranta, Finland
Body Fitness +168cm
1. Ellen Elisabeth Berg, Norway
2. Alexandra Hippwell, Germany
3. Elin Hassel, Finland
4. Lesley Barents, Netherlands
5. Bianka Horváth, Hungary
6. Anna Apel, Sweden
DSQ Daiva Varneliene, Lithuania
Body Fitness Overall: Adela Ondrejovicova, Slovakia
Bikini Fitness -163cm
1. Lone Norås, Norway
2. Jaana Malytcheva, Finland
3. Priscilla Haime, Netherlands
4. Linda Michelle Larsen, Norway
5. Laura Klimaviciene, Lithuania
6. Kristina Aleksejeva, Estonia
Riikka Turkumäki, Finland
Annina Weckman, Finland
Linda Danakas, Finland
Sanita Jussila, Finland
Sonja-Sofia Rannanjärvi, Finland
Lisa-Marie Sahlström, Finland
Ann Helen Bergström, Sweden
Tatjana Kreit, Estonia
Regina Krukovskaja, Estonia
Kornelia Pietrzyk, Poland
Sandra Jokic, Norway
DNS Iwona Kowalska, Poland
Bikini Fitness -168cm
1. Egle Eller-Nabi, Estonia
2. Rasa Selemonaviciute, Lithuania
3. Frida Sjöström, Sweden
4. Henriikka Klemetti, Finland
5. Mia Lahti, Finland
6. Pauliina Pakarinen, Finland
Sari Perälä, Finland
Eve Heikkinen, Finland
Niina Laukkanen, Finland
Laura Pojanluoma, Finland
Johanna Guessous, Finland
Zenna Macea, Sweden
Rigneida Provence, Netherlands
Ene Tomingas, Estonia
Signe Tilk, Estonia
Heddi Priivits, Estonia
Irini Barzinskiene, Lithuania
Önnela Raudsepp, Estonia
Bikini Fitness +168cm
1. Kathrin Hollmann, Germany
2. Caroliina Kinnarinen, Finland
3. Camilla Back, Finland
4. Lotta Jänne, Finland
5. Jade-Yolanda Huhtamäki, Finland
6. Eerika Heininen, Finland
Jasmi Qvick, Finland
Sanna Nuutinen, Finland
Mimosa Isomäki, Finland
Shirley van den Bos, Netherlands
Aleksandra Laer, Estonia
Bikini Fitness Overall: Egle Eller-Nabi, Estonia
(Both Overall Winners received Pro Cards.)

THIS EVENT WAS OFFICIALLY SANCTIONED BY THE
IFBB FINLAND / IFBB / IFBB Pro League

IFBB INTERNATIONAL PRESIDENT
Rafael Santonja

IFBB PRO LEAGUE PRESIDENT
Jim Manion

EVENT PRODUCER
KP Ourama
nordicfitnessexpo.com
MC
Armando Marquez

PHOTOS
Jason Breeze
Joni Turunen
Nordic Fitness Expo Photo Crew -
Tomi Rehell, Tapani Moisala, Tommi Mankki
MAIN SPONSORS
FAST
Leader
Mass.fi
Better Bodies
GASP
FLEX
BODY Magazine

EVENT PARTNERS
Cumulus
Sokos Hotel Lahden Seurahuone
Ab Hur Oy
Multiprint Oy
Hertz
K&M Fitness Centre

MEDIA PARTNERS
FLEX
BODY Magazine
Muscular Development
East Labs
Body-Xtreme.de
Team Andro
GMV Productions

ON STAGE JUDGE
Natalia Nazarenko - Kiivikas
STAGE EXPEDITER
Ivan Penkov
EXPO COORDINATOR
Petri Helenius

SPECIAL THANKS
KP Ourama
Nicole Wilkins
Kike Elomaa
Pasi Lakaniemi
Riku Jaro / Ohjelma-akseli
for lighting and sound
Samuli Kasurinen
Ville Virtanen

GMV THANKS
Markus Kangas
Finnair
Jason Breeze jasonbreeze.com
Tomi Rehell
Joni Turunen
Ari Tuukkanen

VIDEOGRAPHY
Wayne R. Gallasch
Markus Kangas

EDITING, GRAPHICS & AUTHORING
Ollie Parke

NTSC DVD, OPEN REGION