2014 Arnold Classic Amateur Women

The 2014 IFBB Arnold Classic & Arnold Sports Festival are Presented by Classic Productions.
Celebrating the 26th Anniversary of the Arnold Classic.

Held at the Greater Columbus Convention Center and the Veterans Memorial Auditorium, Columbus, Ohio February 27th to March 1st, 2014.

*Setting a new record as the BIGGEST WOMEN'S CONTEST DVD WE HAVE EVER RELEASED!

This massive DVD of over 4 hours presents every current class in IFBB women's competition. There are many world class female athletes competing in the various categories, showcasing the top amateur women in the world.
See the PHOTO GALLERY.
DVD CONTENT:
See all of the lineups, key comparisons and callouts plus posing or fitness routines by the top women, and all awards and overall posedowns.
All classes for each division are shown from prejudging through to their finals, and then on to the next division.
Division are shown in this order:
Bikini classes
Fitness
Bodyfitness (figure)
Masters Bodyfitness (figure)
Women's Physique
The 5 Overall Winners were:
WOMEN'S PHYSIQUE OVERALL: Bruna da Costa Miyagui (Brasil)
WOMEN'S FITNESS OVERALL: Aurika Tyrgale (Russia)
WOMEN'S BODY FITNESS OVERALL: Andressa Ribeiro (Brasil)
WOMEN'S MASTERS BODYFITNESS (FIGURE) OVERALL: Jessica MacMillan (Canada)
WOMEN'S BIKINI OVERALL: Kenea Yancey (United States) (Pictured lower right)
The 3 winners depicted front cover are L to R..Andressa Ribeiro (Brasil), Kenea Yancey (United States) and Bruna da Costa Miyagui (Brasil).
The other 2 winners are pictured on the rear...Jessica MacMillan (Canada) and Aurika Tyrgale (Russia).

Extras:
Amateur Winners introduced at the Pro Show Finals
Amateur Women's Photo Gallery
Running time: 255 mins
Photos by Carl Wade BRONZEMINK@YAHOO.COM
Complete Women's Results: See below listing every competitor.


2014 Arnold Classic - The Women: Figure International, Fitness International & Bikini International

Enjoy a packed DVD of approximately 3 HOURS from the Prejudging and Finals of the Arnold Classic Pro Women's Events. Plus a huge numbers of EXTRAS. This disc contains the COMPLETE PREJUDGING followed by the FINALS for each class, seen in this order: FIGURE, FITNESS & BIKINI.

Plus all awards and Arnold's presentations to the winners from each of these events. The 3 International Winners were: Figure International: Candice Keene – USA, Fitness International: Oksana Grishina – Russia and Bikini International: Ashley Kaltwasser - USA.
See the COMPLETE 2014 ARNOLD CLASSIC AMATEUR RESULTS, MEN & WOMEN.
See the COMPLETE 2014 ARNOLD CLASSIC PRO RESULTS, MEN, WOMEN & STRONGMAN.
See the COMPLETE ARNOLD CLASSIC DVD COLLECTION.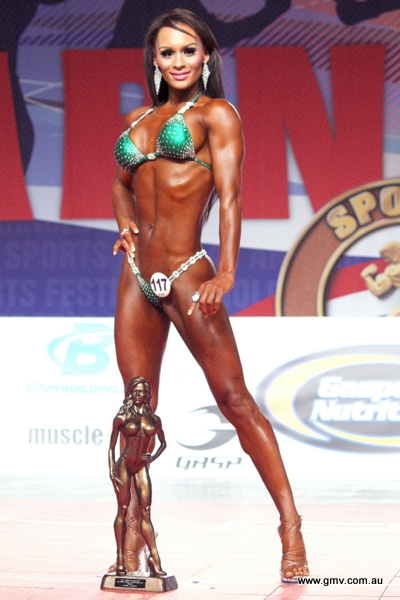 THE WOMEN's RESULTS:

WOMEN'S PHYSIQUE OVERALL: Bruna da Costa Miyagui (Brasil)
Short up to 163 cm
1. Bruna da Costa Miyagui (Brasil))
2. Rosanna Harte (United Kingdom)
3. Giudittta Magazzino (Italy)
4. Margaret Negrete (USA)
5. Federica Gastaldi (Italy)
6. Luciane Vieira (Brasil)
7. April Dumouchel (Czech Republic)
8. Karolina Holubcová
9. Marisol Solis (Mexico)
10. Toni Wheeler (USA)
11. Teresa Heron (Canada)
12. Brewer Eklund (USA)
13. Carina Espinoza (Argentina)
14. Jeante Argandoã
15. Marea Warde (United Kingdom)
16. Amy Mendez (USA)
17. Gwen Fuerte (USA)
18. Lada Plihalova (Czech Republic)
18. Silvia Matta (Italy)
18. Britney Sheehan (USA)
18. Chanthavivone Gamble (USA)
Tall over 163 cm
1. Joan Liew (Singapore)
2. Ester Parisi (Italy)
3. Paola Sanchez (Dominican Republic)
4. Katie Lee (USA)
5. Lorena Inarra (Spain)
6. Camila Mendes de Campos (Brasil)
7. Lucy Cerantula (Canada)
8. Dr. Alexandra Heberger (Canada)
9. Evy Rustad (Norway)
10. Toni Hill (USA)
11. Robin Eve (Canada)
12. Julia Foery (Switzerland)
13. Hayley Brylewski (United Kingdom)
14. Iris Swatuk (Canada)
15. Bianca Antunes Nobrega (Brasil)
16. Reshanna Boswell (USA)
17. Christine Henson (USA)
17. Samantha Bourassa (Canada)
17. Nicole Sill (USA)
17. Jennifer Scott (USA)
17. Kristina VanderWaal (USA)
17. Jorine Wieringa (Netherlands)
DQ Suzy Kellner (USA)
WOMEN'S FITNESS OVERALL: Aurika Tyrgale (Russia)
Short up to 163 cm
1. Aurika Tyrgale (Russia)
2. Kristine Duba (USA)
3. Yanina Terragni (Argentina)
4. Cicely Kyle (USA)
5. Anna-Elise Bowman (USA)
6. Christine Ray (Australia)
7. Amber Parsley (USA)
8. Donnice Christian (USA)
9. Toni Wheeler (USA)
10. Monica Vargas (USA)
11. Kendra Stiffler (USA)
12. Sydney Gilpin (USA)
Tall over 163 cm
1. Oksana Orobets (Ukraine)
2. Marta Aguiar (Uruguay)
3. Brittany Kanne (Canada)
4. Giorgia Foroni (Italy)
5. Samantha Sage (USA)
6. Alyssa Gualtieri (USA)
WOMEN'S BODY FITNESS OVERALL: Andressa Ribeiro (Brasil)
Figure A Class up to 160 cm
1. Jessica MacMillan (Canada)
2. Angela Derzapf (Germany)
3. Jessica Coate (New Zealand)
4. Janaína Ferreira da Silva (Brasil)
5. Stina Telhammer (Sweden)
6. Nora Martinez (Paraguay)
7. Valentina Mazzola (Italy)
8. Ekaterina Grima (Ukraine)
9. Cristina Romano (Italy)
10. Marjan Washington (USA)
11. Allessandra Tantari (Italy)
12. Katrina Kocielska (Canada)
13. Olesia Plikus (Russia)
14. Kristine Duba (USA)
15. Loreto Del Carmen Soto (Chile)
Figure B Class up to 163 cm
1. Rosimar Lopes (Brasil)
2. Macha Douard (Canada)
3. Yaroslava Nikolaeva (Russia)
4. Ania Anvaryfar (Canada)
5. Susse Hougaard (Denmark)
6. Shay Diggs (USA)
7. Karolina Botkova (United Kingdom)
8. Nicole Schepp (Canada)
9. Sabrina Burgess (Bermuda)
10. Julia Emanuele (Canada)
11. Sarah Parks (USA)
12. Reem Al-Bareeq (United KIngdom)
13. Cecilie Lind (Denmark)
14. Karla Plott (USA)
15. Alicia McDowell (USA)
16. Laura Marenco (El Salvador)
17. Competitor was not named on the judging sheet
18. Mandy Hill (USA)
19. Jaimy Maktari (USA)
20. Jheaneale Bahadosingh (Bahamas)
DQ Nathalia Santoro (USA)
Figure C Class up to 166 cm
1. Andressa Ribeiro (Brasil)
2. Maria Scotland (United Kingdom)
3. Solveig Wilhelms (Norway)
4. Eszter Patti (United Kingdom)
5. Sarah Gacsy (USA)
6. Vanesa Burke (USA)
7. Carli Terepka (USA)
8. Brandy Red Smith (USA)
9. Haidy Cruz (Dominican Republic)
10. Samantha Sage (USA)
11. Canan Yavas (Netherlands)
12. Renee Black (USA)
13. Jennifer Salinas (USA)
Figure D Class up to 169 cm
1. Renata Guaraciaba (Brasil)
2. Lucrecia Tolkachier (Argentina)
3. Nury Perez (Mexico)
4. Samantha Smith (USA)
5. Oksana Blanyuk (USA)
6. Eliyan Lobez (Austalia)
7. Zuleica Rezende (USA)
8. Carri Woodgerd (USA)
9. Elena Cuzuioc (Italy)
10. Ranae Cann (Bermuda)
11. Sonia Lopez (Honduras)
12. Charlene Gilbert (Canada)
13. Lesley Barents (Netherlands)
14. Laura Stevenson (Canada)
15. Maria Lepe (USA)
16. Katherine Glen (Canada)
17. Beata Antoninas (Canada)
18. Amanda Graham (USA)
19. L. Dawn Charlton (Bahamas)
20. Shameella Simons (Bermuda)
Figure E Class over 169 cm
1. Rachel Killam (Canada)
2. Andy Forbes (Australia)
3. Katalin Jasztrab (Hungary)
4. Emillie-Jean Bisgrove-Cole (Australia)
5. Kristin Russell (USA)
6. Virginia Kinkel (USA)
7. Marcelle Collisson (South Africa)
8. Viaura Centeno (U.S. Virgin Island)
9. Melissa Moen (USA)
10. Shirley van den Bos (Netherlands)
11. Rosemarie Roodenburg (Netherlands)
WOMEN'S MASTERS BODYFITNESS (FIGURE) OVERALL: Jessica MacMillan (Canada)
Short up to 163 cm
1. Jessica MacMillan (USA)
2. Ania Anvaryfar (Candada)
3. Brigitte Subrin (France)
4. Viviana Gimenez (Paraguay)
5. Heidi Jentes (USA)
6. Sônia Tavares (Brasil)
7. Cristina Romano (Italy)
8. Nicole Schepp (Canada)
9. Joesfina Monsivais (USA)
10. Jaimy Maktari (USA)
11. Patrizia Garnero (Italy)
12. Melitta Simmons (USA)
13. Laura Lee Bater (Canada)
14. Beth Marie Siracuse (USA)
15. Deb Seyler (USA)
16. Kim Gramlich (Canada)
16. Loreto Del Carmen Soto (Chile)
16. Linda Jensen (Denmark)
16. Sabine Firmin Guidon (New Caledonia)
16. Jessica Baldeon (Peru)
16. Nadya Cortes-Spight (USA)
16. Viviana Smerilli (USA)
16. Melissa Norgart (USA)
16. Theresa Lombardo (USA)
16. Dusty Smith (USA)
16. Sarah Parks (USA)
16. Jennifer Hill (USA)
Medium up to 168 cm
1. Maria Scotland (United Kingdom)
2. Zuleica Rezende (USA)
3. Brandy Red Smith (USA)
4. Yolanda Tillman (USA)
5. Jodie Parker (Australia)
6. Federica Ghezzi (Italy)
7. Sharon Fillyaw (USA)
8. Haidy Cruz (Dominican Republic)
9. Ursula Domingues (Brasil)
10. Katherine Glen (Canada)
11. Mayra Baez (Mexico)
12. Canan Yavas (Netherlands)
13. Sophie Haddad (USA)
14. Heidi Giffin (USA)
15. Sandy Wilkerson (USA)
Tall over 168 cm
1. Paola Sanchez (Dominican Republic)
2. Tina Glass (USA)
3. Martha Lope (Mexico)
4. Rosalind Alexander (Singapore)
5. Rosemarie Roodenburg (Netherlands)
WOMEN'S BIKINI OVERALL: Kenea Yancey (United States)

Bikini A Class up to 160 cm
1. Romina Basualdo (Argentina)
2. Anya Ells (Canada)
3. Virág Kiss (Hungary)
4. Angie Mellon (USA)
5. Ashley Sisko (USA)
6. Nikki Jenkins Robinsons (United Kingdom)
7. Veronica Zamora (Mexico)
8. Maddie Abrams (USA)
9. Julenoy Dias Vieira (Brasil)
10. Arlena Oliva (USA)
11. Amanda Fils-Aime (USA)
12. Clarissa Campos de Oliveira (Brasil)
13. Katalin Egervári (Hungary)
14. Amanda Fantell (USA)
15. Farncesca Biondi (Italy)
16. Lauren Huddleston (USA)
17. Yulia Pudovikova (Russia)
17. Alice Bellia (Italy)
17. Melanie Albert (Canada)
17. Virginia Coffman (Philippines)
17. Carolina Solano (Dominican Republic)
17. Karime Moreno (Mexico)
17. Marissa Rodrigeuz (Canada)
17. Rosalyn Flores (Philippines)
17. Ying Zhao (Hong Kong)
17. Ericka Morgan (Guatemala)
17. Zina Figgiani (USA)
17. Megan Divincenzo (USA)
17. April Wintle (USA)
17. Marne Wilson (USA)
17. Amanda Barango (USA)
17. Gabriela Hosakova (USA)
17. Kimberly Turner (USA)
17. Michelle Kling (USA)
17. Emily Cesefske (USA)
17. Shannon O'Shea (USA)
17. Jolie Mosser (USA)
17. Karen Hardy (USA)
17. Elena Spinu (USA)
17. Naylan Pulaski (USA)
17. Kiah Douglas (USA)
17. Sachie Sonkin (USA)
17. Cydney Herndon (USA)
17. Rachel Antal (USA)
17. Julia Souza (USA)
17. Kristina Feduik (USA)
17. Aimee Chandara (USA)
17. Payton Whitt (USA)
17. Jennifer Espinoza (USA)
17. Joey Guz (USA)
17. Tumeko Allen (USA)
17. Arlene Hanson (USA)
17. Angelica Angel-Robert (USA)
17. Renee Hagans (USA)
17. Je Williams (USA)
Bikini B Class up to 163 cm
1. Shelagh Paton (Canada)
2. Oksana Artemova (Russia)
3. Yana Kashcheeva (Russia)
4. Julie Royer (Canada)
5. Maidê Salles Nogueira (Brasil)
6. Giannina Lujan-Ripoli (Peru)
7. Heather Hayes (USA)
8. Samantha Hastings (USA)
9. Naiara Schubert (Brasil)
10. Tiffany Ranalli (USA)
11. Anita Bekus (United Kingdom)
12. Heather Rickard (USA)
13. Andrea Secara (USA)
14. Ágnes Sebestyén (Hungary)
15. Antonella Trantaki (German)
16. Christel Yr Johansen (Iceland)
16. Tracy Gramer (USA)
16. Jill Smeltz-Klinker (USA)
16. Traci Kilgore (USA)
16. Melanie Evans (USA)
16. Brittany Mclntyre (USA)
16. Maizee Demske (USA)
16. Stephanie Winter (USA)
16. Torrey Peak (USA)
16. Chelsea Christene (USA)
16. Gabriela Mendieta (USA)
16. Heather Caster (USA)
16. Danielle Sudbeck (USA)
16. Courtney Jacobs (USA)
16. Cassandra Sarver (USA)
16. Cleo Brown (USA)
16. Melanie Galles (USA)
16. Casey Adkins (USA)
16. Lindsey Flowers (USA)
Bikini C Class up to 166 cm
1. Kenea Yancey (USA)
2. Sheena Martin (New Zealand)
3. Tiffany Inboden (USA)
4. Lisa Marie Tydings (USA)
5. Cara Dukes (USA)
6. Britainie DeGarbott (USA)
7. Ekaterina Usmanova (Russia)
8. Nina Ross (United Kingdom)
9. Keishawna Griffin (USA)
10. Beth Hall (USA)
11. Sarah Allen (Australia)
12. Vladyslava Selitbovska (Ukraine)
13. Chantelle Harvey-Houghton
14. Olga Olafsdóttir (Iceland)
15. Alane Ayet Adapt (USA)
16. Liudmila Melik-Eganova (USA)
16. Zinaida Rudenko (Russia)
16. Tess de Wild (Netherlands)
16. Federica Gobbetti (Italy)
16. Phyllis Frempong (USA)
16. Allison Solomon (USA)
16. Gergana Stambolieva (USA)
16. Tiffany Robertson (USA)
16. Tayler Parry (USA)
16. Cherie Robar (USA)
16. Kadian Mijic (USA)
16. Kathryn Schlake (USA)
16. MarJeana DeHayes (USA)
16. Clarissa Powell (USA)
Bikini D Class up to 169 cm
1. Kerri Keller (USA)
2. Aimee Chitty (New Zealand)
3. Marina Diaz (France)
4. Mimi Macias (USA)
5. Sophie Guidolin (Australia)
6. Olga Viazmetinova (Ukraine)
7. Alzira Rodriguez (Dominican Republic)
8. Irina Vasilyeva (Russia)
9. Alaina Ravens (USA)
10. Olivia McIntire (USA)
11. Ashley Nelson (USA)
12. Olivia London (Canada)
13. Alesia Chuchkevich (USA)
14. Egle Eller-Nabi (Estonia)
15. Lisa Netherly (USA)
16. Diana Delgado (Ecuador)
17. Kristin Gunnarsdottir (Iceland)
17. Missraeli Serrano (Mexico)
17. Alina Stepanova (Russia)
17. Summer Nelson (USA)
17. Kennetha Harris-Godfrey (USA)
17. Audray Hunt (USA)
17. Lauren D'Errico (USA)
17. Yitzel Mansour (USA)
17. Vivian Hodges (USA)
17. Jana Costa (USA)
17. Melissa Simpson (USA)
Bikini E Class up to 172 cm
1. Liana Moroz (Russia)
2. Magnea Gunnarsdottir (Iceland)
3. Cassandra Marshall (USA)
4. Alexis Young (USA)
5. Alexis Nicole (USA)
6. Gabriella Rákóczi (Hungary)
7. Jessica Bish (USA)
8. Tressia Murphy (Canada)
9. Deavin Bowser (USA)
10. Ekaterina Timofeeva (Russia)
11. Jenna Lithgow (South Africa)
12. Shawna McClosky (USA)
13. Sandra Tavarez (USA)
14. Stephanie Gemmer (USA)
15. Tiffany Morice (USA)
16. Leslie Lewis (USA)
17. Katalin Jasztrab (Hungary)
Bikini F Class over 172 cm
1. Anna Kiseleva (Russia)
2. Nini Gøthler (Denmark)
3. Brittany Brinkman (USA)
4. Amy Bella (USA)
5. Jill Bunny (Canada)
6. Kathrin Hollmann (Germany)
7. Vanessa Albarran (USA)
8. Traisha Martin (USA)
9. Carley Wissner (USA)
10. Aoalheiour Yr Ólafsdóttir (Iceland)
11. Jenni Aaskov (Denmark)
12. Alexandra Roane (USA)
13. Andrea DeOrio (USA)
14. Brittany Gill (USA)
15. Helen Fritsch (USA)

The 2014 IFBB Arnold Classic & Arnold Sports Festival are both Presented by Classic Productions
www.arnoldsportsfestival.com
www.arnoldclassicbrasil.com.br
www.arnoldclassiceurope.es
www.arnoldclassic.com.au

This Event is Officially Sanctioned by the IFBB Professional League
International President
Rafael Santonja-Gomez
Chairman
Jim Manion
Event Promoters
Jim Lorimer
Bob Lorimer
Classic Productions

Meet Director
Arnold Schwarzenegger
Amateur Contests
Bob Lorimer
Mike Davies
Masters of Ceremonies
Shawn Ray
Natalie Calland
Talent Expeditors
Jeff & Jeanne Lorimer
Expo Administrator
Lucy Pinney
Expo & Events Coordinator
Paul Nagle
Expo & Events Director
Kathy Nagle
Director of Communications
Brent LaLonde
Strongman Contest
Dr. Terry Todd
Steve Slater
Public Relations
Lorz Communications
Head Judges
Pawel Filleborn
Gary Udit
Video footage
LIVE! TECHNOLOGIES
Columbus, Ohio
www.reallivepros.com
2014 Arnold Sports Festival Crew List
Veteran's Memorial
Event Producer
Shawn Loevenguth
Assistant Event Producer
Ruth Payne
Video Director
Tim Jarmain
Stage Managers
Adriana Berger
Carrie Chew
Maxine Mendelson
FOH Audio Engineer
Steve Jones
Audio Engineer
Scott Robinson
FOH Lighting Technician
Michael Hesmond
Lighting Technician
Nathan Martin
Tape Operator
James Lewis
Camera Operators
Ron Caruso
Randy Silcott
Eric Obert
Head Carpenter
Dave Steinmetz
Carpenter
Marce Righthouse
Set Design
Jocelyn McDaniel
Expo Stage
Site Supervisor
Anthony DeMeglio
Audio Technician
Gus Caulk
Lighting Technician
Jon Gillie
Video Director
Greg Rufus
Tape Operator
Jerry Jack
Camera Operators
Dmitriy Kotlar
Mike Dunn
General Technician
Kevin Brown
Photography for DVD
Carl Wade bronzemink@yahoo.com
Wayne Gallasch
Sponsors:
Presenting Sponsor
Europa Sports Products
Diamond Sponsors
Hollywood Casino Columbus
MHP
Muscle Pharm
Gold Sponsors
Animal
Bodybuilding.com
BPI Sports
BSN
EAS
Abbott Nutrition
Gaspari Nutrition
Gasp
Better Bodies
Optimum Nutrition
GMV would like to thank:
Bob Lorimer
Brent LaLonde
Jerman Abney
Carl Wade
Richard Barnet
Wayne Gallasch for additional video footage
DVD Produced by
GMV PRODUCTIONS
WEB:
GMV.COM.AU
GMVBODYBUILDING.COM
GMV PRODUCTIONS
ADELAIDE, AUSTRALIA
© WORLD COPYRIGHT 2015
NTSC DVD, OPEN REGION