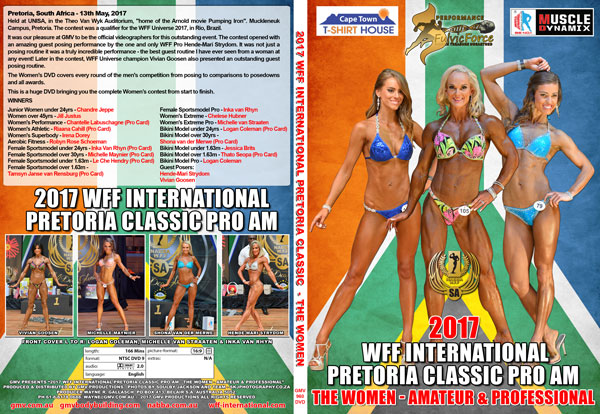 Preview clip.

2017 WFF International Pretoria Classic Pro Am - The Women's DVD
Amateur & Professional

Pretoria, South Africa 13th May, 2017
Held at UNISA, in the Theo Van Wyk Auditorium, "home of the Arnold movie Pumping Iron". Muckleneuk Campus, Pretoria. The contest was a qualifier for the WFF Universe 2017, in Rio, Brazil.

YOU MAY ALSO PRE-ORDER AN HD VIDEO FILE OF ANY CLASS OF YOUR CHOICE, EMAILED TO YOU. See GMV-961VF.
IT WILL ALSO INCLUDE ANY OVERALL POSEDOWN THAT A COMPETITOR MAY BE INVOLVED IN.

It was our pleasure at GMV to be the official videographers for this outstanding event. The contest opened with an amazing guest posing performance by the one and only WFF Pro Hende-Mari Strydom. It was not just a posing routine it was a truly incredible performance - the best guest routine I have ever seen from a woman at any event! Later in the contest, WFF Universe champion Vivian Goosen also presented an outstanding guest posing routine.
The Women's DVD covers every round of the men's competition from posing to comparisons to posedowns and all awards.
This is a huge DVD bringing you the complete Women's contest from start to finish.

A total of 15 Pro Cards were awarded to the well-deserving champions, men and women. Congratulations to these athletes, see list below.
COMPLETE RESULTS LISTING MEN & WOMEN.

Running time: 166 mins
2017 WFF International Pretoria Classic Pro Am - Complete results

Pretoria, South Africa 13th May, 2017
THE WOMEN
Junior Women - Under 24 years
1. Chandre Jeppe
Women Over 45
1. Jill Justus
2. Dalene Sonnekus
3. Rita Pieterse
Women's Performance
1. Chantelle Labuschagne
2. Julie Carletti
Women's Athletic
1. Riaana Cahill
2. Belinda De Jong
3. Liesl Damstra
4. Landie Coetzee
Women's Superbody
1. Irena Dorey
Aerobic Fitness
1. Robyn Rose Schoeman
2. Sandra Bosman
Female Sports Model Under 24
1. Inka van Rhyn
2. Anel Coetzee
3. Sabrina Ferrari
4. Nadine Steenikamp
Female Sports Model Over 30
1. Doret Rademan
2. Mia Raad
Female Sports Model Under 163 cms
1. Le Che Hendry
2. Louise du Preez
3. Tanya Lombard
4. Leanne Keelips
Female Sports Model Over 163 cms
1. Tamsyn Janse van Rensburg
2. Meghan Hennessy
Female Sports Model Pro
1. Inka van Rhyn
2. Annelize Venter
3. Le Che Hendry
NP
Michelle Maynier
Tamsyn Janse van Rensburg
Women's Extreme
1. Chelese Hubner
Women's Extreme WFF Pro
1. Michelle van Straaten
2. Zola Mbanguta
Bikini Model Under 24
1. Logan Coleman
2. Robyn Rose Schoeman
3. Valentina Solito
4. Elme Mostert
5. Coreen Meiring
Bikini Model Over 30
1. Shona Van der Merwe
2. Amy Zinserling
3. Janice Pondicas
4. Roxy Swanepoel
Bikini Model Under 163 cms
1. Jessica Brits
2. Rachel Chlup
3. Tioflo Nfila
Bikini Model Over 163 cms
1. Thato Seopa
2. Mikaela De Vaal
3. Talitha Jacobs
4. Mariette Fourie
Bikini Model Pro
1. Altus Deetlefts
2. Zola Mbanguta
3. Jannie Coetzee
PRO CARDS AWARDED at the 2017 WFF PRETORIA CLASSIC:
Thato Seopa
Shona van der Merwe
Godwin Simbarashe
Logan Coleman
Michael Appelcryn
Wesley Robertson
Darian Duval
Inka van Rhyn
Tamsyn Janse van Rensburg
Le Che Hendry
Michelle Maynier
Henco Strydom
Riaana Cahill
Osh Radebe
Chantelle Labuschagne
Guest Posers:
Vivian Goosen - WFF Universe World champion
Hende-Mari Strydom - WFF PRO

***********************************

THIS EVENT IS SANCTIONED BY WFF INTERNATIONAL
wff-international.com
WFF WORLD PRESIDENT:
Graeme Lancefield
Contest Promoter:
Alet Lemmer
WFF South Africa President
www.facebook.com/Nabba-WFF-SA-308458052508502/
www.facebook.com/wffsaworlds/
www.facebook.com/FabulossPhysiques/
Judges' Coordinator:
Bev Scott
MC:
Riaan Grobler
Head Judge:
Manie Lemmer

Assistant chief Judge:
Victor Alley
Special thanks to the 9 judges:- Anita Visser, Gontse Sechele, Gawie Nel, Irene Alley, Cherie Loomes, Thiziana le Roux, Joe Laubsher, Vic Alley, Ronnie Koen
Backstage and Stage Crew:
Allistair Watson, Elize Strydom, Joe Loubsher, Nicole de Chalaine, Chriselle Beukes, Chani Steyn, Shenda van Eeden, Ruan du Preez en Luandre v Zyl, Elrik Deale
Guest Posers:
Vivian Goosen WFF Universe World champion and Hende-Mari Strydom WFF PRO
Photographer:
Soulby Jackson and Team
www.skjphotography.co.za
Facebook @skjphotographer
Instagram soulby_skjphoto
Main Product and financial sponsors:
Muscle Dynamix Be No1, Sias van Rensburg, CT T-shirt Company, Fulvic Force, ALLJOY, Atlas Tyres, OI clothing, Trifocus
WFF South Africa Special Thanks:
All Judges, officials, helpers, administrators, Expo exhibitors, trophy presenters, trophy donators, Audio & Lighting team - Unisa & Corne Jacobs, Theo Van Wyk Auditorium staff, caterers and Sheraton Pretoria event hotel.
Special Thanks:
Lemmer family: Manie snr Lemmer, Manie Lemmer, Marlize Lemmer, Stian Lemmer, Chantell Lemmer
GMV's Special Thanks:
Jacek Guzak
Alet & Manie Lemmer
Percy Sikhosana
Cameraman:
Wayne Gallasch
assisted by Dion Justus
Editing:
Wayne Gallasch
Ollie Parke - also cover design & DVD authoring
GMV PRODUCTIONS
ADELAIDE, AUSTRALIA
© WORLD COPYRIGHT 2017