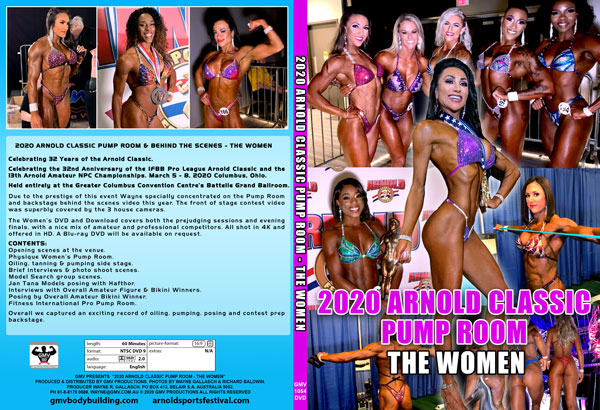 2020 Arnold Classic Pump Room - The Women.

VIDEO DOWNLOAD HD 1080p.
Celebrating 32 Years of the Arnold Classic. February 28 – March 5 – 8, 2020 Columbus, Ohio. Held entirely at the Greater Columbus Convention Centre's Battelle Grand Ballroom.

Due to the prestige of this event Wayne specially concentrated on the Pump Room and backstage behind the scenes video this year. The front of stage contest video was superbly covered by the 3 house cameras.

PHOTO GALLERY.
The Women's DVD and Download covers both the prejudging sessions and evening finals, with a nice mix of amateur and professional competitors. All shot in 4K and offered in HD. A Blu-ray DVD will be available on request. This is the BEST QUALITY Women's Pump Room video we have ever released.
ORDER of CONTENTS:
Opening scenes at the venue.
Physique Women's Pump Room.
Oiling, tanning & pumping side stage.
Brief interviews & photo shoot scenes.
Model Search group scenes.
Jan Tana Models posing with Hafthor.
Interviews with Overall Amateur Figure & Bikini Winners.
Posing by Overall Amateur Bikini Winner.
Fitness International Pro Pump Room.
Overall we captured an exciting record of oiling, pumping, posing and contest prep backstage and side stage.
Running time: 60 mins.
Cover photos: Wayne Gallasch
The Photo Gallery from our 2 photographers, Wayne Gallasch & Richard Baldwin will be linked shortly.

Full Women's Results can be found here:
PROFESSIONAL WOMEN.
AMATEURS - MEN & WOMEN.
******

The 2020 IFBB Arnold Classic & Arnold Sports Festival are Presented by Classic Productions.
www.arnoldsportsfestival.com
www.arnoldclassicbrasil.com.br
www.arnoldclassiceurope.es
www.arnoldclassic.com.au
www.arnoldclassicafrica.com
This Event is Officially Sanctioned by the IFBB Professional League.
President:
Jim Manion
Event Promoters:
Jim Lorimer
Bob Lorimer
Classic Productions
Meet Director:
Arnold Schwarzenegger
Amateur Contest Producers:
Bob Lorimer
Mike Davies
Event Chair:
Bob Lorimer
Director of Communications:
Brent LaLonde
Public Relations:
Lorz Communications
Matt Lorz
Head Judges:
Steve Weinberger
Sandy Williamson
Masters of Ceremony:
Clint Richards
Tony Doherty
Amanda Latona
Backstage Video:
Wayne Gallasch for all content
Photography for Pro DVDs:
Jason Breeze jasonbreeze.com
Contest Video footage:
LIVE! TECHNOLOGIES
Columbus, Ohio
www.reallivepros.com
GMV would like to thank:
Bob Lorimer
Matt Lorz
Brent LaLonde
Shawn Loevenguth
Live! Technologies
Alyssa Messner
Jason Breeze
David Baye
Richard Baldwin for photos & backstage assistance
2020 Live! Technologies Main Stage crew Battelle Hall:
Shawn Loevenguth - Producer
Alyssa Messner - Asst. Production Manager
Steve Jones- FOH audio
Kevin Brown - Audio Tech
Michael Hesmond - Lighting Programmer
Jordan Auge - Lighting Tech
Ian Martin - Video Director
Grant Lawhorn – Video Editor
Travis Haag - LED Wall Tech/ Video Tech
Julian Dorsett - Video Tech
Jay Johns - Lead Carpenter
Rick Scholz - Asst. Carpenter
Jim Miller - Camera
Randy Silcott - Camera
Eric Obert – Camera
Sarah Joyce - Director of Project Management
******************
GMV Editing
Wayne Gallasch

Editing/Authoring & Cover Design
Ollie Parke
DVD & Blu-Ray Produced by
GMV PRODUCTIONS
Australia
WEB:
GMV.COM.AU
GMVBODYBUILDING.COM
© WORLD COPYRIGHT GMV 2020.