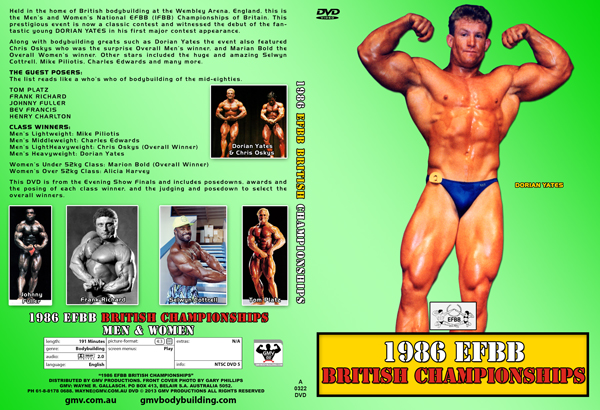 1986 EFBB British Championships
Wembley, London, UK

Held in the home of British bodybuilding at the Wembley Arena, England, this is the Men's and Women's National EFBB (IFBB) Championships of Britain. This prestigious event is now a classic contest and witnessed the debut of the fantastic young DORIAN YATES in his first major contest appearance.
Along with bodybuilding greats such as Dorian Yates the event also featured Chris Oskys who was the surprise Overall Men's winner, and Marion Bold the Overall Women's winner. Other stars included the huge and amazing Selwyn Cottrell, Mike Piliotis, Charles Edwards and many more.
The Guest Posers:
The list reads like a who's who of bodybuilding of the mid-eighties.
TOM PLATZ
FRANK RICHARD
JOHNNY FULLER
BEV FRANCIS
HENRY CHARLTON
All of the guest posers really "turned it on" doing long routines with encores, giving fantastic value for money.
Men's Overall Winner: Chris Oskys
Women's Overall Winner: Marion Bold
Class Winners:
Men's Lightweight: Mike Piliotis
Men's Middleweight: Charles Edwards
Men's LightHeavyweight: Chris Oskys
Men's Heavyweight: Dorian Yates
Women's Under 52kg Class: Marion Bold
Women's Over 52kg Class: Alicia Harvey
This DVD is from the Evening Show Finals and includes posedowns, awards and the posing of each class winner, and the judging and posedown to select the overall winners.

Running time: 191 mins

1986 EFBB British Championships Results:


Men's Overall Winner: Chris Oskys
Women's Overall Winner: Marion Bold
The Men
LIGHTWEIGHT CLASS.
1. Mike Piliotis
2. Stan Gadell
3. Dave Ford
Mike Quinn
Ian Jones
Ken Lowry
Wayne
Cavan Darby
David Lake
Mauro Sardu
Phillip Friend
MIDDLEWEIGHT CLASS
1. Charles Edwards
2. Stefano Petri
3. Mickey Dunne
Mike Duggan
Wayne Stewart
Barry Fisher
Ian Matthews
John Summers
Terry Fisher
Dennis Christopher
Kevin Taylor
James Bracey
Raymond Ross
Guy Russell
LIGHTHEAVYWEIGHT CLASS
1. Chris Oskys
2. Richard Berkley
3. Dennis Oakes
Paul Summers
Steve Brooks
David Campbell
Jonathan Gardiner
Jan Menkal
HEAVYWEIGHT CLASS OVER 90KGS
1. Dorian Yates
2. Selwyn Cottrell
3. John Fisher
Ken Wildman
Richard Farmer
Allan Wilkins
Rocky Foster
Trevor Brown
Errol Watson
Marcus Braithwaite
The Women
UNDER 52KGS
1. Marion Bold
2. Zoe Warwick
3. Louise Carey
Penny Wadlow
Glenys White
Jeanette Jones
Gillian Riley
Kerry Jones
Sylvia Speachley
Kimberley Anne Jones
Leslie Aberith
Dana LePriest
Wendy Thomas
Jo Martin
OVER 52KGS
1. Alicia Harvey
2. Anita Pinnock
3. Corey Bryant
4. Lorraine Farraday
Diedre Cargill
Elaine Strachan
Williams
Ruth Jordan
Cathy Wilkins
Andrea Hall
Joyce Grange
Jane Harris
Loretta Lomax
Lynette Bell
Bernie Price
UK Team for the World Championships in Japan was presented and they posed:
MIKE PILIOTIS
NORRIS McLEOD
BRIAN WILLIAMS
IAN DOWE
NTSC DVD, OPEN REGION