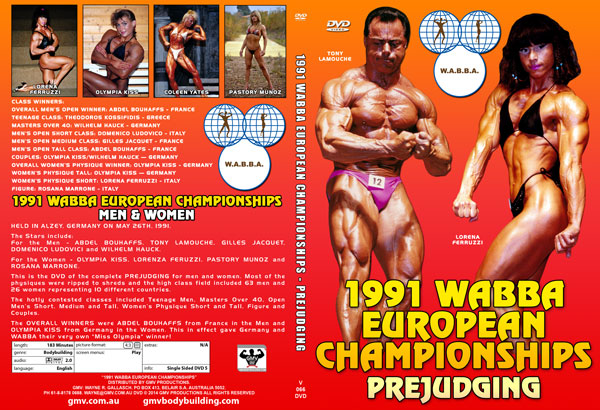 1991 WABBA European Championships: Prejudging
Also on Download Men's Prejudging. Preview clip.

Also on Download Women & Couples PJ. Preview clip.

Men & Women.
Held in Alzey, Germany on May 26th, 1991.
The Stars include:
For the Men - ABDEL BOUHAFFS, TONY LAMOUCHE, GILLES JACQUET, DOMENICO LUDOVICI and WILHELM HAUCK.
For the Women - OLYMPIA KISS, LORENZA FERUZZI, PASTORY MUNOZ and ROSANA MARRONE.

(Front cover left, Tony Lamouche and right is Lorena Ferruzzi.)
This is the DVD of the complete PREJUDGING for men and women. Most of the physiques were ripped to shreds and the high class field included 63 men and 26 women representing 10 different countries.
Do not miss the EVENING SHOW DVD, V-067DVD from this event where star guest posers included SERGE NUBRET, PETRA ENGELS and sizzling hot ELLA HANK.

The hotly contested classes included Teenage Men, Masters Over 40, Open Men's Short, Medium and Tall, Women's Physique Short and Tall, Figure and Couples.
The OVERALL WINNERS were ABDEL BOUHAFFS from France in the Men and OLYMPIA KISS from Germany in the Women. This in effect gave Germany and WABBA their very own "Miss Olympia" winner!
PHOTO GALLERY.
Photos
by Peter Scarborough.
Running time: 183 mins
1991 WABBA European Bodybuilding Championships - The Show

Guest posers included the legendary and incredible SERGE NUBRET, and top Germans PETRA ENGELS and ELLA HANK. The routine by Hank was extremely raunchy as she stripped from her clothes to stockings, suspenders and finally her brief (European style) posing suit! As usual, WABBA's rules for posing costumes are not as strict as in the USA.
1991 WABBA European Championships - Results
Alzey, Germany May 26th, 1991.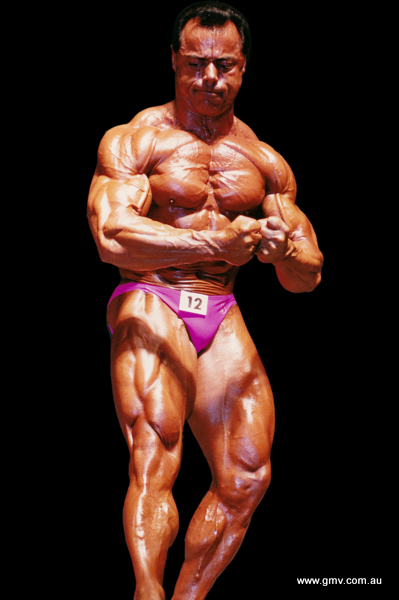 THE MEN'S RESULTS.
Overall Men's Open Winner: Abdel Bouhaffs - France
Teenage Class
1. Theodoros Kossifidis - Greece
2. Vassilis Grivas - Greece
3. Dirk Karrengarn - Germany
4. Antonio Mirante - Italy
5. Gabriel Garcia - Spain
6. H.J. Dreier - Germany
7. Yann Lagrega - France
8. Steve Wright - UK
9. Norbert Musy - Switzerland
10. Rudy Van Hauixe - Belgium
Masters Over 40
1. Wilhelm Hauck - Germany
2. Robert Hendrickx - Belgium
3. Tassos Moros - Greece
4. Joseph Daulcle - France
5. John Barber - UK
6. Massimo Bartelli - Italy
7. Martin Brown - UK
8. Gerd Bartenbach - Germany
9. Jose Goliveira - Portugal
Men's Open Short Class
1. Domenico Ludovico - Italy
2. Eduardo Martinez - Spain
3. Tony Lamouche - France (pictured right)
4. Gianpiero Cataldi - Italy
5. Massimo Venturelli - Italy
6. Paul Patterson - UK
7. Christian Cantone - France
8. Anastassopoulos Panagiotis - Greece
9. Manfred Waltenbrunn - Germany
Men's Open Medium Class
1. Gilles Jacquet - France
2. Raffaele Brancatti - Italy
3. Eros Samartino - Italy
4. Didier Meyer - France
5. Juan Zinicola - Spain
6. Christian Carmenilus - France
7. Richard Souchou - France
8. Sonni Bloisi - Italy
9. Didier Cretou - France
10. Marc DePont - Belgium
11. Antonio Sanz - Spain
12. Kleber Pelmari - Switzerland
13. Norbert Smeja - Germany
14. Jose Morales Leon - Spain
15. Christos Kehagias - Greece
16. Aivars Visockis - Russia
17. Barrie Vormawah - UK
18. Borut Semrl - Yugoslavia
19. Franco Cossuta - Germany
20. Allan Guest - UK
Men's Open Tall Class
1. Abdel Bouhaffs - France
2. Alain Roche - France
3. Carlos Angelotti - Italy
4. Mauro Sassi - Italy
5. Marc Durieux - Belgium
6. Norbert Bitkonski - Germany
7. Dimitris Assimonitis - Greece
8. Eberhard Dorsch - Germany
9. Wayne Severn - UK
10. Franck Hoh - Germany
11. Vladimir Zotov - Russia
12. Santo Mazzotta - Switzerland
13. Herve Anno - Belgium
14. Mazienis Rimontas - Russia
Couples
1. Olympia Kiss/Wilhelm Hauck - Germany
2. Lucette Daucle/Joseph Daucle - France
3. Pastory Munoz/Eduardo Martinez - Spain
4. Ursula Schach/Gerd Bartenbach - Germany
5. Kerstin Hansel/Ralf Muller - Germany
6. Conny D'Hont/Herve Anno - Belgium

THE WOMEN'S RESULTS

Overall Women's Physique Winner: Olympia Kiss - Germany
Women's Physique Tall
1. Olympia Kiss - Germany
2. Colleen Yates - UK
3. Christina Lavezzi - Italy
4. Ursula Schach - Germany
5. Chantal Douet - France
6. Conny D'Hondt - Belgium
7. Marie Anne Bengler - Belgium
Women's Physique Short
1. Lorena Ferruzzi - Italy
2. Pastory Munoz - Spain
3. Sabina Assanto - Italy
4. Marina Spangaro - Italy
5. Vicky Lestenko - Greece
6. Gabriela Trevas - Portugal
7. Evelyne Boyer - France
8. Andrea Neugebauer - Germany
Figure
1. Rosana Marrone - Italy
2. Anni Vierkoetter - Germany
3. Jackie Young - UK
4. Carole Bigouret - France
5. Marie-Paule Giraudeau - France
6. Iris Formanns - Germany
7. Kerstin Hansel - Germany
8. Tonia Botta - Belgium
9. Lucette Daucle - France
10. Lysiane Bertholet - Switzerland
11. Caroline Bronzini - Switzerland
Please click here for the 3 hour Show DVD, V-067DVD.

NTSC DVD, OPEN REGION