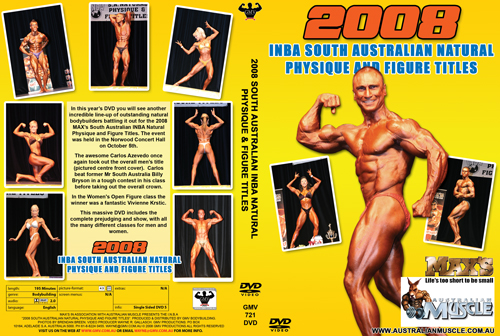 2008 South Australian INBA Natural Physique & Figure Titles
In this year's DVD you will see another incredible line-up of outstanding natural bodybuilders battling it out for the 2008 MAX's South Australian INBA Natural Physique and Figure Titles. The event was held in the Norwood Concert Hall on October 5th.
The awesome Carlos Azevedo once again took out the overall men's title. Carlos beat former Mr South Australia Billy Bryson in a tough contest in his class before taking out the overall crown.
In the Women's Open Figure class the winner was a fantastic Vivienne Krstic. See below for a complete set of RESULTS.
This massive DVD includes the complete prejudging and show, with all the many different classes for men and women.
.
Photos by Brendan Breen.
Running Time: 185 mins
TEENAGE
1 Ben Wortley
2 Philip Ward (Most Potential Award)
3 Isaac Saridakis
4 James Withy
5 Adam Cannella
6 Harpeet Gorcha

JUNIOR
1 Kosta Haltis
2 Jarrad Wyett
3 Travis Cleves
4 Albert Ruiz
5 Carmine Cantelmi
6 Edward Lawrie

MEN'S NOVICE
1 Jonathan Wade
2 Gary Cleggett
3 Gerry McCuish
4 Michael Catanzaritti
5 Steven Bottroff
6 Tim Hatchard
6 Daniel Turner
6 Adam Cross
6 Daniel Houghton
6 Ilija Sumracki

WOMEN'S NOVICE FIGURE
1 Kristy Lee Kovacs
2 Michelle Schulze (Most Potential Award)
3 Tracy Austin
4 Kate Alderman
5 Annelie Sungren
6 Jacqui Oliver
6 Jo Altman
6 Helen Dix
6 Annette Ferguson
6 Michelle Koen
6 Kerry Griffin
6 Melissa Wilczynski

MEN'S INTERMEDIATE
1 Adam Barboza (Most Muscular)
2 Ben Donghue
3 Steven Gaertner
4 Matthew Window
5 Brian Warneke
6 Curtis Crawford
6 Michael Leo
6 Joshua Marc Cane
6 Ben Cove

WOMEN'S INTERMEDIATE FIGURE
1 Vicki Sauerwald
2 Kim Papp
3 Sonia Wellings

MEN'S MASTERS OVER 40
1 Peter Kucharski
2 Warwick Williams
3 Tim Bennett
4 John Papageorgiou
5 Peter Slater
6 Ray Palmer
7 Stuart Ashby

MEN'S MASTERS OVER 50
1 Ian Bowden
2 Braham Power
3 Ron Cutts
4 Glen Cornes
5 Philip Peake
6 Rodney Giddings

WOMEN'S MASTERS OVER 40 FIGURE
1 Sofie Rossi
2 Debbie Dunkley
3 Susan Bean
4 Rosemary Papps
5 Samantha Gray

MS FIGURE OPEN
1 Vivienne Krstic
2 Donna Dimech

SPORTS MODEL
1 Joanne Wilson
2 Sarah King
3 Susanna Mansel

WOMEN'S PHYSIQUE
1 Lisa Mooreland
2 Pam Kantzavelos

MEN'S OPEN SHORT (U/175cm)
1 Carlos Azevedo
2 Billy Bryson
3 Andrew Roberts
4 Gino Sergi
5 Alex Francica

MEN'S OPEN TALL (O/175cm)
1 Isaac Hall
2 Shane Budgen
3 Joseph Mencel
4 Josh Sua
5 James Mynthan
MEN'S OVERALL WINNER: Carlos Azevedo
NTSC DVD, OPEN REGION