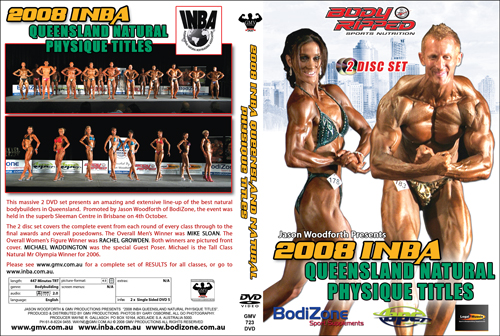 2008 INBA QUEENSLAND NATURAL PHYSIQUE TITLES: 2 DISC SET
This massive 2 DVD set presents an amazing and extensive line-up of the best natural bodybuilders in Queensland. Promoted by Jason Woodforth of BodiZone, the event was held in the superb Sleeman Centre in Brisbane on 4th October.
The 2 disc set covers the complete event from each round of every class through to the final awards and overall posedowns. There were many different classes for both Men and Women with all classes keenly contested.
The Overall Men's Winner was MIKE SLOAN.
The Overall Women's Figure Winner was RACHEL GROWDEN. Both winners are pictured front cover. MICHAEL WADDINGTON was the special Guest Poser. Michael is the Tall Class Natural Mr Olympia Winner for 2006. A highlight was when he went out into the audience to pose up close and personal for the screaming fans!
Please click here for a complete set of RESULTS LISTING EVERY COMPETITOR. Photos by Gary Osborne, All Go Photography.
Running Times:

Disc #1 212 mins
Disc #2 235 mins
TRT: 447 minutes

2008 INBA Queensland Natural Physique Titles - Complete Results
Sleeman Centre, 4th October, 2008

Sports Model
1st Terry-Anne Grey
2nd Anna Marler
3rd Cristie Faint
4th Jodie Stevens
5th Kylie Larfield
5th Emma Horton
5th Regina Griffiths

Teenage Men
1st Rhys Green
2nd Anthony Brace
3rd Daniel Hoare
4th Nathan Gao
5th Nikolas Sosnowski
6th Jarrod Kinerson Smith
6th Quinton Stratford

Junior Men
1st Nathan Wallace
2nd Robert Honeybone
3rd Glenn Kelly
4th BJ Freeme
5th Chris Zhang

Physique Masters
1st Debbie Bremer
2nd Kerrie Sellwood
3rd Tracey Gerbanas

Physique Open
1st Fimka Hampson
2nd Donna Allison
3rd Elizabeth Hardy
4th Melissa Laszlo

Physique Overall
1st Fimka Hampson
Masters Men 50+
1st John Luckie
2nd Steve Hardy
3rd Greg Deslandes
4th Shane Stansfield
5th Billy Tremble
6th David Greinke
6th Glen Zephyre
6th Ric Bashforth
6th George Bennetts
6th Daryl Redding

Masters Men 60+
1st Bernie Russo
2nd Chris Russell
3rd Robert Smith

Figure Masters 50+
1st Cheryl Farrell
2nd Deborah McCarthy
3rd Carolyn Heaton

Masters Men 40+
1st Alan Fels
2nd Frank Swindells
3rd Mark Williams
4th Peter Yallamas
5th Stephen Ledger
6th Joseph Bowie
6th Dave Barnham
6th Phil Duffy
6th Leigh Cook

Figure Masters 40+
1st Diana Saffigna
2nd Leanne Flynn
3rd Helen Longmuir
4th Robyn Booth
5th Jen Byrne
6th Cheryl Warren
6th Sharon Dean
6th Anita Plath

Figure Novice Short
1st Leonie Hoffman
2nd Kirsty Sobey
3rd Alli Keating
4th Caroline Mita
5th Karen Daly
6th Faith Campos

Novice Men Short
1st Lino Hola
2nd Daniel Exintaris
3rd Glen Fraser
4th Jim Frasey

Figure Novice Tall
1st Gail Goodall
2nd Sarah Silvka
3rd Julianne Gregory
4th Jacki Starkey
4th Gillienne Gallagher
6th Casey Windsor
6th Anna Junghans
6th Shelly Jackson

Novice Men Tall
1st Andrew Barton
2nd Brent Mottram
3rd Mick Lee
4th Daniel Lee
5th Christaan Barnard
6th Andreas Dimitriou
6th Lenny Williams
6th Nathan Early

Figure Intermediate
1st Jodene McGregor
2nd Ally Jacobs
3rd Nicole Sacre
4th Bailee Doolan
5th Anglea Gutowski
6th Melissa Carr
6th Maree Evans
7th Peta Samuels
7th Sarena Mayers
7th Michelle Jeans

Intermediate Men
1st Brent Coglan
2nd Visesio Poheela
3rd Ricardo Martinez
4th Leon Stansholme
5th David Hobdell
5th Ben Minos
5th Peter Holyoke
5th Jud Hart
5th Stuart O'Brien
6th Alan Martinsen
6th Gerrard Molyneaus
6th Ian Wood
6th Darrell Dower
6th Chris Woodland
6th Anthony Knoblauch
6th Sean Elphinstone
6th Karl Petzke
6th Kevin Redfearn
6th Ivan Goluza
6th Shannon Donnelly
6th Andrew Deasy

Open Men's Class 1
1st Shaun Mason
2nd Kent Nesler
3rd Nelson Vasquez

Figure Open Class 1
1st Evette Christopoulos
2nd Penny Anderson

Open Men's Class 2
1st Scott Hopgood
2nd Craig Spareboom
3rd Lyndon Bellis
4th Lene Inu
5th Ben Callcott
6th Dane Enkera

Figure Open Class 2
1st Rachel Growden
2nd Vicky Thomas
3rd Dee Taylor
4th Leigh Wright

Open Men's Class 3
1st Mike Sloan
2nd Jason Clark

Figure Open Class 3
1st Shannon Carthouser
2nd Lisa Flowers
3rd Tara Suamalainen
4th Natalie Heiner

Opens Men's Class 4
1st Gerard Broeren
2nd Leith Truss
3rd Aaron Daley
4th Anthony Evans

Figure Overall: Rachel Growden
Men's Overall: Mike Sloan
NTSC DVD, OPEN REGION