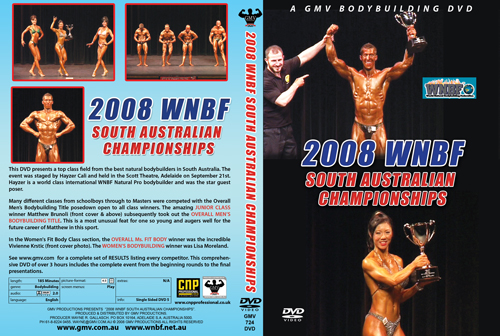 2008 WNBF South Australian Championships (World Natural Bodybuilding Federation)

This DVD presents a top class field from the best natural bodybuilders in South Australia. The event was staged by Hayzer Cali and held in the Scott Theatre, Adelaide on September 21st. Hayzer is a world class international WNBF Natural Pro bodybuilder and was the star guest poser.
Many different classes from Schoolboys through to Masters were competed with the Overall Men's Bodybuilding Title posedown open to all class winners. The amazing JUNIOR CLASS winner Matthew Brunoli subsequently took out the OVERALL MEN'S BODYBUILDING TITLE. This is a most unusual feat for one so young and augers well for the future career of Matthew in this sport.

In the Women's Fit Body Class section, the OVERALL Ms. FIT BODY winner was subsequently disqualified. See details in the RESULTS section below.
The WOMEN'S BODYBUILDING winner was Lisa Moreland.
This comprehensive DVD of over 3 hours includes the complete event from the beginning rounds to the final presentations.
Running Time: 185 mins
Complete Results:
SCHOOLBOYS
1 Amir ARKVAZ
2 Angelo VETAN
TEENAGE MEN

1 Ben WORTLEY
2 Phillip WARD
3 Amir ARKVAZ
JUNIOR MEN
1 Matthew BRUNOLI
2 Aaron CARTER
3 Ali Jan AALIMI

MS FIT BODY (Novice Division)
1 Kate ALDERMAN
2 Melissa WILCZYNSKI
3 Sue BEAN
4 Rosemary PAPPS

MS FIT BODY (Masters 40 and Over)
1 Vivienne KRSTIC*
2 Kerry WARE
3 Samantha GRAY
4 Rosemary PAPPS

MS FIT BODY (Masters 50 and Over)
1 Sue BEAN

MS FIT BODY (Masters 60 and Over)
1 Cynthia CLIFTON (63 yrs)

MS FIT BODY (OPEN)
1 Vivienne KRSTIC*
2 Kate ALDERMAN
3 Donna DIMECH
4 Kerry WARE

MEN'S BODYBUILDING (Novice Class)
1 Travis Fairweather
2 Aaron CARTER
3 Johnathan WADE
4 Aaron WATSON

WOMEN'S BODYBUILDING (Lightweight Under 53.52kg)
1 Lisa MORELAND
MEN'S BODYBUILDING (Masters 40 and Over)
1 Frank SALVATI
2 Peter KUCHARSKI
3 Warwick WILLIAMS
4 David SARGENT
5 Jose AZEVEDO

MEN'S BODYBUILDING (Masters 50 and Over)
1 Peter MARSHALL
2 Braham POWER
3 Rodney GIDDINGS

MEN'S BODYBUILDING (Masters 60 and Over)
1 Graham WILLIAMS (74yrs)

MEN'S OPEN BODYBUILDING (Bantamweight Under 68.04kg)
1 Andrew ROBERTS
2 Brian WARNEKE
3 Warwick WILLIAMS
4 James MYNTHAN

MEN'S OPEN BODYBUILDING (Lightweight 68.04 - 74.84kg)
1 Aaron CARTER
2 Johnathan WADE
3 Carl HICKS
4 Ben COVE
5 Jose AZEVEDO

MEN'S OPEN BODYBUILDING (Middleweight 74.84 - 79.83kg)
1 Travis FAIRWEATHER
2 Tommy SETTIMIO
3 Peter MARSHALL
4 Frank SALVATI
5 Peter KUCHARSKI
6 David SARGENT

MEN'S OPEN BODYBUILDING (Light-Heavyweight 79.83 - 86.18kg)
1 Aaron WATSON

MEN'S OPEN BODYBUILDING (Heavyweight Over 86.18kg)
1 Isaac HALL
2 Shayne BUDGEN

OVERALL MS FIT BODY - Vivienne Krstic
* PLEASE NOTE THAT VIVIENNE WAS SUBSEQUENTLY DISQUALIFIED AFTER THE DVD HAD BEEN EDITED AND THOSE WHO PLACED BELOW HER IN BOTH CLASSES HAVE NOW MOVED UP ONE PLACING.

OVERALL MEN'S BODYBUILDING CHAMPION - Matthew Brunoli
GUEST POSER: HAYZER CAYLI Natural Pro Bodybuilder.

NTSC DVD, OPEN REGION