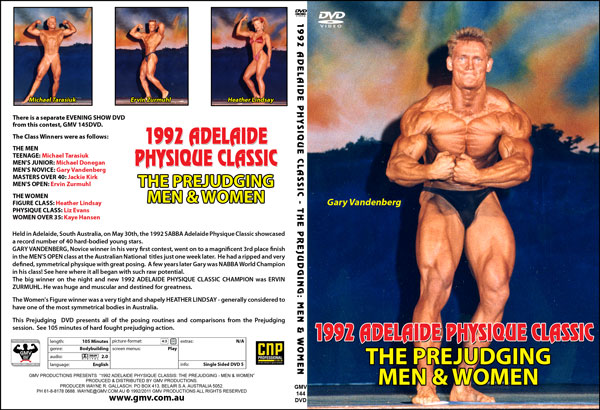 1992 Adelaide Physique Classic: The Prejudging - Men & Women
Held in Adelaide, South Australia, on May 30th, the 1992 SABBA Adelaide Physique Classic showcased a record number of 40 hard-bodied young stars. GARY VANDENBERG, Novice winner in his very first contest, went on to a magnificent 3rd place finish in the MEN'S OPEN class at the Australian National titles just one week later in Melbourne. With a ripped and very defined, symmetrical physique, he was just two points short of 2nd place in the Australia. A few years later Gary was NABBA World Champion in his class! See here where it all began with such raw potential. Gary is pictured front cover above.
The Women's Figure winner was a very tight HEATHER LINDSAY, generally considered to have one of the most symmetrical bodies in the whole country - a body most women would kill for. She then placed third at the Australian Nationals. All in all an incredible contest.

This Prejudging DVD presents all of the posing routines and comparisons from the Prejudging session. See 105 minutes of hard fought prejudging action.
Photos by Jon Mutter.

The classes contested Included: Men's Open, Men's Teenage, Men's Juniors, Men's Novice, Women's Figure and Physique and Over 35.

The Class Winners were as follows:

THE MEN

TEENAGE: Michael Tarasiuk
MEN'S JUNIOR: Michael Donegan
MEN'S NOVICE: Gary Van Den Berg
MASTERS OVER 40: Jackie Kirk
MEN'S OPEN: Ervin Zurmuhl

THE WOMEN

FIGURE CLASS: Heather Lindsay
PHYSIQUE CLASS: Liz Evans
WOMEN OVER 35: Kaye Hansen

Please click here for the EVENING SHOW DVD from this contest, GMV-145DVD.
Running time: 105 mins
1992 ADELAIDE PHYSIQUE CLASSIC RESULTS
Adelaide May 30th, 1992
MENS TEENAGE
1 MICHAEL TARASIUK
2 MIKE LOHMANN
3 MICHAEL PLUMMER
MEN'S JUNIOR
1 MICHAEL DONEGAN
2 AARON TROTT
3 BRADLEY JOHNSON
4 MICHAEL KAT
5 BEN DICKER
MEN'S NOVICE
1 GARY VAN DEN BERG
2 SHAUN REYNOLDS
3 KYM OGILVIE
4 PERRY CHILDS
5 PAUL MAVRIC
6 SHANE GILL
7 GREG GOUSSIOS
8 ARMANDO VOZZO
9 DAVID EVERETT
10 MICK PROUDE
11 GRAEME GRANT
12 MARK THIELE
13 NICK MEINS
14 HARRY STASSINOPOULOS

MASTERS 0'40
1 JACKIE KIRK
2 PHIL PEAKE
3 DOUG THOMPSON
4 GARY MADDISON

WOMENS O'35
1 KAYE HANSEN
2 ALANA THOMSON
3 KATTI NOU-LINDE

WOMEN'S FIGURE
1 HEATHER LINDSAY
2 JANELLE MCLEAN
3 KAREN BROOKSBY
4 KARIN HARDWICK
5 SUZANNE WARREN
WOMEN'S PHYSIQUE
1 LIZ EVANS
2 MAREE FLUX
3 SAMANTHA HARDING
4 DEEARNA DONNELLY

MEN'S OPEN
1 ERVIN ZURMUHL
2 PAUL ROE
3 COLIN MACLEAN

NTSC DVD, OPEN REGION