1993 NABBA World Championships: The Prejudging
Also on Digital Download. Preview clip.

HELD IN AUCKLAND, NEW ZEALAND, JUNE 12th 1993 Men & Women.
In 1993 the NABBA International World Championships came down to the Southern Hemisphere, and was held in Auckland, New Zealand, much to the delight of the 3,000 strong crowd who turned out to see the show. Competitors came from as far afield as Russia, England, Germany, Italy, Belgium, Samoa and of course, "locals" from Australia and New Zealand.
It was a fantastic lineup showing some of the most ripped and muscular physiques seen at the World's for some years! The competition developed into a tussle between the Australian and German Teams - the Germans in particular were stupendous, as is obvious by the major trophies they took home!
However, they couldn't beat all of the Aussies. DEBORAH COMPTON who took out the Overall Women's Physique title, and TONY BARTON, Australia's top Junior Physique champion who won his class with a resounding World Junior title. Tony Barton and Manuela Franz are pictured front cover above, and Deborah Compton is pictured rear cover. See more photos at the bottom of this page.

In this DVD see the COMPLETE PREJUDGING with posing by every single competitor in all classes, men and women, plus all the key comparisons.

The Men's Overall Mr. World title was brilliantly won by ANTONIO VALENTI - Italy.

Running Time: 96 mins.

Please click here for THE SHOW DVD from this event, GMV-164DVD.

CLASS WINNERS:

THE MEN:
Junior Men: TONY BARTON - Australia (Under 22 years)
Men's Masters: WALTER ENGELSKIRCHER - Germany
Mr. World Class Four: COLIN WRIGHT - England
Mr. World Class Three & Overall Mr. World: ANTONIO VALENTI - Italy
Mr. World Class Two: ANDREAS POHL - Germany
Mr. World Class One: LUTZE WILKE - Germany
THE WOMEN:
Women's Figure Class Two & Overall Figure Champion: MANUELA FRANZ - Germany
Women's Figure Class One: STEFANIE WEHR - Germany
Women's Physique Class Two & Overall Women's Physique Champion: DEBORAH COMPTON - Australia
Women's Physique Class One: SUZANN KIESERLING - Germany
Mixed Pairs: HORST WELZ & SANDRA BAUERLE - Germany

1993 NABBA WORLD CHAMPIONSHIPS - COMPLETE RESULTS
Auckland, N.Z. June 12, 1993
JUNIORS
1. Tony Barton (Australia)
2. Tobby Brand (Germany)
3. Boris Sklyarsky (Russia)
4. Matthew Muir (Australia)
5. Christopher Daguiar (N.Z.)
6. Scott Payne (N.Z.)
DNP:
Matthew Coley (N.Z.)
Maile Niu (Tonga)
MASTERS
I. Walter Engelskircher (Germ)
2. Bernard Bryan (England)
3. Rudy D'Hooge (Belgium)
4. Willi Bendel (Germany)
5. Don Mahoney (Australia)
6. Robert Gordon (Australia)
DNP:
Patrick Duffy (N.Z.)
Steve Rosenbaum (N.Z.)
Laurie Pau (N.Z.)
Kele Kelekolio (Samoa)
Russ Windle (N.Z.)
Paul Roper (N.Z.)
FIGURE CLASS 2 (SHORT)
1. Manuela Franz (Germany)
2. Anita Lawrence (Australia)
3. Jackie Young (England)
4. Lauren Pyne (N.Z.)
5. Gail Rogerson (N.Z.)
6. Loretta Winiana (N.Z.)
DNP:
Tatyana Oskina (Russia)
Heather Marshall (N.Z.)
FIGURE CLASS 1 (TALL)
1. Stefanie Wehr (Germany)
2. Sabina Weeke (Germany)
3. Jasmin Sulzberger (Germany)
4. Denise Kelly (Australia)
5. Anna Spring (Australia)
6. Kathy Wilkie (N.Z.)
DNP:
Joanne Walker (N.Z.)
Stefanie Freidel (Germany)
Gemma Craig (N.Z.)
PHYSIQUE CLASS 2 (SHORT)
1. Deborah Compton (Australia)
2. Sadra Bauerle (Germany)
3. Teresa Sciascia (Australia)
4. Pam Reid (Australia)
PHYSIQUE CLASS 1 (TALL)
1. Susanne Kieserling (Germany)
2. Veronika Jacob (Germany)
3. Verena Stauder (Germany)
4. Brenda O'Sullivan (N.Z)
5. Donna Price (N.Z.)
6. Dianna King (N.Z.)
7. Rene Howard (South Africa)
PAIRS
1. Horst Welz - Sandra Bauerle (Germany)
2. Tony Martin - Kathy Wilkie (N.Z.)
3. Anita Lawrence - Mark Trewartha (Australia)
4. Dale Winiana - Loretta Winiana (N.Z.)
MENS CLASS 4 (SHORT)
1. Colin Wright (England)
2. Gary Jones (N.Z.)
3. John Kyriakopoulos (Australia)
4. Dale Winiana (N.Z.)
5. Moses Raeli (Samoa)
DNP:
Ali Zade Gasan Mahmeg (Russia)
Sergey Asakin (Russia)
MEN'S CLASS 3 (SHORT-MEDIUM)
1. Antonio Valenti (Italy)
2. Horst Welz (Germany)
3. Sherif Derias (Australia)
4. Holger Dannheim (Germany)
5. Tony Martin (N.Z.)
6. John Brooks (N.Z.)
DNP:
Rik De Mulder (Belgium)
Ibrahim Dzhusoyev (Russia)
Kim Taihuka (N.Z)
Maumi Latu (Tonga)
Peter Heretini (N.Z)
MEN'S CLASS 2 (MEDIUM-TALL)
1. Andreas Pohl (Germany)
2. Rudiger Schmitz (Germany)
3. Paolo Tamarri (Italy)
4. Gianfranco Ditizio (Italy)
5. George Papadopoulos (Australia)
6. Eddie Reid (N.Z.)
DNP:
Rudy D'Hooge (Belgium)
Grigory Marchenk (Russia)
Don Rewita (N.Z.)
Motu Finau (Samoa),
MENS CLASS 1 (TALL)
1. Lutz Wilke (Germany)
2. Grant Clemesha (Australia)
3. Peter Bohler (Germany)
4. Steven Taylor (Australia)
5. Oleg Kopylov (Russia)'
6. Mark Trewartha (Australia)
DNP:
Ken Prescott (U.K.)
Mark Gillies (N.Z.)
OVERALL WINNERS
Overall Figure: Manuela Franz (Germany)
Overall Women's Physique: Deborah Compton (Australia)
Overall Mr. World: Antonio Valenti (Italy)

NTSC DVD, OPEN REGION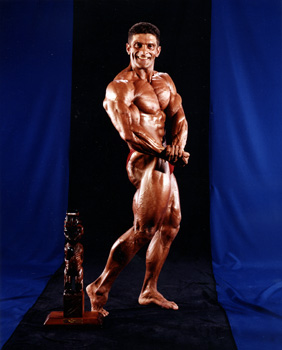 Tony Barton Antonio Valenti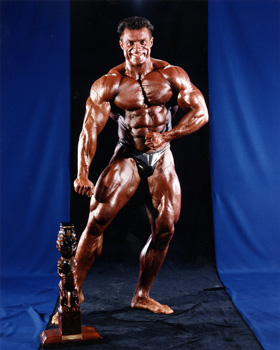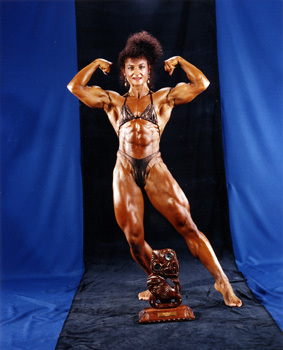 Lutz Wilke Deborah Compton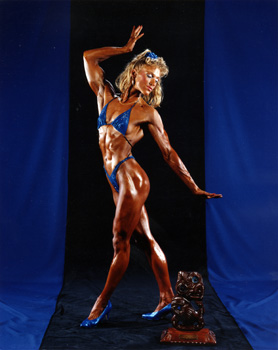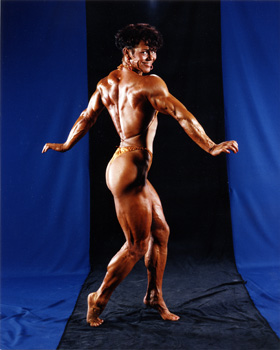 Manuela Franz Suzann Kieserling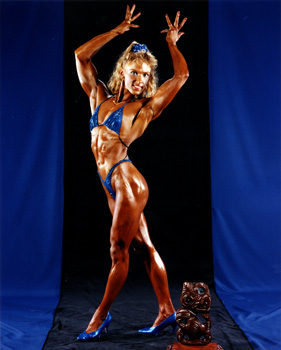 Manuela Franz