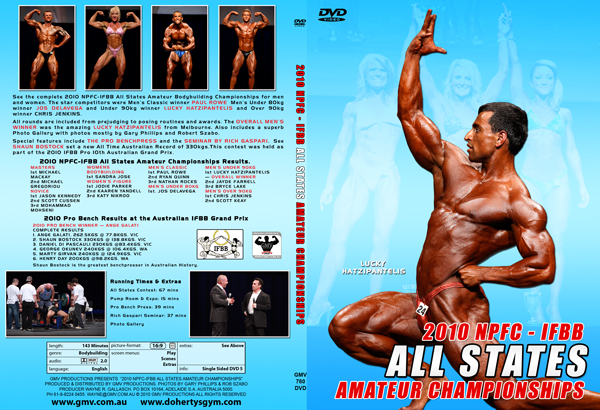 click here for preview


2010 NPFC-IFBB All States Amateur Bodybuilding Championships
Plenary Hall, Melbourne Convention & Exhibition Centre, VIC. Australia. March 13, 2010
A Tony Doherty Production.

See the complete 2010 NPFC-IFBB All States Amateur Bodybuilding Championships for men and women. The star competitors were Men's Classic winner PAUL ROWE, Men's Under 80kg winner JOS DELAVEGA and Under 90kg winner LUCKY HATZIPANTELIS and Over 90kg winner CHRIS JENKINS.
All rounds are included from prejudging to posing routines and awards. The OVERALL MEN'S WINNER was the amazing LUCKY HATZIPANTELIS from Melbourne, see front cover above.
This DVD includes a superb Photo Gallery with photos by Gary Phillips and Robert Szabo.

Includes the exciting PRO BENCHPRESS CONTEST and the SEMINAR BY RICH GASPARI. Also see Shaun Bostock set a new All Time Australian Benchpress Record of 330kgs.



The Amateur Contest was held as part of the 2010 IFBB Australian Pro Grand Prix #10 event.
Please click here for the 2010 AUSTRALIAN PRO GRAND PRIX, GMV-781DVD.
Both DVDs are shot in 16:9 WIDE SCREEN.

All cover photos by Gary Phillips www.garyphillipsphotography.com and backstage photos by Robert Szabo. A preview clip will be posted next week.
EXTRA SCENES include the AMATEUR PUMP ROOM plus the highlights from the EXPO BOOTHS and athletes signing photos.
See photo below right of Rusty Jeffers and a fan on the Expo floor.

2010 NPFC-IFBB ALL STATES CHAMPIONSHIPS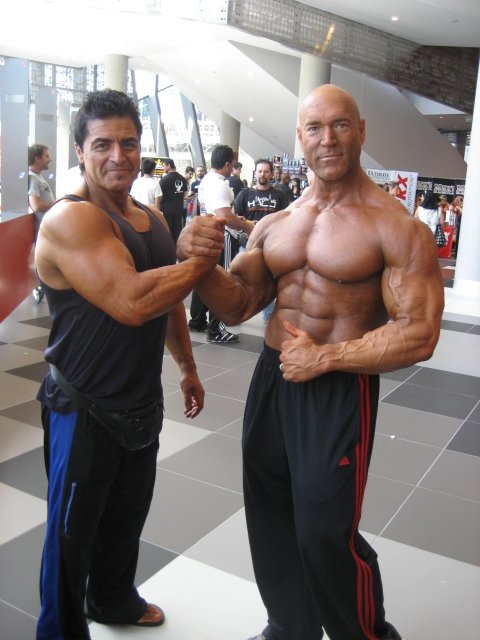 Melbourne, VIC. Australia March 13, 2010
COMPLETE RESULTS:
MASTERS
1st MICHAEL MACKAY
2nd MICHAEL GREGORIOU
NOVICE
1st JASON KENNEDY
2nd SCOTT CUSSEN
3rd MOHAMMAD MOHSENI
DAVID PEREZ
DEAN SYMONS
DANIEL OAKFORTH
CHRIS KANTARIAS
STEVE PAPPS
WOMENS BODYBUILDING
1st SANDRA JOSE
WOMEN'S FIGURE
1st JODIE PARKER
2nd KAAREN YANDELL
3rd KATY NIKROO
4th VIOLETTA TRAJCEVSKI
MEN'S CLASSIC
1st PAUL ROWE
2nd RYAN QUINN
3rd NATHAN ROCKS
MICK BORGEN
ALEX VELICKOVIC
MEN'S UNDER 80KG
1st JOS DELAVEGA
MEN'S UNDER 90KG
1st LUCKY HATZIPANTELIS – OVERALL WINNER
2nd JAYDE FARRELL
3rd BRYCE LAKE
MEN'S OVER 90KG
1st CHRIS JENKINS
2nd SCOTT KEAY
**************************

2010 Pro Bench Results at the Australian IFBB Grand Prix
2010 Pro Bench Winner – Ange Galati
COMPLETE RESULTS
1. Ange Galati, 262.5kgs @ 77.8kgs. Vic
2. Shaun Bostock 330kgs @ 138.8kgs. Vic
3. Daniel Di Pascauli 230kgs @83.4kgs. Vic
4. George Okunev 240kgs @ 106.4kgs. WA
5. Marty Girvan 240kgs @ 124.9kgs. Vic
6. Henry Day 200kgs @98.2kgs. WA
Shaun Bostock is the greatest benchpresser in Australian History.
Running Times and Extras:

All States Contest including Gaspari Seminar and Pro Benchpress: 143 mins
(Amateurs 67 mins: Pro Bench Press: 37 mins: Gaspari: 39 mins)
Amateur Pump Room: 16 mins
Expo booths and star athletes: 4 mins
Photo Gallery - many photos

TRT: 163 mins
NTSC DVD, OPEN REGION