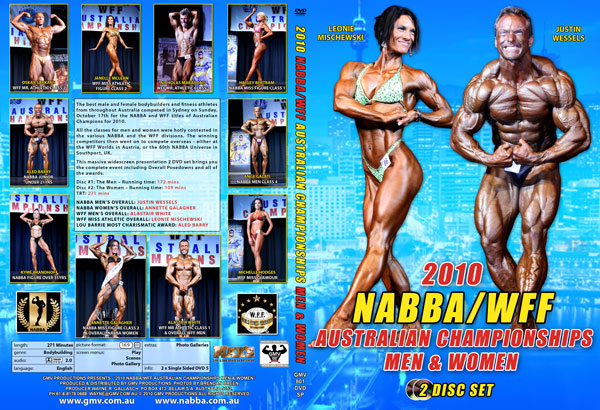 Click here for the Men's Preview


Click here for the Women's Preview


2010 NABBA/WFF Australian Championships - Men & Women
2 DVD Set

The best male and female bodybuilders and fitness athletes from throughout Australia competed at the Nationals held at the South Sydney Junior Leagues Club, on Sunday, October 17th for the NABBA and WFF titles of Australian Champions for 2010.

All the classes for men and women were hotly contested in the various NABBA and the WFF divisions. The winning competitors then went on to compete overseas - either at the WFF Worlds in Austria, or the 60th NABBA Universe in Southport, UK.
This massive widescreen 16:9 presentation 2 DVD set brings you the complete event including Overall Posedowns and all of the awards. Justin Wessels made it his 3rd national title and is picture in the top photo on the right hand side.
Disc #1: The Men – Running time 172 mins
Disc #2: The Women – Running time 109 mins
TRT: 271 mins

The 2 discs are also available as separate DVDs. See here for THE MEN, GMV-802DVD, or for THE WOMEN, GMV-803DVD.
NABBA MEN'S OVERALL WINNER: JUSTIN WESSELS
NABBA WOMEN'S OVERALL WINNER: ANNETTE GALAGHER
WFF MEN'S OVERALL WINNER: ALASTAIR WHITE
WFF MISS ATHLETIC OVERALL WINNER: LEONIE MISCHEWSKI

LOU BARRIE MOST CHARISMATIC AWARD: ALED BARRY
All photos by Brendan Breen. 2 DVD5s Wide Screen 16:9

EXTRAS:
Photo Gallery: Men & Women - separate galleries on each disc.

2010 NABBA/WFF Australian Bodybuilding, Figure & Fitness Championships - Complete Results
Sydney, 17th October, 2010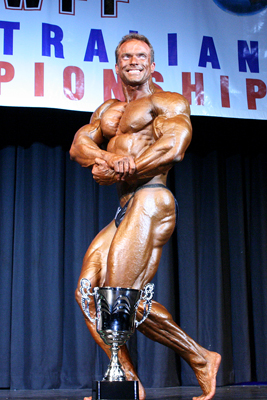 THE MEN
WFF Teenage
1. Joseph Pang
2. Michael Dorn
NABBA Junior Under 21yrs

1. Aled Barry (pictured second photo - right)
2. Aaron Kingsley
3. Hal Daniels

WFF Masters Men Over 35

1. Wayne Wilson (pictured 3rd photo - right)
2. Matthew Wiederstein
3. Peter Varley
DNP:
John Reidy
Clive Hawkins
Tommy Settimio
WFF Classic Men Over 60

1. Stephen Osborne

NABBA Novice Men

1. Vee Meleisea
2. Michael Brown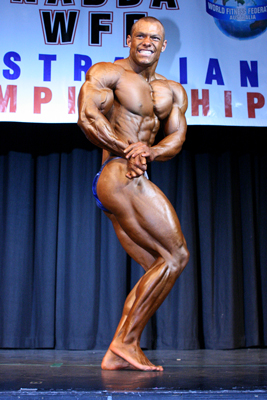 3. Matt Day
DNP:
Bradleigh Keep
Peter Skyllas
WFF Mr Athletic Class 4

1. David (Jimmy) Wilson
2. Paul McGregor
WFF Mr Athletic Class 3
1. Nicholas Makaronis
2. Steve Hamilton
3. Ian Pooke
4. Jim Kopsaris
NABBA Masters Men Over 40
1. Adrian Batho
2. Darren Smith
3. Robert Reed
DNP:
Arthur Fracalossi
Chris Hosking
Andi Condon

NABBA GrandMasters Men Over 50
1. Iain Reid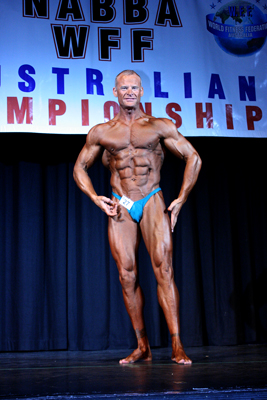 2. Steve Quinn
NABBA Men Class 4
1. Ange Galati
2. Paul Jayilian
3. Ash Mason
4. Andy Scott
NABBA Men Class 3

1. Robert (Max) Walker
2. Denny Singleton


NABBA Men Class 2
1. Justin Wessels
2. Abraham Elzaibak
3. Richard Parnham
DNP:
Andrew Gilley
Steve Nicholas
NABBA Men Class 1

1. Kristian Porthill
2. Hayden Thin
3. Rick Brennan
4. Donny Henderson Smith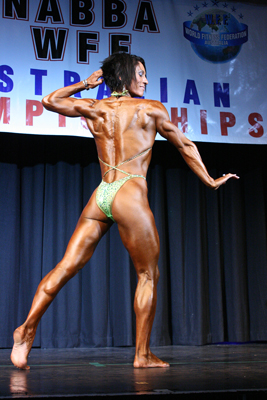 WFF Mr Athletic Class 2

1. Oskar Sarkans
2. Wesley Newell
3. Ian Percival
DNP:
Leigh Carmichael
Travis Young
Phillip Ward
Todd Shanahan

WFF Mr Athletic Class 1
1. Alastair White (pictured bottom photo - right)
2. Sam Mitchell
3. Brent Mottram
DNP:
Takis Venios
Jeremy O'Brien

THE WOMEN
NABBA Figure Over 35yrs
1. Kyme Brandhoff
2. Susan Mansfield
3. Carol Lally
DNP:
Mandi Ritchie
Jennifer Garrett
Cherie Wyer
Debbie Dunkley
Sara Simmons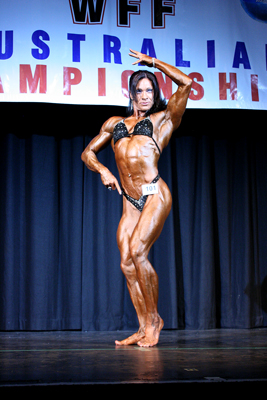 Leisa Wone
WFF Masters Figure Over 40yrs

1. Simone Moore
2. Kerry Ware
3. Tanya Duncan
NABBA Miss Physique

1. Shaz Simpson
WFF Miss Glamour

1. Michelle Hodges
2. Candice Blackburn
WFF Miss Athletic Figure Class 2

1. Janelle McLean
2. Nicole Jacobson
3. Trudy Rowles
4. Sally Hawkins

WFF Miss Athletic Figure Class 1

1. Leonie Mischewski (pictured 4th photo - right)
2. Tracey Guile
3. Janere Reid
DNP: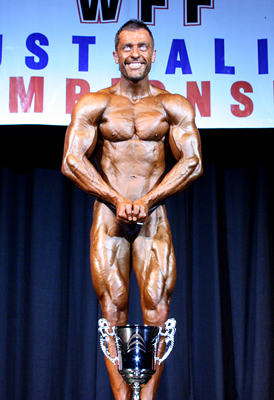 Sherrie Gassow
Kim Burton
Melissa Wilczynski
NABBA Miss Figure Class 2

1. Annette Galagher (pictured second to bottom photo - right)
2. Terri Roberts
3. Kate Henderson
DNP:
Cindy - Jay Ryan
Susan Stringer

NABBA Miss Figure Class 1

1. Hayley Bertram
2. Sharon Tonkin
3. Catherine Davidson
DNP:
Nicole Maggs
Kara Eames
NTSC DVD, OPEN REGION