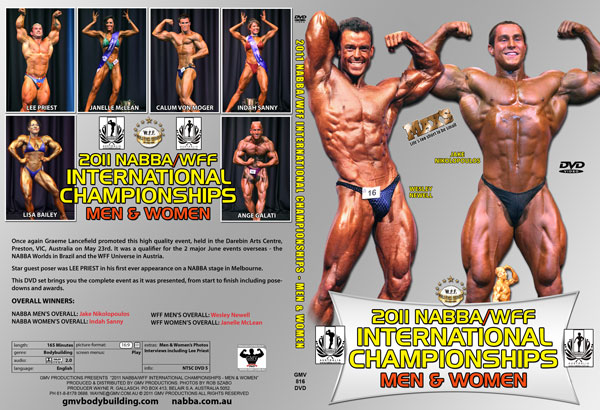 Click here for preview clip


Click here for PHOTO GALLERY



2011 NABBA/WFF International Championships
Once again Graeme Lancefield promoted this high quality event, held in the Darebin Arts Centre, Preston, VIC, Australia on May 23rd. It was a qualifier for the 2 major June events overseas - the NABBA Worlds in Brazil and the WFF Universe in Austria.
Talking about quality, we shot this event in HDV for absolutely superb quality when transferred to DVD!

Star guest poser was LEE PRIEST in his first ever appearance on a NABBA stage in Melbourne. He is also interviewed on stage by MC Nick Jones.
This DVD set brings you the complete event as it was presented, from start to finish.
Extras:
PHOTO GALLERIES. One each for men and women.
Key interviews by Nick Jones including LEE PRIEST.
Running time: 165 mins

Format: Wide Screen 16:9
Photos by Rob Szabo for GMV and also Brendan Breen.
OVERALL WINNERS:
NABBA MEN'S OVERALL: Jake Nikolopoulos
NABBA WOMEN'S OVERALL: Indah Sanny
WFF MEN'S OVERALL: Wesley Newell
WFF WOMEN'S OVERALL: Janelle McLean


2011 NABBA/WFF International Championships Results
15 May, 2011 Preston, Vic, Australia.
WFF EVENT
Vintage Men over 60
1. Ken Edward
World's Oldest Bodybuilder Over 80
1. Raymond Moon
WFF Masters Men
1. Wayne Wilson
WFF Mr. Athletic Class 4
1. Robert Borgonha
2. Anthony Day
WFF Mr. Athletic Class 3
1. David McKenzie
WFF Masters Figure over 40
1. Christina Lasota
WFF Miss Athletic Class 2
1. Janelle McLean
2. Nicky Jacobsen
WFF Mr. Athletic Class 2
1. Wesley Newell
2. Matthew Jones
3. Brendan McLean
Adam Musovic
Alvaro Riquelme
Nazario Alessandrino
WFF Miss Athletic Class 1
1. Natalie Michael
2. Krystal Chugg
3. Tanya Bistrovic
WFF Mr. Athletic Class 1
1. Mark Curtis
2. Paul Talo
3. David Pound
OVERALL WFF WOMEN'S CHAMPION
Janelle McLean
OVERALL WFF MEN'S CHAMPION
Wesley Newell

NABBA EVENT
Men's Junior
1. Calum Von Moger
2. Tyson McCrea
Novice Men
1. David Bremner
Men's Masters Over 50
1. Brad McLennan
2. Steve Kozuharoff
Miss Figure Class 2
1. Indah Sanny
Miss Figure Class 1
1. Karolina Petreska
NABBA Men Class 4
1. Ange Galati
NABBA Men Class 3
1. Jake Nikolopoulos
NABBA Men Class 2
1. Blair Loveday
Miss Physique
1. Lisa Bailey
OVERALL NABBA WOMEN'S OPEN
Indah Sanny
OVERALL NABBA MEN'S CHAMPION
Jake Nikolopoulos

NTSC DVD, OPEN REGION