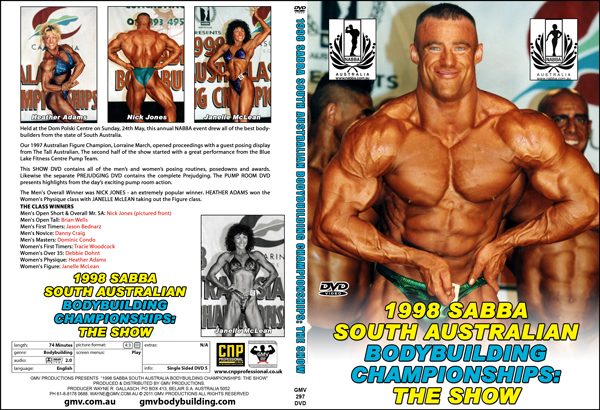 1998 SABBA South Australian Bodybuilding Championships: The Show
Men & Women

Held at the Dom Polski Centre on Sunday, 24th May, this annual NABBA event drew all of the best bodybuilders from the state of South Australia. Our 1997 Australian Figure Champion, Lorraine March, opened proceedings with a guest posing display from The Tall Australian. The second half of the show presented a great Pump Display from the Blue Lake Fitness Centre Pump Team.

This SHOW DVD contains all of the posing routines, posedowns and awards. Capture the excitement and tension in this excellent DVD presentation.
The Men's Overall Winner was NICK JONES - an extremely popular and worthy winner. Heather Adams won the Women's Physique class with Janelle McLean taking out the Figure. Nick and Heather Adams also represented Australia as top NABBA Universe competitors. Nick is pictured front cover above.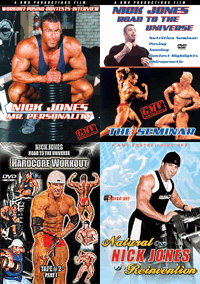 To see more of Nick Jones, see GMV-691DVDSP.


THE CLASS WINNERS...
Men's First Timers: Jason Bednarz
Men's Novice: Danny Craig
Men's Masters: Dominic Condo
Women's First Timers: Tracie Woodcock
Women's Over 35: Debbie Dohnt
Women's Physique: Heather Adams
Women's Figure: Janelle McLean
Men's Open Short & Overall Mr. SA: Nick Jones
Men's Open Tall: Brian Wells



Click here for the 1998 SABBA South Australian Bodybuilding Championships: Pump Room

Click here for the 1998 SABBA South Australian Bodybuilding Championships: Prejudging

Running time: 74 mins

1998 SABBA South Australian Bodybuilding Championships - Results

Men's Open Short Class
1. Nick Jones

Men's Open Tall Class
1. Brett Jansen
2. Brian Wells

Men's Open Overall Winner: NICK JONES

Men's First Timers
1. Jason Bednarz
2. Troy Helbers
3. Justin Kirkman
4. Simon Hobbs

Men's Novice
1. Danny Craig
2. Nilton Azevedo
3. Robin Billows
4. Stuart Cocks
5. Andrew Sachse

Men's Masters
1. Dominic Condo
2. Doug Thompson

Women's First Timers
1. Tracie Woodcock
2. Diane Ciampa
3. Wendy Ianella
4. Irma Mathews
5. Linda Bastian
6. Juanita Thompson

Figure Over 35
1. Debbie Dohnt
2. Tracy Dempsey
3. Andrea Sporer

Figure Class
1. Janelle McLean
2. Jeanette Brooksby
3. Debbie Roberts

Women's Physique
1. Heather Adams
2. Shannon Stevens
3. Andrea Watson

NTSC DVD, OPEN REGION