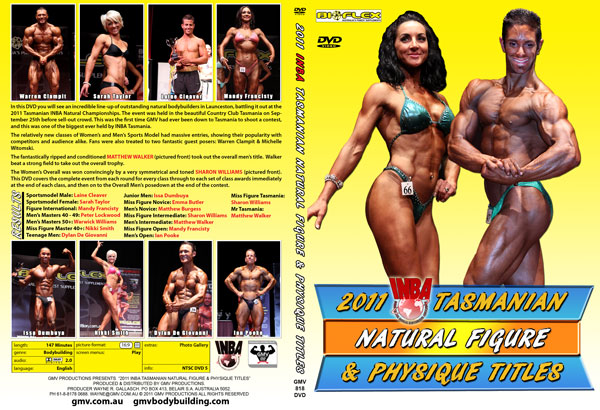 Click here for preview clip

2011 INBA Tasmanian Natural Figure & Physique Titles

In this DVD you will see an incredible line-up of outstanding natural bodybuilders in Launceston, battling it out at the 2011 Tasmanian INBA Natural Figure & Physique Championships. The event was held in the beautiful Country Club Tasmania on September 25th before a sell-out crowd. This was the first time GMV had ever been down to Tasmania to shoot a contest, and this was one of the biggest ever held by INBA Tasmania. The major sponsor was BIOFLEX.
The relatively new classes of Women's and Men's Sports Model had massive entries, showing their popularity with competitors and audience alike.
Fans were also treated to two fantastic guest posers: Warren Clampit and Michelle Witomski. Warren is a Natural Mr. Olympia, Mr. Universe, Mr. Australia and a top INBA Professional. Michelle is an INBA Australian Champion.
The incredibly ripped and conditioned MATTHEW WALKER (pictured front cover) took out the Overall Men's title from a very strong field.
The Women's Overall was won convincingly by a very symmetrical and toned SHARON WILLIAMS (also pictured front cover). This DVD covers the complete event from each round for every class through to all of the class awards immediately at the end of each class, and then on to the Best Posing Routine Awards and the Overall Women's Ms. Figure and Overall Men's posedowns at the end of the contest.

Click here for the PHOTO GALLERY.

Running time: 147 mins
Class Winners:
Sportsmodel Male: Laine Cleaver
Sportsmodel Female: Sarah Taylor
Figure International: Mandy Francisty
Men's Masters 40 - 49: Peter Lockwood
Men's Masters 50+: Warwick Williams
Miss Figure Master 40+: Nikki Smith
Teenage Men: Dylan De Giovanni
Junior Men: Issa Dumbuya
Miss Figure Novice: Emma Butler
Men's Novice: Matthew Burgess
Miss Figure Intermediate: Sharon Williams
Men's Intermediate: Matthew Walker
Miss Figure Open: Mandy Francisty
Men's Open: Ian Pooke
Miss Figure Tasmania: Sharon Williams
Mr Tasmania: Matthew Walker
Photos: Tina Gallasch.

2011 INBA Tasmanian Natural Figure & Physique - Complete Results
Launceston, Tasmania September 25th, 2011
Sports Model - Male
1. Laine Cleaver
2. Matt Little
3. Boris Zivkovic
4. Steve Jackson
4. Jayden Heazlewood
4. Yusuf Uzun
4. Dietrich Marquardt
4. Matthew Stops
4. Issa Dumbuya
Sportsmodel - Female
1. Sarah Taylor
2. Ayda Issa
3. Di Warren
4. Annie Beveridge
4. Anna Kate Lonergan
Teenage Men
1. Dylan De Giovanni
2. Matthew Hills
3. Yusuf Uzun
4. Jayden Heazelwood
Junior Men
1. Issa Dumbuya
2. Joseph Wherret
Men's Novice
1. Matthew Burgess
2. Ryan Austen
3. Benjamin Giles
4. Lee Simote
Men's Intermediate
1. Matthew Walker
2. Corey Baldock
3. Christopher Wilson
4. Steve Jackson
4. Nicholas Pretty
Men's Master (50+)
1. Warwick Williams
Men's Master (40-49)
1. Peter Lockwood
Men's Open
1. Ian Pooke
2. Alfred Cauker
Ms. Figure Novice
1. Emma Butler
2. Rachel Burke
Ms. Figure Master (40+)
1. Nikki Smith
2. Rebecca Gardiner-Miller
3. Annie Beveridge
Ms. Figure Intermediate
1. Sharon Williams
2. Michele Locke
3. Clarissa Hughes
Ms. Figure Open
1. Mandy Francisty
2. Linda Finch
Figure International
1. Mandy Francisty
2. Sharon Williams
3. Linda Finch
4. Clarissa Hughes
4. Michele Locke
4. Rebecca Gardiner-Miller
4. Nikki Smith
4. Rachel Burke
4. Emma Butler
Men's Best Posing Routine: Alfred Cauker
Women's Best Posing Routine: Linda Finch
Miss Figure Tasmania: Sharon Williams
Mr Tasmania: Matthew Walker
NTSC DVD, OPEN REGION