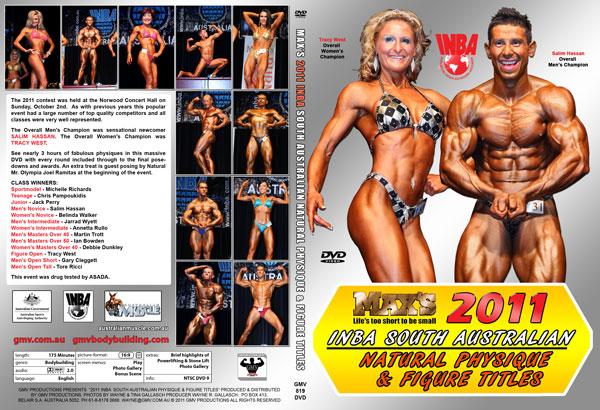 Click here for preview clip
2011 INBA South Australian Natural Physique & Figure Titles
The 2011 contest was held at the Norwood Concert Hall on Sunday, October 2nd. As with previous years this popular event had a large number of top quality competitors and all classes were very well represented. The contest opened with the very special GUEST POSER - Natural Mr. Olympia, JOEL RAMINTAS.
The Overall Champions were the sensational newcomer SALIM HASSAN in the Men's section and a beautifully proportioned TRACY WEST for the women. Both are pictured front cover.
See 3 hours of fabulous physiques in this massive DVD with every round included through to the final posedowns and awards.
The Major Sponsors were Max's & Australian Muscle.

Click here to see the PHOTO GALLERY.
Shot in Wide Screen 16:9
Running time: 175 mins

Extra Scenes:
Photo Gallery
Brief Highlights - Powerlifting and Stone Lift
Photos by Wayne and Tina Gallasch.
Class Winners:
Sportmodel - Michelle Richards
Teenage - Chris Pampoukidis
Junior - Jack Perry
Men's Novice - Salim Hassan
Women's Novice - Belinda Walker
Men's Intermediate - Jarrad Wyett
Women's Intermediate - Annetta Rullo
Men's Masters Over 40 - Martin Trott
Men's Masters Over 50 - Ian Bowden
Women's Masters Over 40 - Debbie Dunkley
Figure Open - Tracy West
Men's Open Short - Gary Cleggett
Men's Open Tall - Tore Ricci
Overall Men's Champion: SALIM HASSAN.
Overall Women's Champion: TRACY WEST.

Complete Results:

Sportmodel
1st Michelle Richards
2nd Sarah Davis
3rd Laura Reed
4th Sasha Patsakios
5th Ivana Aligrudic
6th Danielle McInnes
6th Patrica Muller
6th Nicole Greenslades
6th Chloe Luter
6th Teresa Paech
Teenage
1st Chris Pampoukidis
2nd Tobi Pearce
3rd Donald Turner
4th Gerard Lewis
5th Peter Brown
6th Ryan Smith
6th Karl Richter
6th Tito Monoja
6th Eldon Lubke
Junior
1st Jack Perry
2nd Safar Ali
3rd Alan Ratcliffe
4th Wilbert Flores
5th Vu Nguyen
6th Sam Piggott
Men's Novice
1st Salim Hassan
2nd Jamie Michalak
3rd Jason Dunlop
4th Casey Thomas
5th Brad Johnson
6th Jason Van Hek
6th Hayden Johnson
6th James Arnold
6th Jake Edwards
6th Francisco Dullona Jr
6th Richard Gilby
Women's Novice
1st Belinda Walker
2nd Andre Koronis
3rd Iva Carnevale
4th Elly Garoufallou
5th Katie Hartung
6th Amy Dickerson
6th Bec Morrison
Men's Intermediate
1st Jarrad Wyett
2nd Jamie MacGillivray
3rd David Pregarz
4th Radu Apostol
4th Feras El Masri
6th Matt Watkins
6th Phillip Joncheff
6th Tom Haxby
6th Dale Power
Women's Intermediate
1st Annetta Rullo
2nd Beverley Omoboni
3rd Sue Raynor
Men's Masters O'40
1st Martin Trott
2nd Dave Sargent
Men's Masters O'50
1st Ian Bowden
2nd Michael Stone
Women's Masters O'40
1st Debbie Dunkley
2nd Michelle Kittel
3rd Vanessa Timko
4th Susan Wilson
5th Jan Button
Figure Open
1st Tracy West
2nd Vivienne Krstic
3rd Tracie Kavanagh
Men's Open Short
1st Gary Cleggett
2nd Duncan Rankine
3rd Shane Looman
4th Carlos Azevedo
5th Joshua Cane
Men's Open Tall
1st Tore Ricci
2nd Dominic Lagana
3rd Steven Miceli
4th Joseph Mencel
5th Jack Woodhouse
This event was drug tested by ASADA.
NTSC DVD, OPEN REGION