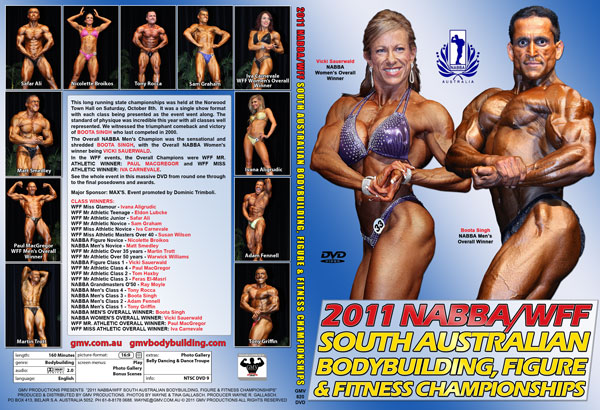 Click here for the preview clip

2011 NABBA/WFF South Australian Bodybuilding & Figure Championships
This long running state championships was held at the Norwood Town Hall on Saturday, October 8th. It was a single show format with awards being presented for each class as the event went along. The standard of physique was incredible this year with all classes well represented. We witnessed the triumphant comeback and victory of BOOTA SINGH who last competed in 2000.
The Overall NABBA Men's Champion was the sensational and shredded BOOTA SINGH, with the Overall NABBA Women's winner being VICKI SAUERWALD. Boota now joins a long line of distinguished South Australian state champions stretching back to 1963. See the COMPLETE LIST OF SOUTH AUSTRALIAN WINNERS here.
In the WFF events, the Overall Champions were WFF MR. ATHLETIC WINNER: Paul MacGregor and WFF MISS ATHLETIC WINNER: Iva Carnevale.
The most courageous bodybuilder of the night was Ray Moyle who made his comeback in the NABBA Grand Masters Over 50 Class after suffering the loss of a kidney due to cancer.

See almost 3 hours of fabulous physiques in this massive DVD with every round included for every class from round 1 through to the final posedowns and awards.



Click here for the PHOTO GALLERY.
Shot in Wide Screen 16:9
Running time: 160 mins
Photos by Wayne and Tina Gallasch.

Extra Scenes:
Photo Gallery
Belly Dancer
Dance Troupe
Major Sponsor: MAX'S. Event promoted by Dominic Trimboli.
Class Winners:
WFF Miss Glamour - Ivana Aligrudic
WFF Mr Athletic Teenage - Eldon Lubcke
WFF Mr Athletic Junior - Safar Ali
WFF Mr Athletic Novice - Sam Graham
WFF Miss Athletic Novice - Iva Carnevale
WFF Miss Athletic Masters Over 40 - Susan Wilson
NABBA Figure Novice - Nicolette Broikos
NABBA Men's Novice - Matt Smedley
WFF Mr Athletic Over 35 years - Martin Trott
WFF Mr Athletic Over 50 years - Warwick Williams
NABBA Figure Class 1 - Vicki Sauerwald
WFF Mr Athletic Class 4 - Paul MacGregor
WFF Mr Athletic Class 2 - Tom Haxby
WFF Mr Athletic Class 3 - Feras EI-Masri
NABBA Grandmasters O'50 - Ray Moyle
NABBA Men's Class 4 - Tony Rocca
NABBA Men's Class 3 - Boota Singh
NABBA Men's Class 2 - Adam Fennell
NABBA Men's Class 1 - Tony Griffin
NABBA MEN'S OVERALL WINNER: Boota Singh
NABBA WOMEN'S OVERALL WINNER: Vicki Sauerwald
WFF MR. ATHLETIC OVERALL WINNER: Paul MacGregor
WFF MISS ATHLETIC OVERALL WINNER: Iva Carnevale
Complete Results:
2011 NABBA/WFF South Australian Bodybuilding, Figure & Fitness Championships
WFF Miss Glamour
1. Ivana Aligrudic
2. Laura Reed
3. Sasha Patsakios
DNP
Chloe Luter,
Teresa Paech
Dani Mclnnes
Chloe Neil
WFF Mr Athletic Teenage
1. Eldon Lubcke
2. Jacob Garvie
WFF Mr Athletic Junior
1. Safar Ali
WFF Mr Athletic Novice
1. Sam Graham
2. Casey Thomas
3. Adam Kusnir
WFF Miss Athletic Novice
1. Iva Carnevale
2. Vanessa Woods
WFF Miss Athletic Masters Over 40
1. Susan Wilson
NABBA Figure Novice
1. Nicolette Broikos
2. Kirsty Young
3. Bee Morrison
NABBA Men's Novice
1. Matt Smedley
2. Lewis Debono
WFF Mr Athletic Over 35 years
1. Martin Trott
WFF Mr Athletic Over 50 years
1. Warwick Williams
NABBA Figure Class 1
1. Vicki Sauerwald
2. Sue Raynor
WFF Mr Athletic Class 4
1. Paul MacGregor
2. William Pover
WFF Mr Athletic Class 2
1. Tom Haxby
WFF Mr Athletic Class 3
1. Feras EI-Masri
NABBA Grandmasters O'50
1. Ray Moyle
NABBA Men's Class 4
1. Tony Rocca
NABBA Men's Class 3
1. Boota Singh
NABBA Men's Class 2
1. Adam Fennell
NABBA Men's Class 1
1. Tony Griffin
NTSC DVD, OPEN REGION