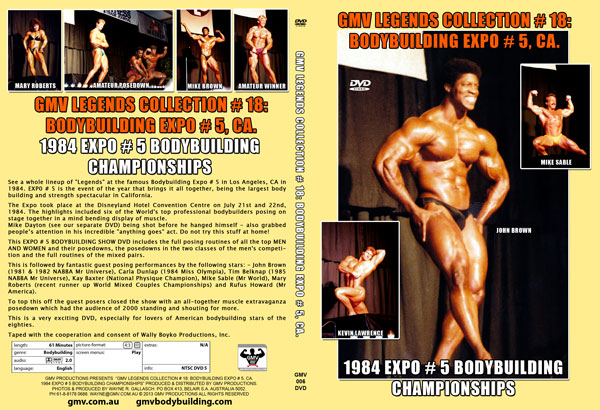 GMV Legends Collection # 18: Bodybuilding Expo # 5, CA.
1984 EXPO # 5 BODYBUILDING CHAMPIONSHIPS.
See a whole lineup of "Legends" at the famous Bodybuilding Expo # 5 in Los Angeles, CA in 1984.
Back for the fifth-time in LA, EXP0 # 5 is the event of the year that brings it all together, being the largest body building and strength spectacular in California.
The Expo took place at the Disneyland Hotel Convention Centre on July 21st and 22nd, 1984. The highlights included six of the World's top professional bodybuilders posing on stage together in a mind bending display of muscle.
Mike Dayton (see our separate DVD) being shot before he hanged himself - also grabbed people's attention in his incredible "anything goes" act. Do not try this stuff at home!
We produced a number of videos from this event, such as this EXPO # 5 BODYBUILDING DVD, THE JOHN BROWN & TIM BELKNAP SEMINAR, THE MIKE DAYTON STRENGTH SHOW, and taped the next day, THE KAY BAXTER DVD. (See details at the bottom of this page.)
This EXPO # 5 BODYBUILDING SHOW DVD includes the full posing routines of all the top MEN AND WOMEN and their posedowns, the posedowns in the two classes of the men's competition and the full routines of the mixed pairs.
This is followed by fantastic guest posing performances by the following stars: - John Brown (1981 & 1982 NABBA Mr Universe), Carla Dunlap (1984 Miss Olympia), Tim Belknap (1985 NABBA Mr Universe), Kay Baxter (National Physique Champion), Mike Sable (Mr World), Mary Roberts (recent runner up World Mixed Couples Championships) and Rufus Howard (Mr America).
To top this off the guest posers closed the show with an all-together muscle extravaganza posedown which had the audience of 2000 standing and shouting for more.
This is a very exciting DVD, especially for lovers of American bodybuilding stars of the eighties.
Taped with the cooperation and consent of Wally Boyko Productions, Inc.
Photos by Wayne Gallasch, copyright Wayne & GMV.
Running time: 61 mins
Tim Belknap & John Brown Seminar plus Posing - 1984

Bodybuilders Tim Belknap and John Brown in seminar - plus their posing at the Boyko Expo 5 in Southern California in 1984. It was our privilege to be able to record one of these early events in 1984 where Brown and Belknap were 2 of the big stars.
They were in top condition and their posing was amazing.


The Mike Dayton Strength Show

Mike Dayton is a former bodybuilding champion turned professional strongman. This amazing performance was filmed in 1984 in Southern California. Witness incredible feats of strength and endurance, including Mike's famous hanging, seventy chin-ups in just over a minute, being shot through a phone directory, breaking assorted objects including baseball bats and burning bricks, and his famous breaking of regulation strength handcuffs. It's barely controlled insanity, and these feats and in particular the HANGING must not, repeat NOT be attempted at home.


Kay Baxter DVD

Voted the world's best female bodybuilder Kay Baxter was, without doubt, the world's most muscular women's physique champion of the 80's - years ahead of her time. This feature video captures Kay Baxter at her all-time peak of condition. Dynamic but graceful posing at its best. Here is a true professional, in a breathtaking presentation of total muscularity. Her display is also strengthened by her background in gymnastics and dance and is an outstanding example of her attention to detail. Kay weighed in at 135 lbs (62 kg) - an incredibly muscular superwoman.
NTSC DVD, OPEN REGION