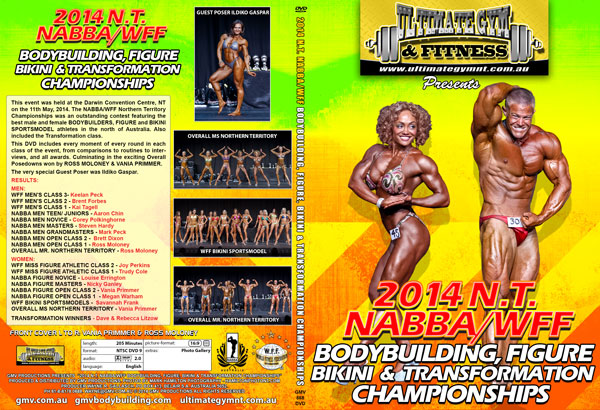 Click here for DVD preview.
2014 N.T. NABBA/WFF Bodybuilding, Figure, Bikini & Transformation Championships

The Men available on Digital Download. Men's Preview clip.
The Women available on Digital Download. Women's Preview clip.
This Northen Territory event is presented by Ultimate Gym & Fitness.
This contest was held at the Darwin Convention Centre, NT on the 11th May, 2014. The NABBA/WFF Northern Territory Championships was an outstanding contest featuring the best male and female BODYBUILDERS, FIGURE and BIKINI SPORTSMODEL athletes in the north of Australia. Also included the Transformation class.
The DVD includes every moment of every round in each class of the event, from comparisons to routines to interviews, and all awards. Culminating in the exciting Overall Posedowns won by ROSS MOLONEY and VANIA PRIMMER.
The Guest Poser was NABBA Figure Champion ILDIKO GASPAR.

Check out the PHOTO GALLERY.

Extras:
Photo Gallery
(My special thanks for the superb photography to Mark Hamilton Photography - hamiltonphotont.com)
Running time: 205 mins
COMPLETE RESULTS:
2014 NABBA/WFF Northern Territory Championships
WFF MEN'S CLASS 3 COMPETITORS
1 Keelan Peck
2 Cameron Irwin

WFF MEN'S CLASS 2 COMPETITORS
1 Brent Forbes
2 Jake Eggleton
3 Guy Cabillo

WFF MEN'S CLASS 1 COMPETITORS
1 Kye Tagell
2 Wayne Demos

NABBA MEN TEEN/ JUNIORS
1 Aaron Chin

NABBA MEN NOVICE
1 Corey Polkinghorne
2 Peter Scali
3 Dave Litzow

NABBA MEN MASTERS
1 Steven Hardy

NABBA MEN GRANDMASTERS
1 Mark Peck
2 Shane Stringer

NABBA MEN OPEN CLASS 2
1 Brett Dixon

NABBA MEN OPEN CLASS 1
1 Ross Moloney

Overall Mr. Northern Territory - ROSS MOLONEY

WFF MISS FIGURE ATHLETIC CLASS 2 COMPETITORS
1 Joy Perkins
2 Natasha Tomlin

WFF MISS FIGURE ATHLETIC CLASS 1 COMPETITORS
1 Trudy Cole
2 Lyndall Ryan

NABBA FIGURE NOVICE COMPETITORS
1 Louise Errington
2 Rebecca Litzow

NABBA FIGURE MASTERS COMPETITORS
1 Nicky Ganley
2 Yvonne Wilson

NABBA FIGURE OPEN CLASS 2
1 Vania Primmer
NABBA FIGURE OPEN CLASS 1
1 Megan Warham
2 Sam Hayden

Overall Ms Northern Territory - VANIA PRIMMER

WFF BIKINI SPORTSMODELS
1 Savannah Frank
2 Gabby Chesher
3 Emma McBride
Shannelle Wilsdon
Melanie Robertson
Hayley Marriot
Elle Chandler
Karen Arkell
Alice Burton
Karen Gall
Bridget Gee
Jade Huby
Larissa Ingliss
Ashlee Palmer
Jen Chamoun
Jessica Hancock
Renee Polkinghorne
Jess Brewster

NT TRANSFORMATION CLASS
1 Dave & Rebecca Litzow
2 Samantha Hayden
3 Jen Chamoun
Melanie Robertson
Nadia Lee
Debbie Jane Ganas
Sarah Patrone
Natasha & Jason Plues
Jan Woodward
Bobby Younger
Corinna Garland
Jessica Hancock
Hayley Marriot
Felicity Mallon
Lyndall Ryan
Karen Arkell
Promoter:
Phil Primmer
MCs:
Phil Primmer
Vania Primmer
Head Judge:
Chris Hosking
Photography:
Mark Hamilton Photography
hamiltonphotont.com
Special Thanks:
Phil Primmer
Mark Hamilton
THIS EVENT IS OFFICIALLY SANCTIONED BY
NABBA
WFF

NABBA AUSTRALIA PRESIDENT
Graeme Lancefield
nabba.com.au

SPONSORS
Southern Steel
International Protein
Halikos Group
Ultimate Gym & Fitness
ultimategymnt.com.au
Mass Nutrition Darwin
Bioflex
Kalidonis
Klush Hair Studio
Foremost Engineering
HB Concrete

NTSC DVD, OPEN REGION