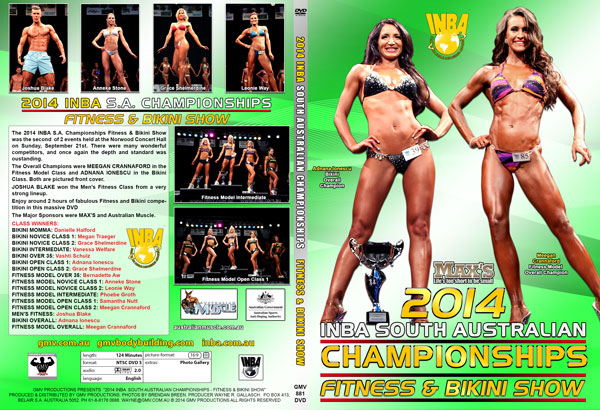 Click here for preview.
2014 INBA South Australian Championships: Fitness & Bikini Show
Also on Full HD Digital Download.
Natural Fitness & Bikini Titles.
The 2014 INBA S.A. Championships Fitness & Bikini Show was the second of 2 events held at the Norwood Concert Hall on Sunday, September 21st. There were many wonderful competitors, and once again the depth and standard was outstanding.
The Overall Champions were MEEGAN CRANNAFORD in the Fitness Model Class and ADNANA IONESCU in the Bikini Class. Both are pictured front cover.
JOSHUA BLAKE won the Men's Fitness Class from a very strong lineup.
Enjoy over 2 hours of fabulous Fitness and Bikini competition in this outstanding DVD which covers most of the contest through to the final comparisons and awards.
See the PHOTO GALLERY.
The Major Sponsors were MAX'S and Australian Muscle.
Class Winners:
BIKINI MOMMA: Danielle Halford
BIKINI NOVICE CLASS 1: Megan Traeger
BIKINI NOVICE CLASS 2: Grace Shelmerdine
BIKINI INTERMEDIATE: Vanessa Welfare
BIKINI OVER 35: Vashti Schulz
BIKINI OPEN CLASS 1: Adnana Ionescu
BIKINI OPEN CLASS 2: Grace Shelmerdine
FITNESS MODEL OVER 35: Bernadette Aw
FITNESS MODEL NOVICE CLASS 1: Anneke Stone
FITNESS MODEL NOVICE CLASS 2: Leonie Way
FITNESS MODEL INTERMEDIATE: Phoebe Groth
FITNESS MODEL OPEN CLASS 1: Samantha Nutt
FITNESS MODEL OPEN CLASS 2: Meegan Crannaford
MEN'S FITNESS: Joshua Blake
BIKINI OVERALL: Adnana Ionescu
FITNESS MODEL OVERALL: Meegan Crannaford
Running time: 124 minutes
Format: Shot in Wide Screen 16:9
Extra Scenes:
Photo Gallery
Photos by Brendan Breen


2014 MAX's INBA South Australian Championships: Bodybuilding Show

The Overall Champions were a shredded WILLIAM McAULEY in the Men's Bodybuilding section, and a superbly proportioned and conditioned CARLA KENNY in the Women Figure Class. Both are pictured front cover.

The BEST POSING AWARDS went to SAMUEL MUSSARED for the men and to NICOLENA SABATINI for the women. See every round through to the final posedowns and awards. Includes all routines from the Posing Rounds.


2014 MAX's INBA South Australian Championships Results in this DVD.
Norwood, S.A. September 21st, 2014
FITNESS & BIKINI SHOW
BIKINI MOMMA
1. Danielle Halford
2. Anne Marie Harnett
3. Hailie McGowan
4. Tammy Howe
BIKINI NOVICE CLASS 1
1. Megan Traeger
2. Stacey Pointon
3. Laure Faddoul
4. Stephanie Baradakis
5. Hayley Brown
6. Maree Kiosses
6. Veronica Varricchio
6. Jasmine Cartlidge
6. Aleksandra Rewak
6. Kimberley Giles
6. Amy Lungley
6. Paulina Jankowski
6. Charlotte Henderson
6. Monique Vicary
6. Samantha Allan
BIKINI NOVICE CLASS 2
1. Grace Shelmerdine
2. Kimberley Woolgar
3. Louise Steinhausser
4. Ruby Fagan-Schmidt
5. Taylor Kopp
6. Courtney Pasfield
6. Jessica Dixon
6. Alana Harvey
6. Carly Graham
6. Carly Gooding
6. Alicia Geyer
6. Rebecca McNicol
6. Mary Passehi
6. Crystal Angwin-Short
6. Caitlin Patrikis
BIKINI INTERMEDIATE
1. Vanessa Welfare
2. Rebekah Brice
3. Franca D'Apruzzo
4. Donna Looft
5. Sahar Marvasti
6. Christie Rozlakis
6. Kelsey McIlwaine
BIKINI OVER 35
1. Vashti Schulz
2. Jeanne Paul
3. Joanne Bezzina
BIKINI OPEN CLASS 1
1. Adnana Ionescu
2. Elle Blackwell
3. Rebekah Brice
4. Laure Faddoul
5. Franca D'Apruzzo
6. Maree Kiosses
6. Veronica Varricchio
6. Jasmine Cartlidge
6. Aleksandra Rewak
6. Paulina Jankowski
6. Joanne Bezzina
6. Christie Rozlakis
6. Kelsey McIlwaine
BIKINI OPEN CLASS 2
1. Grace Shelmerdine
2. Vanessa Welfare
3. Danielle Halford
4. Hayley Brown
5. Donna Looft
6. Courtney Pasfield
6. Jessica Dixon
6. Carly Gooding
6. Rebecca McNicol
6. Hailie McGowan
6. Sahar Marvesti
6. Candice Pine
6. Caitlin Parikis
BIKINI OVERALL
Adnana Ionescu
MEN'S FITNESS
1. Joshua Blake
2. Kieran Reinboth
3. Gavin Snaderson
4. Lucas Williamson
5. Daniel Devenport
6. Ishaq Iqbal
6. Cain Gava
6. Lachlan Hinds
6. Scott Broadbridge
6. Michael Kruger
FITNESS MODEL OVER 35
1. Bernadette Aw
2. Robyn Sayers
FITNESS MODEL NOVICE CLASS 1
1. Anneke Stone
2. Tammie Harford
3. Elimly Clohesy
4. Leesa Scanlan
5. Sophie Putland
6. Jessica Barca
6. Maria Nagy
6. Renee Gordon
6. Briana Lawrence
FITNESS MODEL NOVICE CLASS 2
1. Leonie Way
2. Peta McEvoy
3. Diana Ciui
4. Sally Drovin
5. Ebony Vaninetti
6. Caroline Duffy
6. Daniella Pisani
6. Susana Mansell
6. Elise Whorlow
6. Rebecca Pahl
FITNESS MODEL INTERMEDIATE
1. Phoebe Groth
2. Lucinda Porcelli
3. Fiona Milliken
4. Hailey Elliott
FITNESS MODEL OPEN CLASS 1
1. Samantha Nutt
2. Anneke Stone
3. Tammie Harford
4. Emily Clohesy
5. Hailey Elliot
6. Maria Nagy
6. Sophie Putland
6. Lucinda Porcelli
6. Bernadette Aw
FITNESS MODEL OPEN CLASS 2
1. Meegan Crannaford
2. Leoni Way
3. Diane Ciui
4. Peta McEvoy
5. Sally Drovin
6. Leesa Scanlan
6. Ebony Vaninetti
6. Elise Whorlow
6. Fiona Milliken
OVERALL FITNESS MODEL
Meegan Crannaford
***********************
This event is sanctioned by INBA Australia
INBA.COM.AU
EVENT PROMOTER:
KIM TANSKA
australianmuscle.com.au
MASTERS OF CEREMONY:
FRED LIBERATORE
KIM TANSKA
HEAD JUDGE:
ESTHER PEDISIC
THIS EVENT WAS DRUG TESTED BY ASADA
MAJOR SPONSORS:
MAX'S
AUSTRALIAN MUSCLE
GOLD SPONSORS:
INTERNATIONAL PROTEIN
APS
PLATINUM LABS
GEN-TEC NUTRITION
BSN
INFINITE LABS
MET-RX
GLAM FIT BIKINIS
RYDERWEAR
SHAPE UP
VITAL STRENGTH
BEAST
OPTIMUM NUTRITION
HORLEYS
LIMA PROTECTION SERVICES
DYMATIZE
EHP LABS
LUCY LANE BEAUTY THERAPY
FINESSE NUTRITION & FITNESS
WILD BULL
FIT BUZZ
DRMT
SUPERGYM
ADELAIDE BODYSCAN
BEN WHITEHOUSE
LIVING BEAUTY
SOUTHBOUND 24/7 MEGA GYM
OLYMPIC MUSCLE & FITNESS
NTSC DVD, OPEN REGION