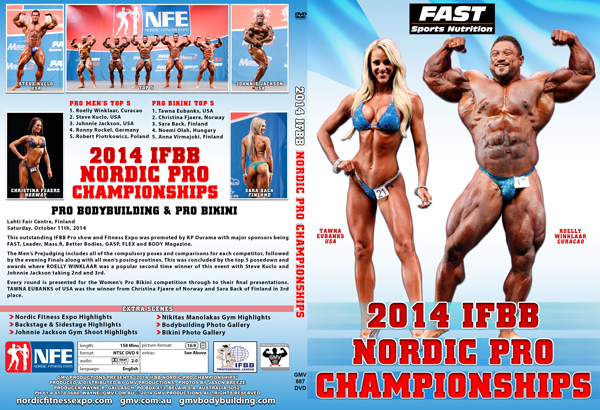 Preview clip


2014 IFBB Nordic Pro Championships - Pro Men & Pro Bikini



Lahti Fair Centre, Finland
Saturday, October 11th, 2014
This outstanding IFBB Pro show and Fitness Expo was promoted by KP Ourama with major sponsors being FAST, Leader, Mass.fi, Better Bodies, GASP, FLEX and BODY Magazine.
The Men's Prejudging includes all of the compulsory poses and comparisons for each competitor, followed by the evening Finals along with all men's posing routines. This was concluded by the top 5 posedown and awards where ROELLY WINKLAAR was a popular second time winner of this event with Steve Kuclo and Johnnie Jackson taking 2nd and 3rd.
Every round is presented for the Women's Pro Bikini competition through to their final presentations. TAWNA EUBANKS of USA was the winner from Christina Fjaere of Norway and Sara Back of Finland in 3rd place.
See the MASSIVE PHOTO GALLERY.
The DVD also includes scenes from the Nordic Fitness Expo, October 11th and 12th.
EXTRAS:
There are MANY EXTRA SCENES from our 2nd camera:
Expo - NFE highlights: 4 mins
Backstage & Sidestage highlights: 19 mins
Johnnie Jackson gym shoot highlights includes Jessica Renee: 5 mins
Nikitas Manolakas gym highlights: 4 mins
Pro Bodybuilding Photo Gallery
Pro Bikini Photo Gallery
Running Times:
Contests: 124 mins
(Pro Men - 77 mins
Pro Bikini - 47 mins)

Extra Scenes: 32 mins
TRT: 156 mins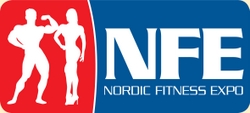 See our Complete List of all DVDs from the NFE and Finland.



2014 IFBB Nordic Pro Championships Results

2014 IFBB Nordic Pro Men's Bodybuilding
1. Roelly Winklaar, Curacao
2. Steve Kuclo, USA
3. Johnnie Jackson, USA
4. Ronny Rockel, Germany
5. Robert Piotrkowicz, Poland
6. Jeno Kiss, Hungary
7. Robert Burneika, USA
8. Alexey Lesukov, Russia
9. Aliaksei Shabunia, Belarus
10. Mario Van Steenberghe, Belgium
11. Nikitas Sotirios Manolakas, Greece
12. Oleg Emelyanov, Russia
13. Vladimir Agrinskiy, Russia
14. Alexandre Nataf, France
15. Rudy Richards, USA
16. Dainius Barzinskas, Lithuania
16. Timo Honkala, Finland
2014 IFBB Nordic Pro Bikini
1. Tawna Eubanks, USA
2. Christina Fjaere, Norway
3. Sara Back, Finland
4. Noemi Olah, Hungary
5. Anna Virmajoki, Finland
6. Lacey Deluca, USA
7. Egle Eller-Nabi, Estonia
8. Margret Gnarr, Iceland
9. Aly Garcia, USA
10. Michelle Lewin, Venezuela
11. Valeria Ammirato, Germany
12. Jessica Renee, USA
13. Anna Larsson, Sweden


2014 IFBB Nicole Wilkins Fitness Championships

There were 3 height categories within each division for BODY FITNESS and BIKINI FITNESS – Under 163cm, and Under and Over 168cm. This DVD brings you the complete competition from all of the Prejudging to the Finals and Awards.

Special presenter during awards was 2014 Figure Olympia winner NICOLE WILKINS who presented the winners with their trophies. She was assisted by 1981 Miss Olympia Kike Elomaa.


2014 IFBB Finnish Nationals - Men's Bodybuilding, Body Fitness, Fitness & Bikini Fitness

We feature the complete MEN'S BODYBUILDING Competition and all of the Women's Classes that took place on Sunday – BODY FITNESS, FITNESS & BIKINI FITNESS. There were 3 weight divisions for the Men's Bodybuilding, 3 height categories for Body Fitness and 5 height categories for Bikini Fitness.

This DVD brings you the complete competition for the classes listed above.


THIS EVENT WAS OFFICIALLY SANCTIONED BY THE
IFBB Finland / IFBB / IFBB Pro League

IFBB INTERNATIONAL PRESIDENT
Rafael Santonja
IFBB PRO LEAGUE PRESIDENT
Jim Manion

EVENT PRODUCER
KP Ourama
nordicfitnessexpo.com

EVENT MC's
Ari Tuukkanen
Dennis James
Armando Marquez

PHOTOS
Jason Breeze - jasonbreeze.com
Nordic Fitness Expo Photo Crew

MAIN SPONSORS
FAST, Leader, Mass.fi
Better Bodies, GASP, FLEX,
BODY Magazine

EVENT PARTNERS
Cumulus
Sokos Hotel Lahden Seurahuone
Ab Hur Oy
Multiprint Oy
Hertz
K&M Fitness Centre

MEDIA PARTNERS
FLEX
BODY Magazine
Muscular Development
East Labs
Body-Xtreme.de
Team Andro
GMV Productions

IFBB JUDGES
Head Judge: Lee Thompson - USA
Judges:
Jen Thompson - USA
Per Sundström - Sweden
Tone Opheim - Norway
Pasi Lakaniemi - Finland
Peter Uricek - Slovakia
Leona Bergmann - Netherlands
Wolfgang Schober - Austria
ON STAGE JUDGE: Natalia Nazarenko-Kiivikas
STAGE EXPEDITER: Vesa Kilpinen
EXPO COORDINATOR: Petri Helenius
SPECIAL THANKS
KP Ourama
Nicole Wilkins
Kike Elomaa
Pasi Lakaniemi
Riku Jaro / Ohjelma-akseli for lighting and sound
Samuli Kasurinen
Ville Virtanen

GMV's SPECIAL THANKS
Markus Kangas
Finnair - Toni Kosmarikas www.finnair.com
Antti Pirinen - FAST Sports Nutrition fast.fi
Jason Breeze
Johnnie Jackson
Jessica Renee
Tomi Rehell
Ari Tuukkanen
VIDEOGRAPHY
Wayne R. Gallasch
Markus Kangas

DVD GALLERY EXPO PHOTOS
Wayne R. Gallasch & other photos courtesy BODY Magazine.
NTSC DVD, OPEN REGION