Dr Dick Rossan Tribute by Wayne Gallasch.
In Memoriam Richard N. Rossan, 1928 - 2018. R.I.P.

*Photo tribute is at the bottom of this page.

GMV Camera Team Member 2000 - 2011.

It is with great sadness that I am writing this tribute to my very dear friend Dr Dick Rossan of Las Vegas. Tina and I greatly mourn the loss of Dick, our long-time GMV Olympia team member since 2000. Dick was a key member of the team from the 2000 Olympia till his final year at the 2011 Olympia.
Dick passed away in hospital at the age of 89, just a few weeks short of his 90th birthday. His date of death was March 20th, 2018, and was due to sepsis and various complications leading to heart failure. He became my closest friend in bodybuilding and for years I received emails from him every single day. In fact his emails continued right up till a week before his death.
For many years Dick ran my USA office, received orders and enquiries which he passed on to me daily. He organised the staff and managed our GMV Olympia Expo booth for many years. Dick assisted me as my photographer at a number of Grand Prix in USA such as the IronMan, San Francisco, Phoenix, and at the 2002 Arnold Classic. As well as at the Olympia.
Before many of the Olympias, Clive Jaques, Tina and myself stayed at his Las Vegas home where we were always made welcome by Dick and his wife Inga. He would arrange for various gym shoots which we did together, both prior to and after the Olympia. This was in most years. Dick was an outstanding photographer with an excellent eye.
Dick was passionate about his photography and worked with hundreds of amateur bodybuilders over the years. He was the GMV team's rock, and he will be greatly missed, not only by us, but also by his own family and his greater family – the whole bodybuilding community in general. His generosity and enthusiasm for the sport will not be forgotten. Many of my videos are a testament to his help and support.
What Dick loved doing best was shooting backstage in the Olympia Pump Room. He captured some wonderful images over the years from stars such as Ronnie and Jay - to the new guys from Europe who he felt deserved greater publicity. Our Olympia Sunday pool shoots were very special, both at the Mandalay Bay Hotel pool area in the early to mid 2000s, and later at the home of Andy Olson.
Richard Rossan was a remarkable man who spent his working life as a researcher into malaria. Here is his bio in his own words:

I was at Rutgers University from 1956-1959 and received my Ph.D there.
My thesis was BLOOD CHANGES IN ANIMALS INFECTED LEISHNANIASIS.
I was in the Navy from Feb. 1951 to Sept. 1956, both as a Hospital Corpsman and then as an Ensign in the Medical Service Corps.
1959 Howard University, Washington, DC.
1960-1963 - Christ Hospital Institute of Medical Research, Cincinnati, OH.
1963-1969 - Nationals Center for Primate Research, Davis, CA
1969-1997- Gorgas Memorial Laboratory, Panama, Panama (director 1988-1989 - Director)
Retired, April 1997 to Las Vegas, NV
Met Wayne Gallasch at the 1999 Olympia in Las Vegas.
Served on the GMV camera team in all parts of USA from 2000 to 2011.
Suffered a stroke at the end of 2011 and retired from the GMV camera team.
I will always owe a huge debt of gratitude to Dick and Inga Rossan for their help, support, hospitality and kindness over the years. RIP Dick, a life lived well.
" We will be known forever by the tracks we leave "
- Dakota Proverb.




2000 - Our first Olympia GMV team shoot, Red Rock Canyon, Las Vegas. L to R - Dick Rossan, Gunter & Carmen Schlierkamp, Wayne Gallasch, Bill Comstock & James Cook.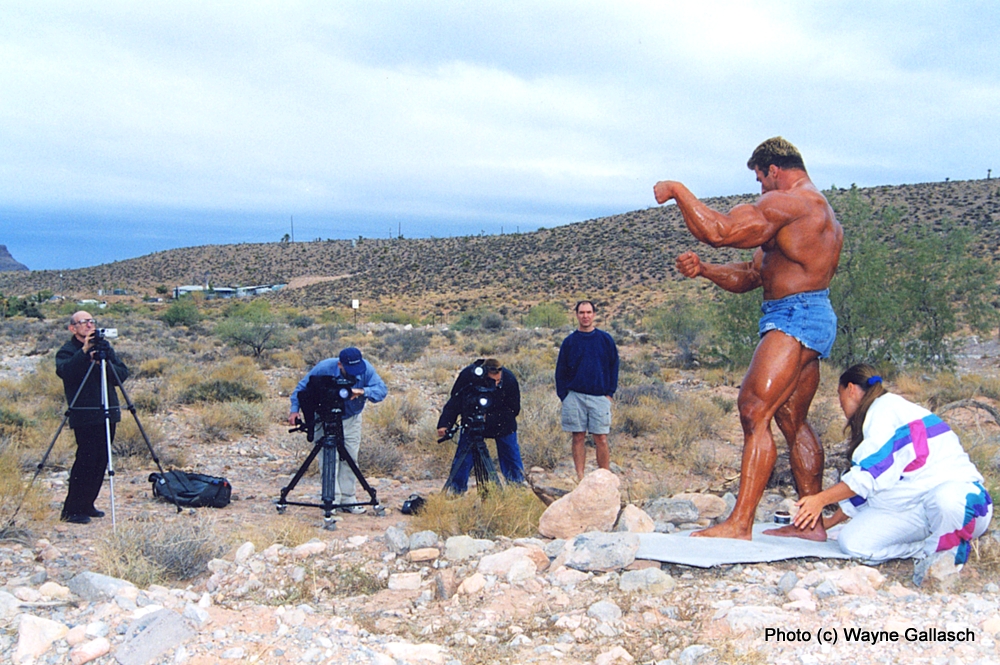 2000 - During the 3 camera shoot, Red Rock Canyon. L to R - Dick Rossan, Wayne, James Cook, Bill Comstock & Gunter & Carmen Schlierkamp.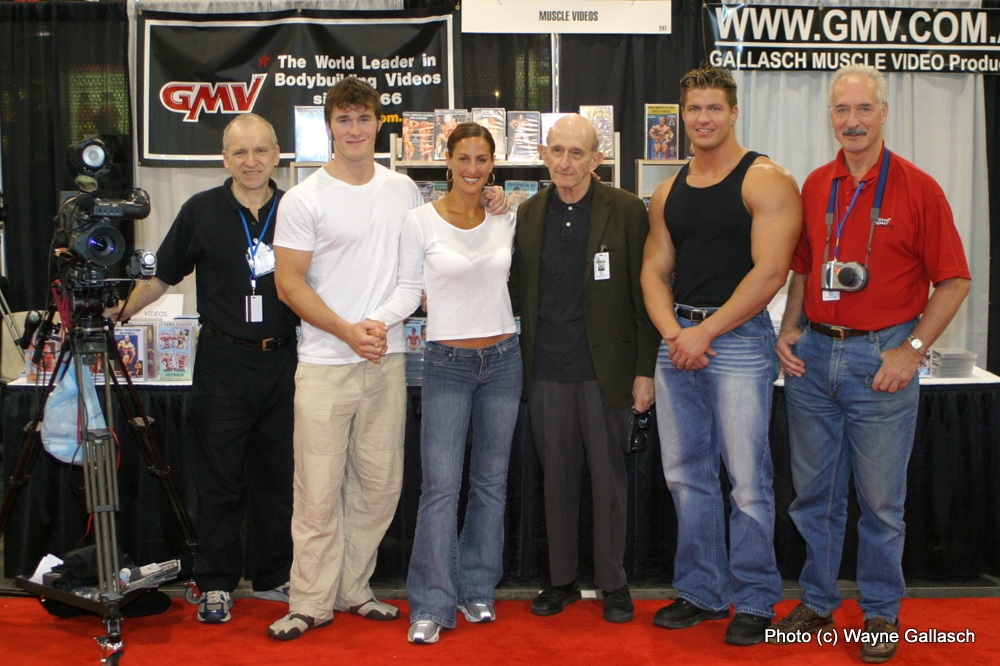 2003 - GMV team for the Olympia Expo booth. L to R - Wayne, Ronan Doherty, Bonni Yudenfriend, Dick Rossan, Charlie Poole & Clive Jaques.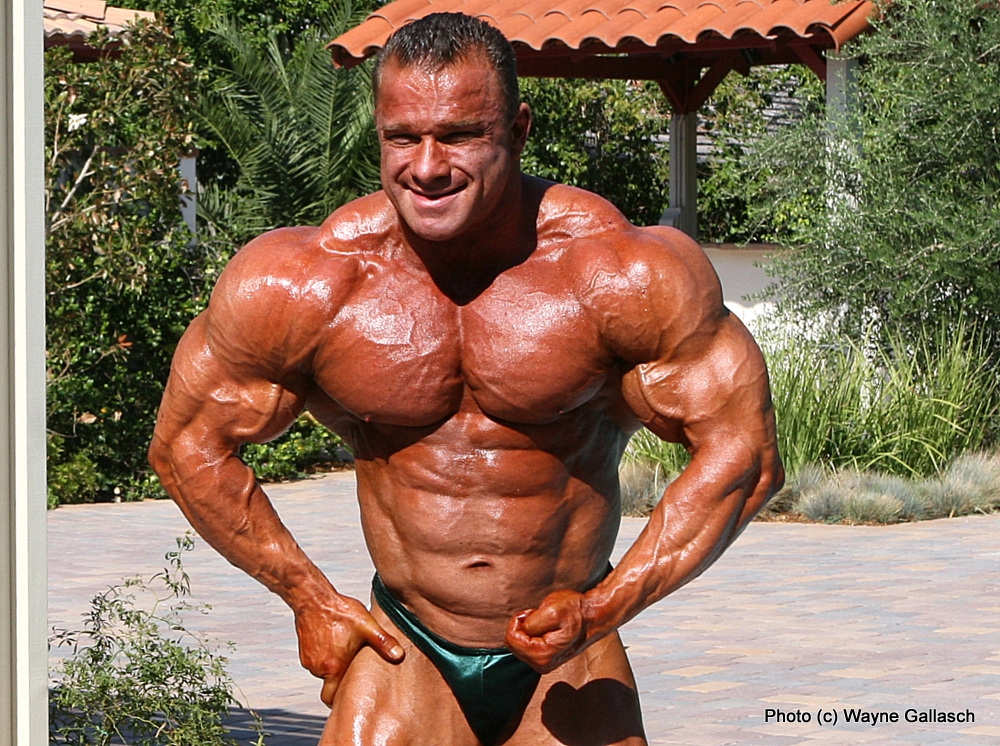 2008 - Dick's photo of Ronny Rockel at my poolside pumping and posing video shoot on the day after the 2008 Olympia.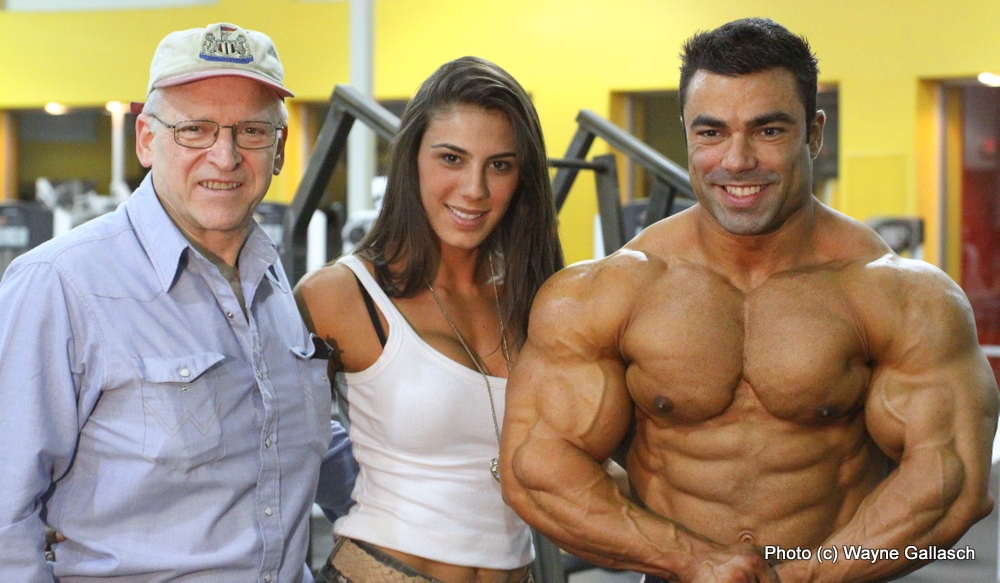 2009 - Photo by Dick Rossan after gym training video and photo shoot. L to R - Wayne, with Carol and Eduardo Correa.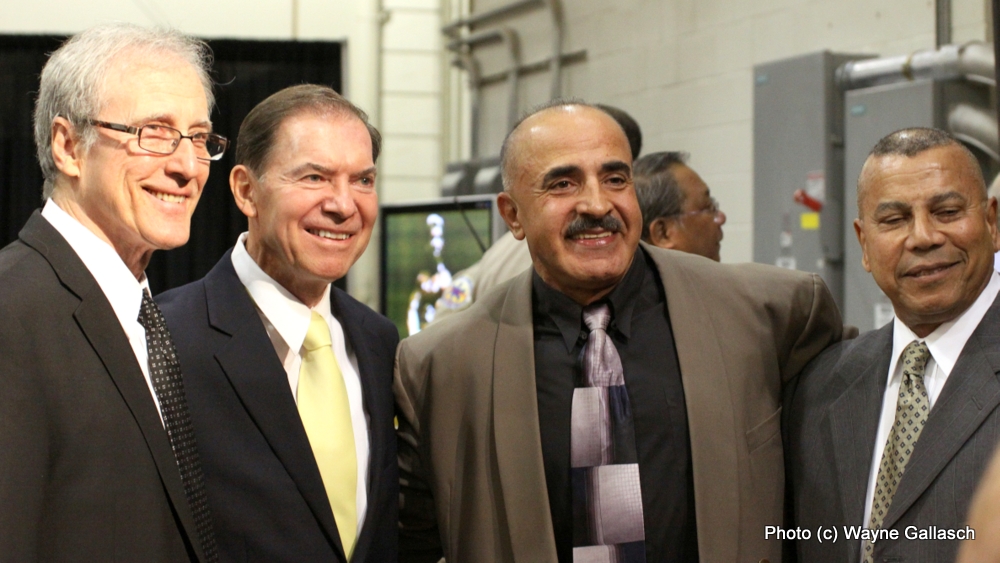 2010 - The Olympia, Dick's photo backstage for the GMV team. L to R - Past Olympia champions Frank Zane, Larry Scott, Samir Bannout & Chris Dickerson.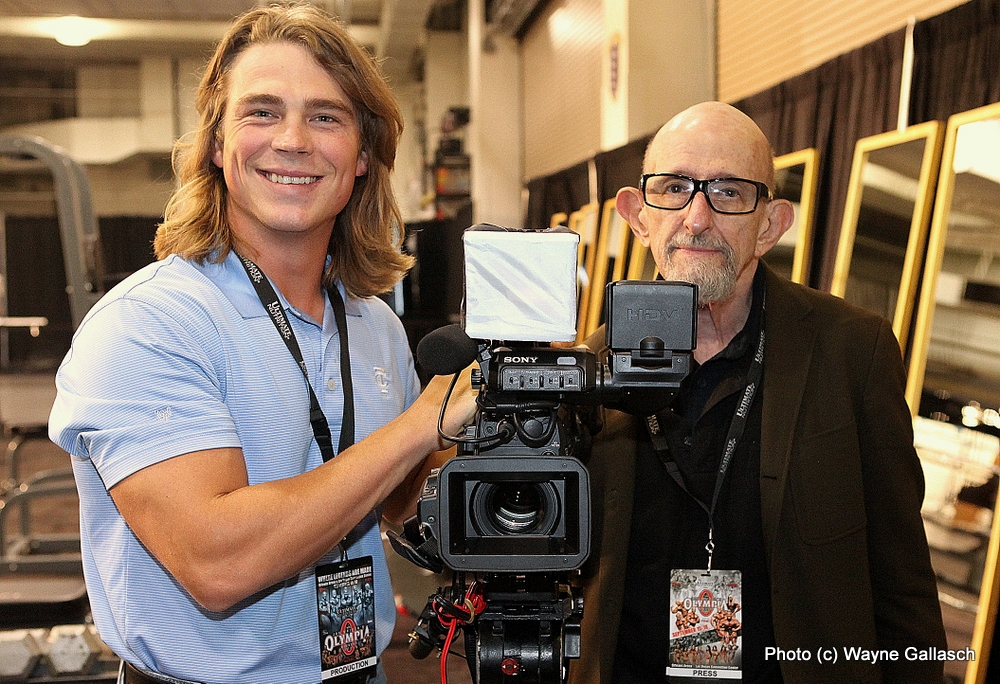 2011 - In the Olympia Pump Room and GMV Camera team members. L to R - Teddy Marty & Dick Rossan.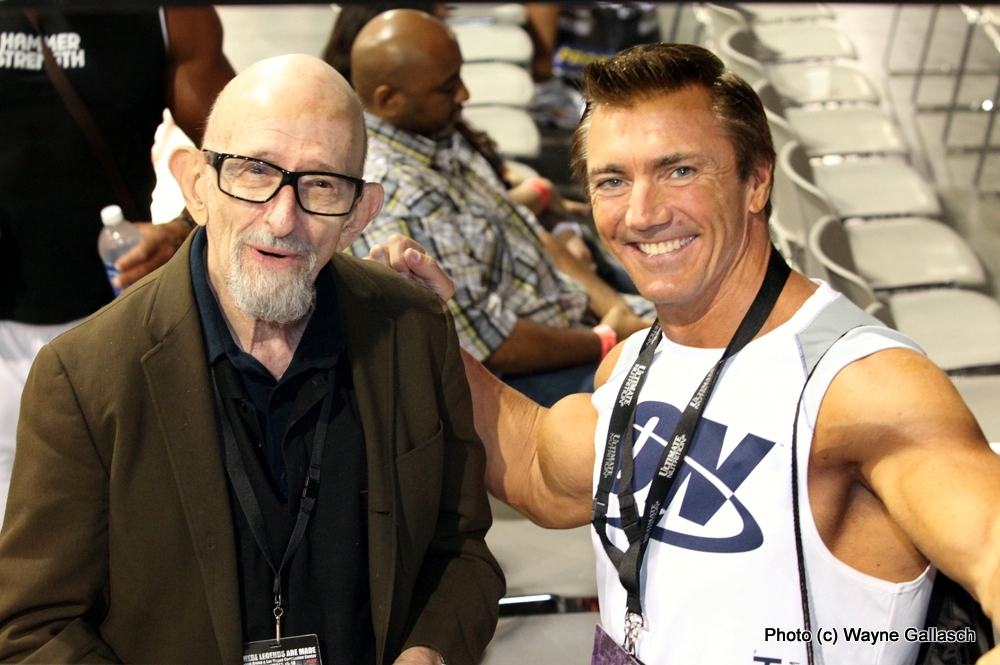 2011 - Olympia and GMV Camera team members. L to R - Dick Rossan and our interviewer John Hansen.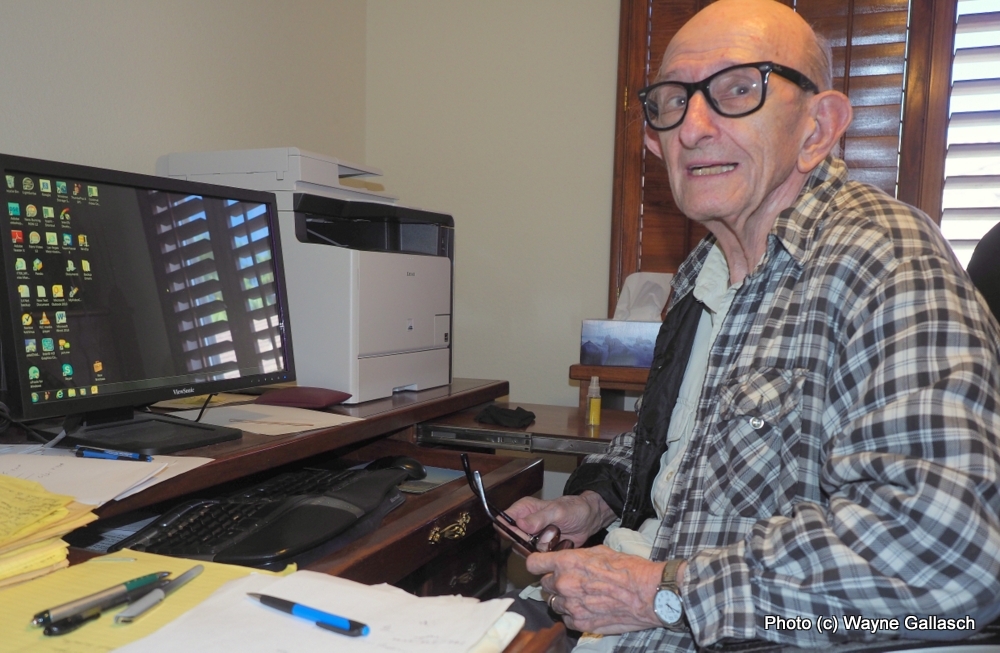 2017 - The last photo I took of Dick, sitting at his computer at home on Sunday, September 10th.