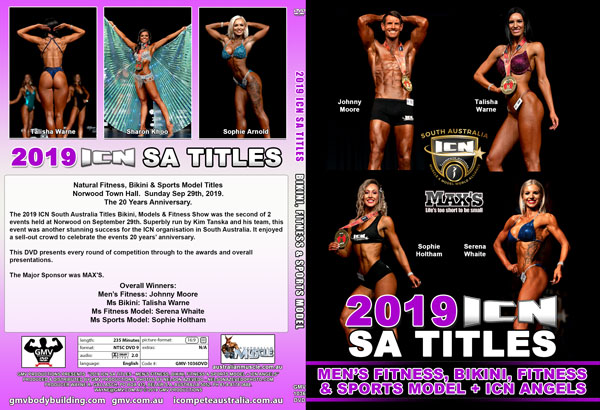 2019 ICN South Australia Titles - Men's Fitness, Bikini, Fitness & Sports Model + Angels
Natural Fitness, Bikini & Sports Model Titles.

Norwood Town Hall. Sunday Sep 29th, 2019.
The 20 Years' Anniversary.

The 2019 ICN South Australia Titles Bikini, Models & Fitness Show was the second of 2 events held at Norwood on September 29th. Superbly run by Kim Tanska and his team, this event was another stunning success for the ICN organisation in South Australia. It enjoyed a sell-out crowd to celebrate the events 20 years' anniversary.

This DVD presents every round of competition through to the awards and overall presentations. The Major Sponsor was MAX'S.
Overall Winners:
Men's Fitness: Johnny Moore
Ms Bikini: Talisha Warne
Ms Fitness Model: Serena Whaite
Ms Sports Model: Sophie Holtham
Running time: 235 mins


Complete Results seen in this DVD:
2019 ICN South Australian Titles
Norwood Town Hall, South Australia, Sunday, September 29th, 2019.
Angels
1. Sharon Khoo
2. Alecia Cole
3. Sophie Holtham
4. Julieanne Teague
5. Sherry Zhou
Sophie Arnold
Laura Mawson
Tori Winther
Jayde Hanna
Olivia Milligan
Jade Nannini
Men's Fitness First Timers
1. Saj Bakhsh
2. Frank Wu
3. Cliff Li
4. Songmian Wang
5. Marcus Turner
Zeli Wang
Brad Di Cicco
Chun Wang
Sachin Handa
Junqiao Chen

Ms Bikini 30+
1. Lisa Chatfield
2. Olivia Milligan
3. Beth Castell
4. Kirsty Wilson
5. Anthea Agius
Alecia Cole
Louise Mills
Marianne Melito
Ebony Dunning
Jayde Hanna

Men's Fitness 30+
1. Johnny Moore
2. Micky Mitru
3. Sachin Handa
4. Zeli Wang

Ms Bikini 40+
1. Sharyn Uzkuraitis
2. Dakoda Lloyd
3. Kim Browne
4. Connie Falanga

Ms Bikini 23
1. Sophie Holtham
2. Constance Kan
3. Montana Daniel
4. Chloe Hunt
Men's Fitness Open - Class 1
1. Johnny Moore
2. Saj Bakhsh
3. Fazz Faizi
4. Michael Cantelmi
5. Songmian Wang
Jonno Sabburg
Men's Fitness 21
1. Avi Prasad

Men's Fitness Open - Class 2
1. Frank Wu
2. Cliff Li
3. Micky Mitru
4. Chun Wang
5. Brad Di Cicco
Zeli Wang
Junqiao Chen

Men's Fitness Overall: JOHNNY MOORE
Ms Bikini Novice - Class 1
1. Sophie Arnold
2. Ysobel Patch
3. Lisa Chatfield
4. Kayla Bonfiglio
5. Kirsty Wilson
Emily Horsnell
Cassie Watkins
Phobe Hill
Julieanne Teague
Connie Falanga
Tayla Whyatt
Tori Winther

Ms Bikini Novice - Class 2
1. Sharon Khoo
2. Sherry Zhou
3. Nikki Curnow
4. Simone Austin
5. Anthea Agius
Laura De Rosa
Marianne Melito
Ebony Dunning
Montana Daniel
Jayde Hanna
Coby Roach
Jade Nannini
Chloe Hunt

Ms Bikini Momma
1. Lisa Chatfield
2. Sharyn Uzkuraitis
3. Nikki Curnow
4. Dakoda Lloyd
5. Anthea Agius
Kim Browne
Phobe Hill
Julieanne Teague
Alecia Cole
Connie Falanga
Louise Mills
Coby Roach

Ms Bikini Open - Class 1
1. Sophie Arnold
2. Sophie Holtham
3. Ysobel Patch
4. Constance Kan
5. Kayla Bonfiglio
Emily Horsnell
Cassie Watkins
Dakoda Lloyd
Tayla Whyatt
Tori Winther
Laura De Rosa
Marianne Melito

Ms Bikini Open - Class 2
1. Talisha Warne
2. Sharon Khoo
3. Sherry Zhou
4. Thea Nicola
5. Beth Castell
Simone Austin
Ebony Dunning
Montana Daniel
Jayde Hanna
Olivia Milligan
Jade Nannini
Chloe Hunt

Bikini Overall: TALISHA WARNE

Ms Swimsuit Open
1. Talisha Warne
2. Sharyn Uzkuraitis
3. Sherry Zhou
4. Bianca Williams
5. Kirsty Wilson
Kim Browne
Julieanne Teague
Louise Mills
Sharon Khoo

Ms FitnessModel 23
1. Eva Jane
2. Jo Tocher
3. Tarni Stabe

Ms FitnessModel Momma
1. Michelle Hook
2. Bianca Williams

Ms FitnessModel Novice
1. Serena Whaite
2. Emily Purdie
3. Emily Molnar
4. Joanne McCord
5. Iva Smith
Jessica Moyer
Summer Bickerton
Sonya Gee-Davis
Nicole Harvey
Brittany Kettle

Ms FitnessModel 30+
1. Naomi Jenkinson
2. Iva Smith
3. Nicole Harvey

Ms FitnessModel 40+
1. Sonya Gee-Davis
2. Joanne Mccord
3. Bianca Williams
4. Jessica Moyer

Ms FitnessModel Open
1. Serena Whaite
2. Emily Purdie
3. Emily Molnar
4. Eva Jane
5. Naomi Jenkinson
Summer Bickerton
Sonya Gee-Davis
Jessica Mahoney
Jo Tocher

Ms Fitness Model Overall: SERENA WHAITE
Ms Sports Model 23
1. Charlotte Price
2. Eva Jane
3. Tarni Stabe

Ms Sports Model 30+
1. Kirsty Wilson
2. Beth Castell
3. Iva Smith
4. Nicole Harvey
5. Dee Johnson

Ms Sports Model Novice
1. Serena Whaite
2. Ysobel Patch
3. Summer Bickerton
4. Charlotte Price
5 Talisha Warne
Constance Kan
Emily Horsnell
Cassie Watkins
Kayla Bonfiglio
Simone Austin
Olivia Milligan
Coby Roach
Tarni Stabe
Ms Sports Model 40+
1. Joanne Mccord
2. Bianca Williams
3. Jessica Moyer
4. Kim Browne

Ms Sports Model Momma
1. Michelle Hook
2. Nikki Curnow
3. Dee Johnson
4. Alecia Cole

Ms Sports Model Open
1. Sophie Holtham
2. Serena Whaite
3. Jessica Mahoney
4. Charlotte Price
5. Talisha Warne
6. Naomi Jenkinson

Ms Sports Model Overall: SOPHIE HOLTHAM
*********************************

THIS EVENT IS SANCTIONED BY ICOMPETE AUSTRALIA
icompeteaustralia.com.au
AND WAS A DRUG TESTED EVENT
EVENT PROMOTER & MC:
Kim Tanska
australianmuscle.com.au
GRAPHICS & POSTER:
Ari Tanska
HEAD JUDGE:
Esther Pedisic
SPECIAL THANKS:
ICN STAFF
All of the judges
Nelson Azevedo for providing cover photos to GMV

MAJOR SPONSOR
Max's & Maxine's
maxs.com.au

SPONSORS
ATP Science
Gen Tec Nutrition
GlamFit Bikinis
BSN
Optimum Nutrition
Primeval Labs
BronzOn
Prana On
Scitec Nutrition
Red Dragon Nutritionals
Faction Labs
Rock Solid Gym
Jenns Home Bakery
Monica Scardigno Makeup
The Rose and The Thorn
Emma Bowman Posing
5th Avenue Jewellery
X50 Australia
OFFICIAL PHOTOGRAPHER
Nelson Azevedo
nelsonazevedophoto.com
BACKSTAGE PHOTOGRAPHER
David Michael Images
Australian Muscle
Millswood
A: Shop 3/171 Goodwood Road, Millswood SA 5034
P: (08) 8373 0735
Salisbury Plains
A: Shop 5/1700 Main North Road, Salisbury Plains SA 5109
P: (08) 8283 2260
Australian Muscle The Gym
A: 130 Bridge Road, Pooraka SA 5095
P: (08) 8262 2086
www.australianmuscle.com.au
CAMERAWORK, EDITING, GRAPHICS & AUTHORING
Ollie Parke
Produced by
GMV PRODUCTIONS
Australia
WEB:
GMV.COM.AU
GMVBODYBUILDING.COM
© WORLD COPYRIGHT 2019