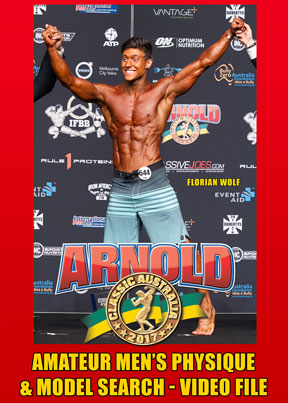 Preview clip.

2017 IFBB ARNOLD AUSTRALIA AMATEUR MEN'S PHYSIQUE & MODEL SEARCH - VIDEO FILE
Melbourne, VIC. March 17 – 19, 2017
See all of the Classes of MEN'S PHYSIQUE – Novice and Open, plus the ARNOLD MODEL SEARCH AUSTRALIA – MALE MODELS.
Plus the Overall of the Men's Physique and the awarding of the Pro Card to Florian Wolf.
For the first time, you can purchase any class of your choice, and have the edited Video File sent to you by a free video transfer service. A Video File includes the complete class through to the awards.
If you are a competitor, and a class winner in an overall posedown, this will be included in your file.
Place your order on-line and email the name of the class to tina@gmv.com.au

All class video files will be immediately transferred by our free video file transfer service on the same day they are ordered.

Or you can order the DVD here, GMV-956DVD.
Photography: Gary Phillips Photography & Darren Burns & The Arnold Classic Photography team.

Class Winners:

Men's Physique Novice U/174 cm: Levon Simonian Australia
Men's Physique Novice U/181 cm: Farah Inaya Australia
Men's Physique Novice Over 181 cm: Hadi Hussaini Australia
Men's Physique Open - U/174 cm: Turki Alsaud Saudi Arabia
Men's Physique Open - U/181 cm: Florian Wolf Australia (Overall Winner & Pro Card)
Men's Physique Open - Over 181 cm: Derek Kastelein Australia
2017 Arnold Model Search Australia Winner: Isaac Lynch Australia

*****************************************

2017 Arnold Amateur Australia – Men's Physique Results as seen in this DVD including Arnold Men's Model Search.
(Amateur Men's Bodybuilding is in DVD #1)

March 17-19, 2017 Melbourne, VIC.
Men's Physique Novice U/174 cm
1. Levon Simonian Australia
2. Memo Solar Australia
3. Dave Ilewellyn Australia
4. Mohammed Almohandes Saudi Arabia
5. Ben Roberts Australia
6. Hadif Alsumaidi UAE
7. Ali Raza Australia
8. Eric Liao French Polynesia
9. Jesse Kelly Australia
10. Jubilee IIewellyn Australia
NP
Bradley Hahn Australia
Jake Quigg Australia
Mohammed Alhobeel Australia
Blaire Tahitahi Australia
Craig Laidley Australia
Raymond Leishman Australia
Paul Sepulveda Australia
Adrian Cook Australia
Laurie Wills Australia
Jude D'Souza Australia
Saud Boresli Kuwait
Men's Physique Novice U/181 cm
1. Farah Inaya Australia
2. Mathew Woodford Australia
3. Fareed Reef Abubatch Australia
4. Jesse Wynyard New Zealand
5. Ben Pei Australia
6. Khaled Alrwaieh Kuwait
7. Marvin Murphy Australia
8. Ben Roberts Australia
9. Ibby Khodl Australia
10. Abdullah Alarfais Saudi Arabia
11. Thomas Marxen Australia
12. Adam Tari Australia
13. Jonathan Link Australia
14. Puma Kardash Australia
Men's Physique Novice Over 181 cm
1. Hadi Hussaini Australia
2. Blake Danchisen Australia
3. Sevan Simonian Australia
4. Terry Moore Australia
5. Adam Letter Australia
6. Peter Ross Janes Australia
7. Braden Foyle Australia
8. Zachary McFarlane Australia
9. James Arundell Australia
Men's Physique Open - U/174 cm
1. Turki Alsaud Saudi Arabia
2. Patrick Tran Australia
3. Peter Lupica Australia
4. Memo Del Solar Australia
5. Kenneth Koh Australia
6. Jonathan Rodrigo Australia
7. Savd Boresli Kuwait
8. Jesse Kelly Australia
9. Amir Tari Australia
10. Tui Swann Australia
NP
Alvara Vielma Australia
Kevin Nhan Australia
Abdul Wanab Saeed Kuwait
Jude D'Souza Australia
Mohammed Alhobeel Saudi Arabia
Mishal Alhassan Saudi Arabia
James Piper Australia
Romeo Benz Australia
Paul Sepulveda Australia
Dave Llewellyn Australia
Nathan Lee Australia
Nasser Alattar Kuwait
DeGuigne Jean-Pierre Australia
Hadif Alsumaidi United Arab Emirates
Shahram Ardalan Australia
Al Mohandes Mohammed Saudi Arabia
Bruno Xeonofone Australia
William Wong Australia
Blair Tahitahi Australia
Michael Roberts Australia
Ali Raza Australia
Men's Physique Open - U/181 cm
1. Florian Wolf Australia (Overall Winner & Pro Card)
2. Matthew Walsh Australia
3. Fabian Trujillo Australia
4. Matt Swann Australia
5. Fareed Reef Abukaker Australia
6. Jeremy Soh Australia
7. Stefan Babij Australia
8. Ahmed Alderazi Bahrain
9. Jak Nelson Australia
10. Mohammed Al Kindy Oman
NP
Khaled Alrwaleh Kuwait
Ibby Khodr Australia
Abdullah Alarfaj Saudi Arabia
Ty Phillips Australia
Lachlan Peggie Australia
Daniel Curtis Australia
Jesse Owen Australia
Jonathan Link Australia
Foussard Audrelien French Polynesia
Jordan Begley Australia
Jonathon Jones Australia
Nicholas Main Australia
Joshua Ruggeri Australia
Marvin Murphy Australia
Clinton Tanga Australia
Beaulan McDonald Australia
Shaq Toyosi Australia
Ben Putland Australia
Hamad Al Shati Kuwait
Mathew Woodford Australia
Men's Physique Open - Over 181 cm
1. Derek Kastelein Australia
2. Josh Doherty Australia
3. Matthew Dumigan Australia
4. Paul Downie Australia
5. Rigo Gasio Australia
6. Zac Guild Australia
7. Ty Faulkner Australia
8. Roman Jurd Australia
9. Luke Matias Australia
10. John Peter Pipiglua Australia
NP
Daniel Woods Australia
Joshua Pillay Australia
Alan Said Ramanda Qatar
Lichon Jordan Tahiti
John Oosthuzien Australia
Terry Moore Australia
Michael Devine Australia
Scott McCristal Australia
2017 Arnold Model Search Australia: Male Results:
1. Isaac Lynch
2. Sohrab Hassani
3. Luke Bastian
NP
Benjamin Henzgen
Anthony Zreikat
Sean Gregory
Marcus Turner
Panagis Garbis
Brad Newton
Sergio Orduz

(If you see any typos in these names as given to us, please email me at wayne@gmv.com.au and I will correct it.)

*****************************************************************************************************************************************

THIS EVENT IS OFFICIALLY SANCTIONED BY THE IFBB

PRESIDENT
Rafael Santonja

IFBB AUSTRALIAN PRO DIRECTOR
Tony Doherty

IFBB AUSTRALIA PRESIDENT
Paul Graham

IFBB AUSTRALIA
Paul & Carole Graham

EVENT PARTNERS
Jim and Bob Lorimer and Arnold Schwarzenegger

PRODUCER
Tony Doherty
dohertysgym.com
arnoldclassic.com.au

EVENT COORDINATOR
Brian Emerson

MARKETING & PROMOTIONS
Troy Thornton

GRAPHIC DESIGNER
Simone Collins

MCs for AMATEUR EVENT
Glen Doherty & Shawn Ray

HEAD JUDGES for AMATEUR COMPETITION
Andre Barrows
Armando Marquez
Carole Graham
MAIN STAGE SPONSOR
JayBird
GOLD SPONSORS
Rule 1 Protein
Massive Joes
SILVER SPONSORS
International Protein
Doherty's Gym
ATP Science
INC Sports Nutrition
Optimum Nutrition
Iron Addicts Nitro Gym
Event Aid
ProTan
Muscle Meals Direct
Melbourne City Volvo
Vantage
OFFICIAL CHARITY
Bully Zero Australia Foundation

VIDEOGRAPHY
Ollie Parke
Wayne R. Gallasch

PHOTOGRAPHY
The Arnold Classic Photography team -
Gary Phillips Photography garyphillipsphotography.com
Darren Burns

EDITING, GRAPHICS & AUTHORING
Ollie Parke

EXECUTIVE PRODUCER
Wayne R. Gallasch

ASSISTANT PRODUCER
Tina Gallasch

GMV SPECIAL THANKS
Tony Doherty
Brian Emerson
Simone Collins
Shawn Loevenguth
Gary Phillips
Darren Burns
Tina Gallasch
Ollie Parke
Andrew Weiss - My Sport Live
Plenary Hall Technical Staff