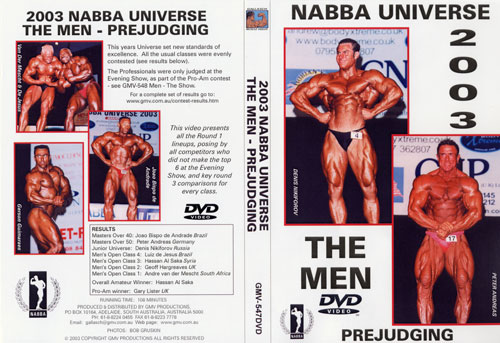 2003 NABBA Universe: The Men - Prejudging

This years Universe set new standards of excellence. All the usual classes were evenly contested.
The Professionals were only judged at the Evening Show, as part of the Pro-Am contest - see GMV-548DVD Men - The Show. Click here.
This DVD presents all the Round 1 lineups, posing by all competitors who did not make the top 6 at the Evening Show, and key round 3 comparisons for every class.
For a complete set of UNIVERSE RESULTS click here.
2003 NABBA Universe: The Men - The Show: 2 DVD set

Once again the very high standard Professional Class was incorporated into the Pro-Am class and judged entirely at the evening show. Witness all the Pro-Am comparisons, complete posing routines of all pros and top 6 competitors, pose-downs and awards.


2003 NABBA Universe:The Women - Prejudging and Show

Held in Kidderminster, near Birmingham on October 11th. 37 female competitors total took part and the standard was awesome - the best for years!
2 of the stars pictured on the front cover of the DVD are CHERIE LOOMES and OLGA TIKHONOVA.


2003 NABBA Universe Men's Results:


Overall Amateur Mr. Universe:
Hassan Al Saka Syria


Men's Pro Am Mr. Universe:

Gary Lister UK

Men's Junior Universe
1 Dennis Nikiforov Russia
2 Tim Rosiek UK
3 Thomas Gibson UK
4 Marc Misdorp South Africa
5 Dean Grace UK
6 Rodrigo Oliveira Brazil
Men's Master's Over 50
1 Peter Andreas Germany
2 Earl Maduro Holland
3 Dmitry Zolin Russia
4 Dimitri Doucor Israel
5 Bernie Cooper UK
6 Don Mahoney Australia
NP
Graham Porter UK
Steven Culshaw UK
Ronny de Winter Belgium
Peter Rothermel UK
John Fengaras UK
Lionel Goldsworthy UK
Robert Young UK
Brian Balmer UK
Gilles Bellehumeur Canada
Men's Masters Over 40
1 Joao Bispo de Andrade Brazil
2 Dayo Audi UK
3 Mikhail Pechenkin Russia
4 Corrie Bufton UK
5 Philippe Meret France
6 John Lee UK
7 William Howard UK
8 Brian Peters Wales/UK
NP
Graham Park UK
Mark Bardsley UK
Claudio Galea Malta
Peter Weber Germany
Ben Rodriguez USA
Alexandros Siatravanis Greece
Ian Blackwell UK
Men's Open Class 4 - Short
1 Luiz de Jesus Brazil
2 Jason Corrick UK
3 Gilberto Feitosa Brazil
4 Peter Roche UK
5 Adrian Birchall UK
6 Andy Gold UK
Men's Open Class 3 - Medium Short

1 Hassan Al Saka Syria
2 Steve Sinton UK
3 Edson Prado Brazil
4 Djaima Laroque Brazil
5 Dirk Weber Germany
6 Mannu Petrikowski France
7 Matt McLean Australia
8 Nico Van Wyk South Africa
NP:
David Steele UK
Phil Carlon UK
Jason Charnley UK
Jamie Manuel UK
Simon Fan UK
Men's Open Class 2 - Medium Tall

1 Geoff Hargreaves UK
2 Gerson Guimaraes Brazil
3 Jose Acosta Spain
4 Giuseppe Cozzi Italy
5 Luke Nichols UK
6 Dominic Schieda Malta
7 Tony Custodio Spain
8 Paul Longfield UK
NP
Vladimir Belousov Russia
Stefan Hauschild Germany
Mark McEntyre Australia
Mikhail Briuchanov Russia
Rene Stinstra Holland
Barrie Vormawah UK
Oliver Giordano Malta
Adam Ashley UK
Men's Open Class 1 - Tall
1 Andre Van Der Mescht South Africa
2 Gino Barrios Holland
3 Gregor Koman Slovenia
4 Hedwig Parden Holland
5 Oleg Protas Ukraine
6 Mario Hemmer Austria
7 Stephen Napper UK
8 Neil Rushton UK
Overall Amateur Mr. Universe:
Hassan Al Saka
Men's Pro Am

1 Gary Lister UK
2 Sergei Ogorodnikov Russia
3 Hassan Al Saka Syria
Also competed:
Boris Kleine Germany
Mykhaylo Bekoev Ukraine
Serge Dessel France
* Available in NTSC DVD, OPEN REGION