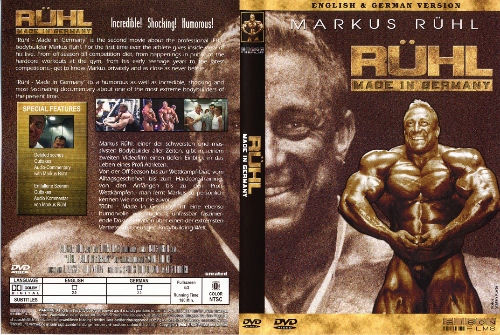 Click here to view the DVD preview.


Markus Ruhl - Made in Germany

*(Note Dual Price US$39.95 or A$49.95 in Australia)

This is the second of 3 movies made about the professional German bodybuilder - Markus Ruhl. (Don't ask us for the first one, as it was VHS only and is now discontinued).
For the first time ever, this athlete gives an inside view of his life. From off-season to competition diet, from his public persona to the hardcore gym workouts, from his early teenage years to the latest competitions - you will get to know Markus privately and more closely than ever before.
English and German soundtracks.

Click here to see information on the new Markus Ruhl release BIG AND LOVING IT, A-1214DVD.

Available in NTSC DVD Only (Region Free)

* All customers outside of Australia/New Zealand will be charged in US dollars. If the item has dual pricing (that is in Australian and US dollars), all customers outside of Australia and New Zealand will only be charged the US dollar price.
Unfortunately, our site cannot cope with dual pricing and will default to the US dollar price. Regardless of this, all customers will be charged the correct price. Please refer to our FAQ section for any other questions, click here.

Customers who viewed this DVD also viewed:







Click here for GMV Productions complete list of Male Muscle DVDs.