This event takes place at my favourite venue - the famous and huge Wembley Conference Centre, London. The lighting and blue backdrop is just perfect for bodybuilding and video production.
The first time I filmed here was back in 1982 when Chris Dickerson won the'82 Mr. Olympia title. Then from 1986 to 1989 I taped the NABBA Universe in this wonderful theatre, followed by EFBB British finals from the early 90s. Now for a second year in a row, Kerry Kayes and Dorian Yates of CNP have staged their English Grand Prix in the English Mecca of Bodybuilding.
The event attracted a record field of 32 great physiques and a very large and enthusiastic audience to match. My special thanks to Kerry in particular for the way he ran this show and looked after our GMV team. His work behind the scenes as well as on stage at times was a class act at a very classy show.
The day kicked off with the EFBB Amateur Grand Prix with 15 guys fighting it out for the title AND the Pro Card to compete in the Pro Grand Prix which followed. A sensational new guy called Bola Ojex narrowly defeated Graeme Bennet to take the position held open for the amateur winner in the Pro Show. Imagine a shorter, smaller version of Flex Wheeler and you have a good idea of what Bola is like. He has similar genetics to Flex and is destined for great things with more size and maturity.
As usual Colin Johnson taped the pump room for me while I shot the Amateur Grand Prix. It was then both of our cameras from the front of stage for the main event, the Pro Grand Prix. Here are my thoughts on the top 10 guys.
1st - JAY CUTLER: Never in doubt and surprisingly I felt Jay looked slightly better here than he did at the Olympia. His quad separation is extraordinary, plus huge delts and a total package that overwhelms the other guys. His posing routine is very good and he gave an excellent victory speech in which he became quite animated.
2nd - ERNIE TAYLOR: The local guy was right on the money, shredded, great abs, a tiny waist and excellent symmetry. He also looked better than he did at the Olympia. His condition, shape and symmetry are his greatest assets.
3rd – GÜNTER SCHLIERKAMP: Massive and dominant is how I would describe Günter. He has added an extra edge to his performance this year. A real crowd favourite with a wonderful new posing routine.
4th – MUSTAFA MOHAMMAD of Austria. This former Mr. Universe winner from 1992 was in the best shape of his life and many felt he deserved 3rd place, which would have given him Mr. Olympia qualification for 2004. His physique was 'freaky' in that it was massive, rock hard as if he had been carved out of granite, shredded and fully deserving of the Olympia stage. He showed his extreme separation at every opportunity and the crowd loved it. His tan could have been a little darker, but otherwise he was the standout guy of the show, with the best condition of any competitor. Look for his freaky quads when the video is released and the way he slips in extra poses at every opportunity during the prejudging!
5th – JOHNNY JACKSON: Johnny is a new Pro with good shape and pleasing lines in all body parts. With more size he will place higher if he holds his symmetry. Could do with a bit more size in the legs.
6th – TROY ALVES: The Olympia rookie of the year had lost an edge on sharpness since the Olympia and seemed to be carrying a little fluid. But he was still very impressive pushing Art Atwood down into 7th place.
7th – ART ATWOOD: He has a huge physique that is on the verge of greatness. It is hard to say exactly what he needs to work on as it needs to all tie in together a little better. Then you will see Art up in the top 4 or 5 at most pro shows.
8th – CLAUDE GROULX: The current Masters Olympia winner looked very impressive in the pump room. But when next to larger, more defined guys he loses impact. Was in very good condition at this event and was very close to Atwood. Sharper condition would have seen him place higher.
9th – RODNEY St. CLOUD: The NY fire fighter had a real battle on his hands to stay in touch with the top guys. Showed good shape and muscularity and is one to watch in the future. This was his first time on the European GP circuit.
10th – ED VAN AMSTERDAM: The smiling Dutchman was in great form, shredded hamstrings and displaying incredible condition in all body parts. Just a touch of belly bloat crept in at times but the excellent abs were mostly kept under very good, tight control. Being tall it has the effect of reducing the impact of his V-shape and I suspect this is one of the reasons why he is always placed lower than I would expect. Ed is definitely a champion physique who has the ability to make it to the Olympia one day
As usual the posedown was a highlight for the audience (but not for the video team, as most of the guys disappeared into the audience).
Then it was time to pack up the gear, sort it ready for the Dutch Grand Prix the next night, attend the wonderful post Grand Prix Buffet before collapsing into bed.
GMV will release a 2 hour video of the pro show with the complete prejudging, and posing by all competitors at the evening show, including the 2 guest posers SIMON ROBINSON and VINNIE GRAHAM. Both guys have lost a leg in tragic accidents.
There is a separate video of the pump room which will include the Amateur GP as well.
R.I.P. PAUL GRANT - passed away 23rd November 2003.
This Welsh bodybuilder who beat the star of the television series The Hulk to be crowned IFBB Mr. Universe died at the age of 60. Paul Grant won the title when competing against actor Lou Ferrigno although the pair went on to become close friends. Well known in bodybuilding circles, Paul took part on competition across the world during the 1970s winning numerous titles such as Mr. Europe and Mr. World.
Paul later became President of the Welsh Federation of Bodybuilders and continued to support up and coming talent by staging and promoting competitions.
In 1971 Paul Grant competed in the NABBA Universe placing 2nd in tall class 1 to Ken Waller of USA, the eventual overall Amateur Mr U winner of that year. He could not have picked a tougher class. 3rd was Dennis Wilkins. The other amateur class winners were Albert Beckles in Class 2 and Chris Dickerson in Class 3.
Bill Pearl took the overall Pro Class title beating Sergio and Reg Park in pro Class 1 with Frank Zane beating Kassem Yazbek and Tony Emmott in pro Class 2. This was one very famous year at the NABBA Universe! Paul did however win the 1971 A.A.U. Mr World title that year.
This was only the second NABBA Universe I attended and I shot it all on film, see our video V-108. Being greatly impressed by Paul I arranged a film and photo shoot for the next day in Hyde Park. The attached colour photo was one of the best from that shoot. The movie film I shot that day has not yet been transferred to video but will be in the near future as a special tribute to Paul.
The B&W photo was taken by George Greenwood at the 1971 Universe prejudging. Paul was famous for his fantastic abs, superb delts, great thigh sweep and overall muscularity. In my opinion his condition was much better than that of Ken Waller, but Ken had the massive arms and calves and better V-shape that the judges mostly prefer.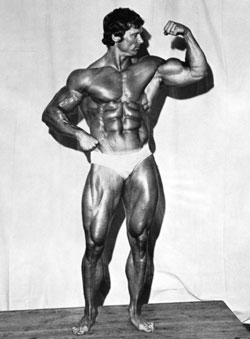 As far as I can recall Paul competed in several NABBA Universe events, including the 1972 NABBA Mr. Britain which he won. He then competed IFBB and also had a short scene with Arnold shot in Gold's Gym, in the moviePumping Iron. He will always be remembered by me as a fine gentleman and a true champion.