Click here for preview.


FIBO 2005 - Russian Conquest

Also on Digital Download.
Experience the fire-power of Europe's best bodybuilders, live on stage at FIBO 2005.
Russian superstar Alexander Federov was the surprise package this year with his sensational appearance in Essen, Germany. He will soon do battle with Ronnie Coleman in the 2005 Olympia.
Many believe Federov will become the most muscular human being on earth having already placed 2nd to Coleman in a GP.
Posing - Training - Super posing shows and brief interviews!

Special Features :
Enjoy MARIO RIEGER'S complete SUPERSHOW:
LAURA CROFT vs. THE MAGIC VAMPIRES. (40 min)
Photo Gallery
DVD is German & English.

Running time approx: 130 mins.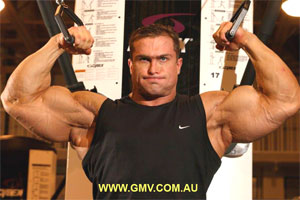 ALEXANDER FEDEROV

Includes the following:
ALEXANDER FEDEROV the Russian Conquest
IRIS KYLE 2004 Ms Olympia posing
DENNIS WOLF
MONICA BRANT
MARIO RIEGER SuperShow "LAURA CROFT vs. THE MAGIC of VAMPIRES"
THOMAS SCHEU training and posing
MELANIE SAT
CORNELIA BRANDT interview and posing
Radoslaw Slodkievicz
Marie-Pierre Ripert
Eldin Shebab
Rolandas Pocius
Maryse Manios
Piotr Gluchowski
Kamila Porczyk
Joe Ladnier
Paul Poloczek
Marius Strzelinski
Andreas Klimek
Guido Kessler
Steve Benthin
Yvonne Schleip
Felix Decker
Andreas Frey
Helmut Haller
Diana Goytia
Celest Gonzales
Regina da Silva
Heinz Oleschpure
Nicole Pfuetzenreuter sexy training.
Matthias Botthof
Erich Beihl
Karim Bideau
Stefan Mertens
Susanne Bock
Click here for the COMPLETE INDEX OF FIBO DVDs.

* Available in NTSC DVD Only (Region Free)