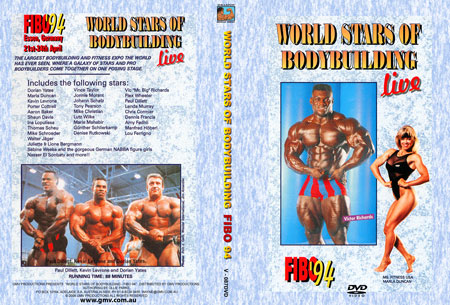 Fibo '94 – World Stars of Bodybuilding…Live!
Digital Download.

The 1994 FIBO in Germany was again host to 4 days of the largest bodybuilding and fitness expo the world has ever seen. A galaxy of bodybuilding and fitness stars and pro bodybuilders all come together on one posing stage. It reads like an Olympia line-up – a modern day who's who of bodybuilding.

We saw one of the greatest posedowns of all time which included DORIAN YATES, KEVIN LEVRONE, PAUL DILLETT who are pictured rear cover, plus the amazing VICTOR RICHARDS who we put on the front cover. His photos and appearances are so rare. Also the great champions FLEX WHEELER, CHRIS CORMIER, VINCE TAYLOR and a young GUNTER SCHLIERKAMP.
The stars include:
Dorian Yates
Vic "Mr. Big" Richards
Marla Duncan
Flex Wheeler
Kevin Levrone
Paul Dillett
Porter Cottrell
Lenda Murray
Aaron Baker
Chris Cormier
Vince Taylor
Lou Ferrigno
Mike Christian
Marie-Laure Mahabir
Gunter Schlierkamp
Patrick Duffy
Juliette and Liona Bergmann
Shaun Davis
Dennis Francis
Sabine Weeke
The gorgeous German NABBA Figure Stars
Ina Lopulissa
Amy Fadhli
Denise Rutkowski
Thomas Scheu
Mike Schroeder
Lutz Wilke
Jonnie Morant
Walter Jager
Johann Schatz
Tony Pearson
Manfred "26" arms" Hoberl
and more.

Click here for the:
DORIAN YATES PHOTO GALLERY.

FLEX WHEELER PHOTO GALLERY.


Dare2Dream: The Flex Wheeler Story

In this collector's item DVD, Wheeler's life and times are captured by those who knew him best. Follow Flex Wheeler's journey through insights from his contemporaries Ronnie Coleman, Shawn Ray, Dorian Yates, and Kevin Levrone; and industry insiders Peter McGough, Charles Glass, Chad Nicholls, Tony Doherty, and many more as they 'weigh in' on the unparalleled impact Wheeler has made on the sport that has become synonymous with his name. Featuring contest highlights and previously unseen archival footage of bodybuilding's most admired and respected champions, this DVD provides unprecedented access to the life of an enigmatic figure. A true legend of the sport of Bodybuilding.

A-1454DVD.
Please click here for the COMPLETE INDEX LISTING OF ALL FIBO DVDs.

The climax was the mass pose down of all the Weider champions at the end of the event. Mind-blowing, awesome...anything we could say would be an understatement.
Another highlight was our first ever taping of the humungous "Mr. Big" Vic Richards of USA. This is extremely rare footage of the famous and elusive Mr Richards. Will we ever see him and Dorian Yates together again, preferably competing side by side at the Olympia? (It never happened).
Not to be outdone was Austrian, Manfred Hoberl, 6'5", 310lbs, 26" arms and 63" chest. He is probably the world's largest muscular man.
Denise Rutkowski was the most muscular woman at FIBO, edging out Lenda Murray for this title, contrasting with the lithe sensuality of American Fitness Queen, Marla Duncan.
In this DVD you will see the very best that bodybuilding has to offer.

* Available in NTSC (region free)

Customers who viewed this DVD also viewed:






Click here for GMV Productions complete list of Male Muscle DVDs.