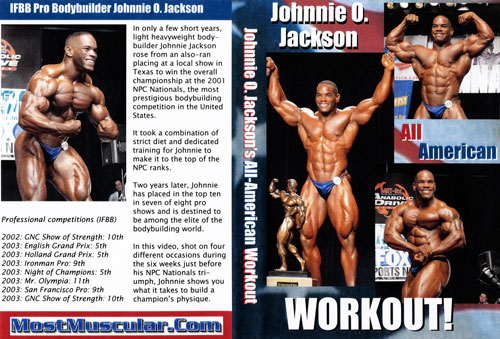 Johnnie O. Jackson - All American Workout (Dual price US$29.95 or A$39.95)

You've seen Johnnie Jackson's photos all over the internet and in dozens of magazine ads and articles. He's one of the hottest IFBB pros on the circuit today.
Johnnie's road to the top was paved with a lot of intense training and careful dieting. He not only won his class (light heavyweight) at the 2001 NPC Nationals. Johnnie also won the overall title!
This production, available for the first time ever on DVD, chronicles four of Johnnie's actual workouts during the weeks leading up to his stunning NPC Nationals victory. What you'll see is both inspirational and instructive, as Johnnie narrates and explains the workout footage. You'll also see him posing at the gym, at his home, and at a regional NPC show in Oklahoma.

Running Time: 60 mins
Johnnie Jackson - The Next Level (Dual price)
Johnnie O. Jackson burst onto the professional bodybuilding scene in 2002 following his overall victory at the 2001 NPC National Championships.
Since that time, he's been one of the sport's most active competitors, taking the stage at 17 IFBB professional events and guest posing at numerous NPC amateur shows as well.

A nationally-ranked powerlifter, Johnnie is one of bodybuilding's strongest athletes.


* Available in NTSC DVD Only (Region Free

)

Dual pricing policy.
* All customers outside of Australia/New Zealand will be charged in US dollars. If the item has dual pricing (that is in Australian and US dollars), all customers outside of Australia and New Zealand will only be charged the US dollar price.
Unfortunately, our site cannot cope with dual pricing and will default to the US dollar price. Regardless of this, all customers will be charged the correct price. Please refer to our FAQ section for any other questions, click here.

Customers who viewed this DVD also viewed:






Click here for GMV Productions complete list of Male Muscle DVDs.