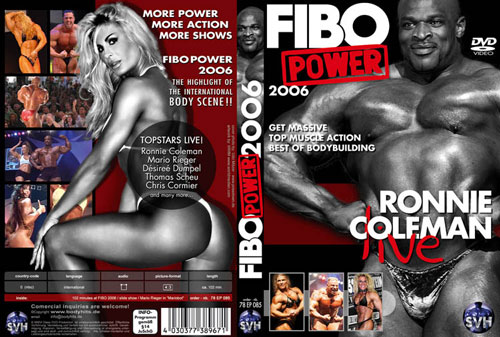 Click here for preview.
Click here for a preview clip featuring Ronnie Coleman.

FIBO POWER 2006 – Ronnie Coleman Live!
Get pumped with massive muscle action! This is the highlight DVD of the International bodybuilding scene for 2006.
See the best in the World and in particular the HOT European Bodybuilding Scene:

More Power - More Action - More stage shows.
Special Features:
The DVD includes a slide show plus Mario Rieger in "MARIOBOT".
The stars include:
Ronnie Coleman
Andreas Frey
Joe Ladnier
Alexander Fedorov
Tina Schüssler
Kamila Porczyk
Hubert Olborski
Piotr Gluchowski
Thomas Scheu
Désireé Dümpel
Kemal Uysal
Aiman Faour
Ronny Rockel
Chris Cormier
Ernie Taylor
Alberto Machado
Matthias Botthof
Jimmy Atienza
Oliver von Sierakowski
Erich Beihl
Holger Kalisch
Regiane da Silva
Peter "Pit" Trenz
Silvio Samuel
Dennis James
Ralf Möller
Mascha Tieken
Heinz Ollesch
Ulli Schwarz
Frederica Bella
Marie-Pierre Ripert
Arnaud Plaisant
Maryse Manios
Mario Rieger

and many more.....
Running Time: 102 mins

Please note there were no individual DVDs for FIBO from 2007 onwards.
Click here for our complete list of all FIBO DVDs.

* Available in NTSC DVD Only (Region Free)

Customers who viewed this DVD also viewed:








Click here for GMV Productions complete list of Male Muscle DVDs.