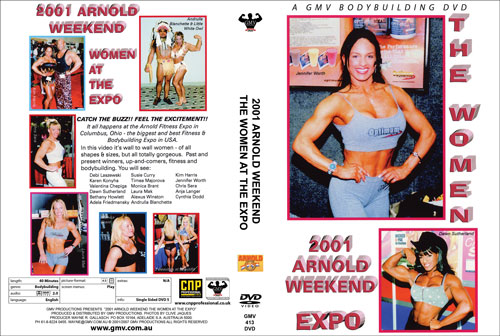 2001 Arnold Weekend Expo: The Women
Digital Download.

CATCH THE BUZZ!! FEEL THE EXCITEMENT!!

It all happens at the Arnold Classic Fitness Expo in Columbus, Ohio - the biggest and best Fitness & Bodybuilding Expo in USA.

In this DVD it's wall to wall women - 17 of them, in all shapes & sizes, but all totally gorgeous. Past and present winners, up-and-comers, fitness and bodybuilding stars.

You will see these stars:

Debi Laszewski
Karen Konyha
Valentina Chepiga
Dawn Sutherland
Bethany Howlett
Adela Friedmansky
Susie Curry
Timea Majorova
Monica Brant
Laura Mak
Alexus Winston
Andrulla Blanchette
Kim Harris
Jennifer Worth
Chris Sera
Anja Langer
Cynthia Dodd


Our other 2001 Arnold Classic Weekend DVDs are as follows:

2001 Arnold Classic Prejudging, Finals and Pump Room, click here for GMV-412DVD
2001 Ms International, complete Prejudging, click here for GMV-415DVD
2001 Arnold Classic Men at the Expo, click here for GMV-414DVD
2001 Fitness International Prejudging, Pump Room and Backstage, click here for GMV-417DVD
2001 Ms. International Pump Room & Contest Posing, click here for GMV-416DVD
GMV has shot video at the Arnold Classic in these years: 2001, 2002, 2006, 2007, 2008, 2009, 2010 and 2014 and onwards. We also have 2011-2013 on DVD.
No known Arnold Classic video/DVD exists from the years 2003 to 2005.

See our COMPLETE ARNOLD CLASSIC DVD INDEX LISTING here.

Running time: 45 mins

NTSC DVD, OPEN REGION

Customers who viewed this DVD also viewed:





Click here for GMV Productions complete list of Female Muscle and Fitness DVDs.