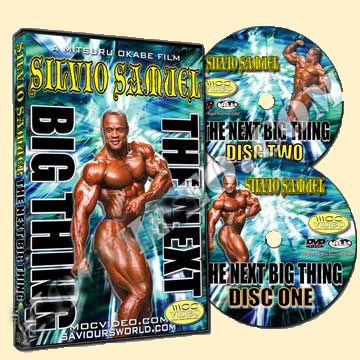 Click here for preview.


Silvio Samuel - The Next Big Thing
(Dual price US$39.95 or A$49.95 in Australia. Shopping cart defaults to US$ price)




The long awaited and much anticipated SILVIO SAMUEL DVD has now been released. Silvio's training DVD was filmed five weeks out from the 2007 Olympia. The camera follows his whole daily routine from his morning cardio to just about everything else he does through to his amazing abs workouts.
Silvio is famous for his rock hard and striated abs.
Born in Brazil and formerly from Spain before moving to USA, Silvio has truly become "The Next Big Thing!" in pro bodybuilding.
In this massive 2 disc DVD set you will also see the ripped and striated powerful Samuel posing style. In the 2007 Mr Olympia Silvio placed 7th which was quite outstanding for a rookie.
At the 2007 Iron Man Pro Silvio won the Vince Gironda Posing Award.
Other scenes included in the DVDs are as follows:
*Fixing breakfast (see what he really eats.
*Training at Mecca of Bodybuilding, Gold's Gym Venice, supervised by Guru Charles Glass.
*Visiting Weider HQ in Woodland Hills California and meeting with Peter McGough, Flex Magazine's Chief Editor.
*Neuromuscular Therapy
*The delivery of his new toy.
*Champ's nap time.
*Super pumped and striated tensing and posing.
*Intense whole body workouts (this goes without saying!) *CRIBS.
*Other fun extras.
To see Silvio gain his first ever Olympia qualification at the 2007 Iron Man Pro, please click here for GMV's V-203DVD.
To see Silvio at the 2007 Iron Man Weigh In and Pump Room where he was DVD cover man, please click here for V-205DVD. (Pictured below)
To see Silvio gaining 7th place at the 2007 Mr. Olympia, please click here for A-1242DVD.
2 DVD set.
Running time: 289 mins

Important GMV Dual pricing policy.
* All customers outside of Australia/New Zealand will be charged in US dollars. If an imported item has dual pricing, (that is in Australian and US dollars), all customers OUTSIDE of Australia and New Zealand will only be charged the US dollar price.

Unfortunately, our site cannot automatically cope with dual pricing based on your country of residence and will default to the US dollar price on the order form you see displayed. Regardless of this, all customers will be manually charged the correct price based on the above. This includes any Special Deals we may offer. To refer to our FAQ section for this info on pricing and any other questions, please click here.

Customers who viewed this DVD also viewed:







Click here for GMV Productions complete list of Male Muscle DVDs.