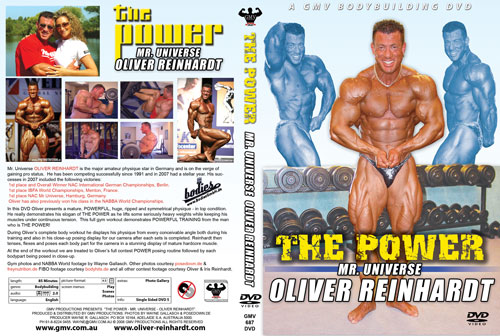 THE POWER – Mr. Universe OLIVER REINHARDT
Also on Digital Download.

Mr. Universe OLIVER REINHARDT is the major amateur physique star in Germany and is on the verge of gaining pro status. He has been competing successfully since 1991 and in 2007 had a stellar year. His successes in 2007 included the following victories:

1st place and Overall Winner NAC International German Championships, Berlin.
1st place IBFA World Championships, Menton, France.
1st place NAC Mr Universe, Hamburg, Germany.
Oliver has also previously won his class in the NABBA World Championships, plus many other titles in NABBA and other organisations.
In this DVD Oliver presents a mature, POWERFUL, huge, ripped and symmetrical physique - in top condition. He really demonstrates his slogan of THE POWER as he lifts some seriously heavy weights while keeping his muscles under continuous tension. This full gym workout demonstrates POWERFUL TRAINING from the man who is THE POWER!
This DVD was shot in the former Wilfried Dubbels Gym in Heeslingen shortly before one of Oliver's 2007 victories. My thanks to Wilfried for arranging the making of this DVD.
During Oliver's complete body workout he displays his physique from every conceivable angle both during his training and also in his close-up posing display for our camera after each sets is completed. Reinhardt then tenses, flexes and poses each body part for the camera in a stunning display of mature hardcore muscle. At the end of the workout we are treated to Oliver's full contest POWER posing routine followed by each bodypart being posed in close-up. This segment is followed by a posedown with fellow German star and training partner in this DVD MURAT DEMIR. For details on Murat's DVD, please click here for GMV-688DVD
THE POWER DVD includes Oliver's first contest appearance in 1991 through to guest posing at FIBO to contest victories and more. Oliver Reinhardt is sponsored by "BODIES FITNESSBEDARF GmbH".
Gym photos and NABBA World footage by Wayne Gallasch. Other photos courtesy posedown.de
FIBO footage courtesy bodyhits.de and all other contest footage courtesy Oliver & Iris Reinhardt.
Includes a Photo Gallery.

Running time: 85 mins

Click here to view a preview from this DVD.
* Available in NTSC DVD Only (Region Free

)
Customers who viewed this DVD also viewed:






Click here
for GMV Productions complete list of Male Muscle DVDs.