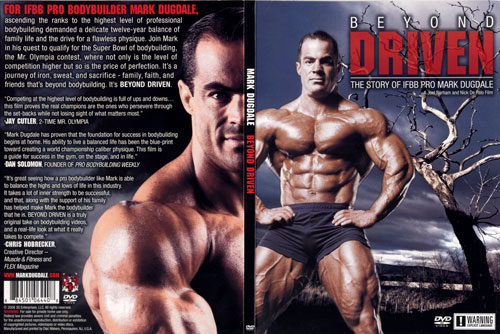 Click here to view a preview from this DVD.


BEYOND DRIVEN - MARK DUGDALE (Dual price US$39.95 or A$49.95 in Australia)

This DVD is a continuation of the original DRIVEN.

For IFBB Pro bodybuilder Mark Dugdale, ascending the ranks to the highest level of professional bodybuilding demanded a delicate twelve-year balance of family life and the drive for a flawless physique.

Join Mark in his quest to qualify for the Super Bowl of bodybuilding, the Mr. Olympia contest, where not only is the level of competition higher but so is the price of perfection. It's a journey of iron, sweat, and sacrifice - family, faith, and friends that's beyond bodybuilding. It's BEYOND DRIVEN.

See below for Chapter Contents.

Running time: 82 mins main DVD
Extra Bonus Chapters: 42 mins (See below)
TRT: 124 mins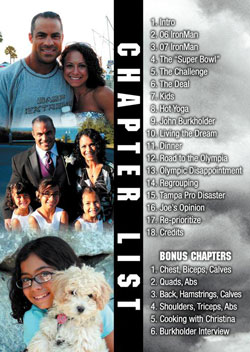 BEYOND DRIVEN features IFBB Pro – Mark Dugdale, wife Christina Dugdale and their three daughters Madison "Maddie", Lauren and Julia Dugdale; A 3G Enterprises Presentation in association with BD Productions; A Joel Barham and Nick De Palo Film; Music by: Nathan Burke, Legends of Rodeo and various Mars Hill Church artists; Executive Producer: Mark Dugdale.

Who I'd like to meet:
"Competing at the highest level of bodybuilding is full of ups and downs… this film proves the real champions are the ones who persevere through the set-backs while not losing sight of what matters most."
- Jay Cutler, 2-Time Mr. Olympia
"Mark Dugdale has proven that the foundation for success in bodybuilding begins at home. His ability to live a balanced life has been the blue-print toward creating a world championship caliber physique. This film is a guide for success in the gym, on the stage, and in life."
- Dan Solomon, Founder of "Pro Bodybuilding Weekly"
"It's great seeing how a pro bodybuilder like Mark is able to balance the highs and lows of life in this industry. It takes a lot of inner strength to be successful, and that, along with the support of his family has helped make Mark the bodybuilder that he is. BEYOND DRIVEN is a truly original take on bodybuilding videos, and a real-life look at what it really takes to compete."
- Chris Hobrecker, Creative Director – Muscle & Fitness and FLEX Magazine

BEYOND DRIVEN - Review
This is a DVD I highly recommend. Mark Dugdale is a top IFBB professional bodybuilder and athlete who has competed in the Mr. Olympia event. He is also a dedicated husband, father, and business owner whose top priority is family -- first, last, and always. This video is very well filmed and capsulizes the life Mark leads at work, in the gym, and at home.
The juxtaposition of events is what makes the film so compelling. Mark's hardcore training is shown in contrast to his daughter's loose baby tooth and the acquisition of a family pet. Mark is blessed with his beautiful wife, Christina -- a loving mother, dietician and cook for the whole family -- as well as an indomitable support system for Mark. She is one amazing lady. The special feature which shows how Christina cooks all the meals (the evening dinner and Mark's next day's meals) is inspirational to watch.
This film has a documentary feel to it, as it shows Mark and Christina as human beings. After Mark had not placed top 10 in a show in Tampa, Christina is visibly and justifiably upset to the point of questioning what they are doing. The film has a "warts and all" look at two amazing people.
The DVD includes Mark's road from the 2006 Ironman to the 2008 Tampa Pro. It captures all facets of the sport and its effect on family life. Well done on every level. Highly recommended.
Review by Gerry Triano for Mike Emery's bodybuilding reviews.
January 2009

MARK DUGDALE DVDs.
Mark Dugdale has done it the hard way! He has been DRIVEN, BEYOND DRIVEN, and has spent A WEEK IN THE DUNGEON.
Now, Mark is back in his newest, most informative 4th film compilation yet, MARK IS NUMERO 202! Go behind the scenes as Mark gives us a glimpse into his life; with an exclusive all-access pass into the 2009 OLYMPIA 202 SHOWDOWN.

In his latest DVD Mark takes us for a look at the lives of other great champions in

"LEGACY", A-1374DVD

.


To see Mark take a brilliant second place in the

2007 Iron Man Pro

, please click here for V-203DVD.

There is so little available on Mark's friend Dorian, apart from his own DVD, Blood & Guts, please click here for V-213DVD.






NTSC DVD, OPEN REGION

Important GMV Dual pricing policy.
* All customers outside of Australia/New Zealand will be charged in US dollars. If an imported item has dual pricing, (that is in Australian and US dollars), all customers OUTSIDE of Australia and New Zealand will only be charged the US dollar price.

Unfortunately, our site cannot automatically cope with dual pricing based on your country of residence and will default to the US dollar price on the order form you see displayed. Regardless of this, all customers will be manually charged the correct price based on the above.
To refer to our FAQ section for this and any other questions, please click here.