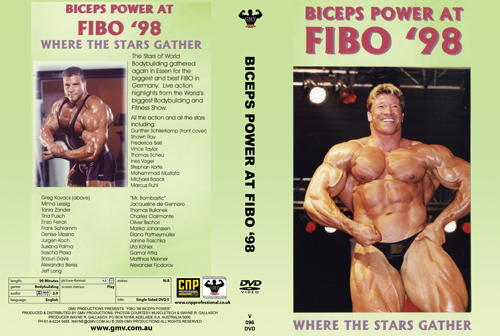 Click here for preview


FIBO '98: Biceps Power - Where The Stars Gather

See many more and many different physique stars than seen in any previous FIBO DVD! This is truly the place "Where the Stars Gather".
The Super Stars of World Bodybuilding gathered again in Essen, Germany for the biggest and best FIBO ever! All the live action highlights from the World's biggest Bodybuilding and Fitness Show in 1998.
If you love hard core bodybuilding posing action, then this DVD is a smorgasbord of guest posing. We have included four exciting interviews so that we could extend the production to 90 hard core minutes of the latest bodybuilding action. These interviews include Shawn Ray, Denise Masino, Shaun Davis and Stephan Corte. Stephan has made a remarkable comeback from cancer, and at this year's FIBO does a world record 100 squats with 100 Kg.
Some of the names listed may seem new. They are all top amateur stars of European bodybuilding - our super stars of the future. In fact this DVD includes more stars than you can poke a stick at! Also includes the amazing COLOSSUS Greg Kovacs.

Mr Olympia competitors included SHAWN RAY, GUNTER SCHLIERKAMP, MARCUS RUHL, MOHAMMAD MUSTAFA, CHARLES CLAIRMONTE and many times Masters Mr. Olympia winner VINCE TAYLOR.

Running time: 90 mins
See all the action and all the stars including the following :

Gunter Schlierkamp
Marcus Ruhl
Shawn Ray
Charles Clairmonte
Frederica Belli
Vince Taylor
Thomas Scheu
Ines Vogel
Stephan Korte
Mohammad Mustafa
Michael Baack
Greg Kovacs
Minna Lessig
Tonia Zander
Tina Pusch
Enzo Ferrari
Frank Schramm
Denise Masino
Jurgen Koch
Susana Palma
Sascha Plasa
Shaun Davis
Alexandra Beres
Jeff Long
'Mr. Bombastic'
Jacqueline de Gennaro
Thomas Bulianek
Oliver Bschorr
Marika Johanssen
Dian Partheymüller
Janine Raschka
Uta Köhler
Gamal Attia
Matthias Meixner
Alexander Fjodorov
Click here for the COMPLETE INDEX OF FIBO DVDs.

NTSC DVD, OPEN REGION