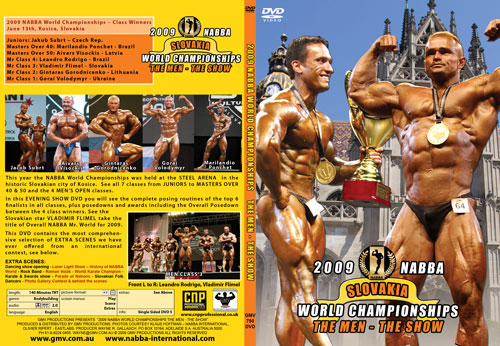 click here for preview.


2009 NABBA World Championships: The Men – The Show

Digital Download Part 1 - Juniors, Masters Over 40 & 50 & Mr Class 4.

Digital Download Part 2 - Men's Open Classes 3, 2 & 1 plus Extras.


This year the NABBA World Championships was held at the STEEL ARENA on June 13th, in the historic Slovakian city of Kosice. See all 7 Men's classes from JUNIORS to MASTERS OVER 40 & 50 and the 4 OPEN classes. We witnessed an incredible standard, with amazing quality in each class. The show enjoyed the biggest audience ever seen at a NABBA contest - almost 3000 fans. It was a real bonanza of hard core muscle showcasing the best amateur bodybuilders from around the world.
In this EVENING SHOW DVD you will see the complete posing routines of the top 6 finalists in all classes, plus posedowns and awards including the Overall Posedown between the 4 class winners at the end of the show. See the Slovakian star VLADIMIR FLIMEL take the title of Overall NABBA Mr. World for 2009.
Please click here for WAYNE'S HARD NEWS REPORT on this contest. It also includes the complete RESULTS for Men and Women. This was the last time we used our much loved Sony DXC D30 PAL broadcast 2/3" camera. It did a fantastic job at hundreds of contests for me over many years.
COMMENTS ON THE EXTRA SCENES
The DVD contains the most comprehensive selection of EXTRA SCENES we have ever offered from an international contest. 30 minutes of them! The promoter Arpad Mester turned on a night of pure entertainment that was simply incredible.
This time the extra scenes include a different slant in the extensive PHOTO GALLERY. Apart from the usual bodybuilding pictures from front of stage, we include Wayne's peek behind the scenes during set-up, plus other interesting informal photos in and around the contest.
You will also see some amazing acts and entertainment such as Roman Volák - World Karate Champion in a solo and duo virtuoso performance.
Slovakian Folk Dancing which adds to the local flavour of the event. Plus a local rock group to warm up the huge crowd.

Of special note was the incredible LASER LIGHT SHOW that told the story of the NABBA WORLD CHAMPIONSHIPS, from Worlds year one back in 1984 in Serbia (then called Yugoslavia,) to the present 2009 event in Slovakia.
Plus the Parade of Nations representing the various countries at the event.
OVERALL NABBA MR. WORLD: Vladimir Flimel – Slovakia (pictured front cover right and Leandro Rodrigo is pictured front cover left)
2009 NABBA World Championships – Class Winners
June 13th, Kosice, Slovakia.
Juniors: Jakub Subrt – Czech Rep.
Masters Over 40: Marilandio Ponchet - Brazil
Masters Over 50: Aivars Visockis - Latvia
Mr Class 4: Leandro Rodrigo - Brazil
Mr Class 3: Vladimir Flimel - Slovakia
Mr Class 2: Gintaras Gorodnicenko - Lithuania
Mr Class 1: Gorai Volodymyr - Ukraine
RUNNING TIME:
Contest: 110 mins
Extra Scenes: 30 mins
TOTAL RUNNING TIME: 140 mins
EXTRA SCENES:
Dancing show opening
Laser Light Show – History of NABBA World
Rock Band
Roman Volák - World Karate Champion
Karate & Swords show
Parade of Nations
Slovakian Folk Dancers
Photo Gallery – Contest & behind the scenes

For information on the 2009 NABBA Worlds Women's DVD, GMV-748DVD, please click here.
For information on the 2009 NABBA Worlds: Men's Prejudging DVD, please click here for GMV-749DVD.
For information on the 2009 NABBA Worlds: Men's 2 DVD set – Prejudging & Show, please click here for GMV-751DVDSP.
Photos courtesy Klaus Hoffmann – NABBA International, Olivier Ripert & EastLabs.
THE MEN'S COMPLETE RESULTS:
MASTERS OVER 40
1. Marilandio Ponchet – Brazil
2. Christian Klee – Austria
3. Terry Fisher – UK
4. Zdenek Branis – Czech Rep.
5. Ioannis Anagnoston – Greece
6. Ernst Barnet – Austria
7. Pierre Perrier – France
8. Michael Cederqvist - Sweden
9. Sergii Khimchenko – Ukraine
MASTERS OVER 50
1. Aivars Visockis – Latvia
2. Luiz Flavio Felicio – Brazil
3. Alain Petriz – France
4. Jozef Sztankay – Slovakia
5. Tony Rizzo – Australia
JUNIOR CLASS
1. Jakub Subrt – Czech Rep.
2. Igor Iles – Slovakia
3. Daniel Barry – UK
4. Aurimas Grabinskas – Lithuania
5. Peter Lunter – Slovakia
6. Levente Tarkanyi – Slovakia
7. Sebastian Jagiello – Czech Rep.
CLASS 4
1. Leandro Rodrigo - Brazil
2. Jerry Koolhoven - Holland
3. Fernando Luiz Sardinha - Brazil
4. Marco Parisi - Italy
5. Tommy Staunton - Ireland
6. Vojtech Koritensky - Czech Rep.
7. Tomas Mahrik - Slovakia
CLASS 3
1. Vladimir Flimel - Slovakia
2. Tom Young - UK
3. Samoel Bezerra - Brazil
4. Joe Walker - UK
5. Roman Marsalek - Czech Rep.
6. Philippe Foussard - France
7. Jorg Fuchs - Germany
8. Jarmo Sohlman - Finland
NP
Sergii Bezshchasnyi - Ukraine
Michal Pucek - Slovakia
CLASS 2
1. Gintaras Gorodnicenko - Lithuania
2. Martin Holub - Czech Rep.
3. Jon Bridge - UK
4. Dominic Schieda - Malta
5. Edilson de Oliveira - Brazil
6. Milan Kresojevic - Serbia
7. Matthias Bonack - Germany
8. Darren Borg - Malta
NP
Alex Yarmolenko - Ukraine
Igor Rashoiants - Ukraine
Bogdan Kravchenko - Ukraine
Michel Martins - France
Darko Radonjic - Croatia
CLASS 1
1. Gorai Volodymyr - Ukraine
2. Stanislav Struzberg - Israel
3. Harry Thibaudier - Holland
4. Lubomir Krhut - Slovakia
5. Stuart Garrington - UK
6. Vlastimil Kalas - Czech Rep.
7. Francisco Camargo - Brazil
8. Sergio Gomes - Brazil
NP
Michael Albert - Germany
Ernesto Papa - Italy
Simone Amichini - Italy
Tomas Toth - Slovakia
Anastasios Vassos - Greece
NTSC DVD, OPEN REGION