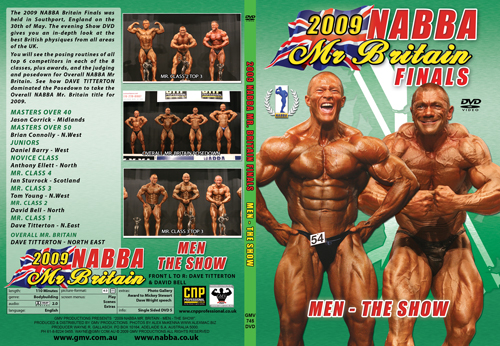 2009 NABBA Britain Finals: Men – The Show
The 2009 NABBA Britain Finals was held in Southport, England on the 30th of May. The evening Show DVD gives you an in-depth look at the best British physiques from all areas of the UK. You will see the posing routines of all top 6 competitors in each of the 8 classes, plus awards, and the judging and posedown for Overall NABBA Mr Britain.
We had the truly amazing star in big Dave Titterton from the N.E. We had not seen Dave for some years since he last competed in the NABBA Universe. He is tall, he had size, good proportions for a big man, great legs and back and huge arms – topped off by a wonderful set of abs - plus outstanding condition. If he had competed at the NABBA Worlds 2 weeks later in this condition, we have no doubt he would have taken the Overall World title as well.

When it came to the judging of the 4 Class Winners at the evening show for the Overall NABBA Mr Britain title, Dave Titterton must have started as the hottest favourite in some years. At least that is how we saw it. Without doubt he has a physique of World Class standard. In fact he would not look out of place in any Professional lineup. Not surprisingly he got the judges' decision and joined the long line of greats who have claimed the Overall NABBA Mr. Britain title.


2009 NABBA Britain Finals: The Men's Prejudging

The 2009 NABBA Britain Finals was held in Southport, England on the 30th of May. There were 8 Men's Classes being MASTERS OVER 40 & OVER 50, JUNIORS, NOVICE and 4 OPEN CLASSES.

This DVD presents the complete prejudging with all of the posing routines and all the key comparisons from Round 3. See 185 minutes of outstanding men's prejudging contest action.


2009 NABBA BRITAIN FINALS – Men's Class Winners


MASTERS OVER 40:
Jason Corrick - Midlands
MASTERS OVER 50:
Brian Connolly - N.West
JUNIORS:
Daniel Barry - West
NOVICE:
Anthony Ellett - North
MR. CLASS 4:
Ian Sturrock - Scotland
MR. CLASS 3:
Tom Young - N.West
MR. CLASS 2:
David Bell - North
MR. CLASS 1:
Dave Titterton - N.East
OVERALL NABBA Mr. BRITAIN: Dave Titterton
Please click here for Wayne's HARD NEWS REPORT on the Britain Finals.
Please click here for THE WOMEN'S DVD from this event, GMV-743DVD.
Please click here for the complete CONTEST RESULTS FOR MEN & WOMEN.

Includes a Show Photo Gallery of 225 pix, courtesy Alex and THE BEEF magazine. All photos by Alex McKenna, www.alexmac.biz
RUNNING TIME including extra scenes: 110 mins
EXTRAS:
Photo Gallery
Award to Mickey Stewart
Dave Wright speech
2009 NABBA BRITAIN – COMPLETE MEN'S RESULTS:
MASTERS OVER 40
1. Jason Corrick - Midlands
2. Brian Crossen - N.I.
3. Nigel Cox - N.East
4. Andrew Binch - Midlands
5. Carl Stevens - N.West
6. David Ray - North
7. Stephen Bingham - North
NP
John Wales - Midlands
Stephen Fong - Wales
David McKessy - Midlands
Gary Edwards - S.East
Dave Taylor - Midlands
Neil Prescott - N.West
John Swaby - S.East
Mark Stocks - N.East
Colin Taylor - North
Michael Davies - Wales
MASTERS OVER 50
1. Brian Connolly - N.West
2. John Lee - North
3. Gordon Pasquill - N.West
4. Pat Collard - Midlands
5. Robert Turner - Scotland
6. Herbie Chiang - N.I.
NP
Kevin Welch - North
Peter Webb - Midlands
Martin Hall - N.East
David Steca - N.East
Ray Dixon - N.East
John Young - Wales
Martyn Yates-Brown - N.West
Sam Metcalfe - Scotland
Ed Ibbotson - North
Doug Quine - West
Bob Dawson - Midlands
Denton Wilson - N.East
JUNIORS
1. Daniel Barry - West
2. Adam Baines - N.West
3. John-Mark Wardle - North
4. Philip Graham - N.I.
5. Paul Ryan Douglas - North
6. Richard O'Hara - N.West
NP
Liam Killinger - N.West
Adam Gufferty - North
Jonny Reid - Wales
Harry Ainslie - North
Wayne Lilly - N.East
Christopher Walsh - N.West
NOVICE MEN
1. Anthony Ellett - North
2. David Jackson - Scotland
3. Patrick Ryan - N.West
4. Mike Hanson - N.East
5. Joseph Boyd - N.West
6. Alastair Ives - N.West
NP
Faysal Tabbara - N.East
Wojciech Frankowski - Midlands
Ian Hardisty - N.East
Rob Harriss - N.East
Del Honeyman - Scotland
Paul West - West
John Cribbin - North
MR. CLASS 4
1. Ian Sturrock - Scotland
2. Wade Stafford - N.East
3. William Donachie - Scotland
4. Adrian Burchall - N.West
5. Garry Hutton - N.West
6. Ricky Moore - N.East
7. Stevie Wright - North
8. Lee Callaghan - Wales
NP
Ken Carter - N.East
Daniel Hahn - West
MR. CLASS 3
1. Tom Young - N.West
2. Joe Walker - N.West
3. Rob Clapham - N.East
4. Anthony Bailes - North
5. Carl Robinson - Midlands
6. Shaun Danby - North
7. Wayne Keene - Wales
8. Stephen Bogle - Scotland
NP
James Gutteridge - S.East
Vincento De Marzio - S.East
Darren Casey - Midlands
Mark Taylor - Scotland
MR. CLASS 2
1. David Bell - North
2. David Guest - West
3. Andy James - Midlands
4. Paul Mason - N.East
5. Geoff Nutt - West
6. Kai Lyons - Midlands
7. Tim Rosiek - N.West
8. Darren Crocker - S.East
NP
Steven Stewart - N.I.
Brian Harris - Scotland
MR. CLASS 1
1. Dave Titterton - N.East
2. Eddie Gray - S.East
3. Andy Jamieson - Scotland
4. Lee Harding - Midlands
5. Rodney Knight - Wales
6. Stuart Garrington - N.East
7. Michael Stokell - North
8. Matt Hill - S.East
NP
Scott Newton - N.West
Vit Bohac - Midlands
Philip Spooner - Wales
Shaun Sproattes - North
Laurie Geoghegan - West
Darren Lewis - S.East
Julian Jordan - Midlands
Chris Vergo - Scotland
Shaun McDonald - West
NTSC DVD, OPEN REGION