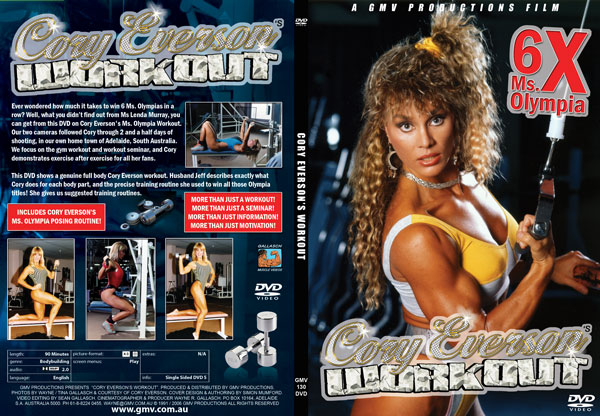 Click here for preview clip

Cory Everson's Workout

Ever wondered how much it takes to win 6 Ms. Olympias in a row? Well, what you didn't find out from Lenda Murray, you can get from this DVD on Cory Everson's Ms. Olympia Workout.

Our two cameras followed Cory through 2 and a half days of shooting, in our own home town of Adelaide, South Australia. We focus on the gym workout and workout seminar, and Cory demonstrates exercise after exercise for all her fans.

This DVD shows a genuine full body Cory Everson workout. Husband Jeff describes exactly what Cory does for each body part, and the precise training routine she used to win all those Olympia titles!! She gives us suggested training routines and, as a special bonus, we include Cory's 1989 Ms. Olympia victory posing routine. This video is our most in-depth feature we have ever shot.

PHOTO GALLERY.

For the second DVD in this series featuring CORY'S TRAINING ADVICE AND POSING (GMV-131DVD) click here.

Cory Everson: Ms. Olympia's Training Advice & Posing

Cory Everson visited Australia, and took time out to come to Adelaide - the home of GMV Productions. From our two days of taping we released an in-depth workout (GMV-130DVD) and the second one GMV-131DVD is centred around our interview/seminar with Cory and Jeff. It reveals the Cory everyone wants to know, and she answers all the questions you wish you could ask her yourself. It's like a personal seminar.

Where Cory gives training advice, we have shown her demonstrating the specific exercise she and Jeff are discussing. She covers diet and nutrition and much more.

GMV-131DVD

For the 3rd DVD in this series featuring Cory's SEMINAR & POSING, see GMV-041/042DVD.

Cory Everson - Ms Olympia's Seminar & Posing

This is DVD #1 in our series of 3 DVDs we have produced on Cory. This is the seminar DVD to judge all the others against! It's educational and entertaining throughout, and gives you the hard facts, together with humour and amusing anecdotes about bodybuilding personalities.

The charisma and charm of Jeff and Cory is sheer magic and the camera captures the special way these people relate to each other and to the audience.



GMV-041_042DVD

We also have A book SUPERFLEX B-0300 that feature Cory.

SuperFlex by Cory Everson

Let the world's most-celebrated female bodybuilder help you redesign your body and achieve the look you want, Corinna Everson, three-time consecutive winner of the prestigious Ms. Olympia title, reveals her training secrets that helped develop a shape that is admired around the world.

Whether you've never picked up a barbell, or have been pumping iron for years, her state-of-the-art training techniques promise to produce dramatic results in the shortest time possible.
Cory Everson - Contest History


1
981

Central USA Championships - AAU, Winner
Ms Midwest - AAU, Tall, 1st
Ms Midwest - AAU, Overall Winner
1982
North American Championships - IFBB, Overall Winner
1984
Nationals - NPC, HeavyWeight, 1st
Nationals - NPC, Overall Winner
Olympia - IFBB, Winner
1985
Olympia - IFBB, Winner
1986
Olympia - IFBB, Winner
1987
Olympia - IFBB, Winner
1988
Olympia - IFBB, Winner
1989
Olympia - IFBB, Winner

* Available in NTSC DVD, OPEN REGION