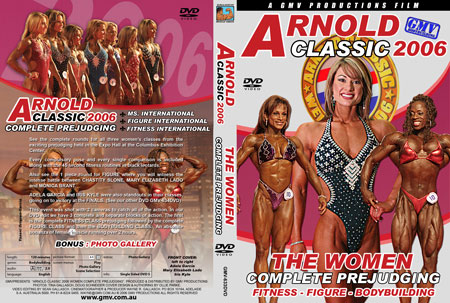 Click here for the Prejudging preview clip
2006 Arnold Classic - Complete Women's Prejudging -
Ms. International, Fitness International, Figure International.

See the complete rounds for all three women's classes from the exciting prejudging held in the Expo Hall at the Columbus Exhibition Center.
Every compulsory pose and every single comparison is included along with the fitness routines in black leotards. Also see the 1 piece round for FIGURE where you will witness the intense battle between CHASTITY SLONE, MARY ELIZABETH LADO and MONICA BRANT.
ADELA GARCIA and IRIS KYLE were also standouts in their classes, going on to victory at the FINALS.
Click here for GMV-634DVD, 2006 Arnold Classic - Women's Finals.
Click here for the complete event as a 2 DVD set, Prejudging and Finals, GMV-642DVDSP
For the full results of all 3 classes, see below. This event was shot with 2 cameras to catch all of the action.
Wayne shot the complete Women's Prejudging from his special TV platform which was provided for him. Sean shot second camera close-up behind the judges' row. The 2 camera shoot provides a stunning close-up look at the best athletes in the world.
In our DVD edit we have 3 complete and separate blocks of action. The first is the complete FITNESS CLASS prejudging followed by the complete FIGURE CLASS and then the BODYBUILDING CLASS. An absolute bonanza of female muscle running over 2 hours.

Running Time: 121 mins
Extra Features:
Fabulous photo gallery.

Photographers:

Tina Gallasch
Doug Schneider

2006 Ms. International Results
March 3, 2006 at Columbus, Ohio

1 Iris Kyle, USA
2 Dayana, Cadeau USA
3 Yaxeni Oriquen-Garcia, Venezuela
4 Jitka Harazimova, Czech
5 Betty Pariso, USA
6 Bonny Priest, USA
7 Annie Rivieccio, USA
8 Lisa Aukland, USA
9 Kim Harris, USA
10 Antoinette Norman, USA
11 Mah-Ann Mendoza, USA
12 Rosemary Jennings, USA
13 Christine Roth, Canada
14 Angela Debatin, USA
2006 Fitness International Results
March 3, 2006 at Columbus, Ohio

1 Adela Garcia, USA
2 Kim Klein, USA
3 Jennifer Henderschott, USA
4 Tracey Greenwood, USA
5 Julie Childs, USA
6 Tanji Johnson, USA
7 Julie Palmer, USA
8 Regiane DaSilva, Germany
9 Angie Monteleone-Semsch, USA
10 Stacey Simons, USA
10 Mindi O'Brien, Canada
12 Heidi Fletcher, USA
13 Allison Daughtry, USA

2006 Figure International Results
March 3, 2006 at Columbus, Ohio
Jenny Lynn pulled out on the last day because of illness, bringing a new champion, amid some controversy.

1 Mary Elizabeth Lado, USA
2 Monica Brant-Peckham, USA
3 Amanda Savell, USA
4 Chastity Slone, USA
5 Jane Awad, USA
6 Christine Pomponio-Pate, USA
7 Latisha Wilder, USA
8 Valerie Waugaman, USA
9 Monica Guerra, USA
10 Elaine Goodlad, USA
11 Danielle Hollenshade, USA
12 Gina Camacho, USA
13 Nina Luchka, Canada
14 Deborah Leung, Canada
15 Michelle Flake, USA
16 Tammy Pies, USA
17 Ali Metkovich, USA
18 Anna Larsson, Sweden
18 Zhanna Rotar, USA
* Available in NTSC DVD (region free)