2010 Arnold Classic Complete Women's Prejudging
BODYBUILDING, FIGURE & FITNESS

SHOT IN WIDE SCREEN 16:9 FORMAT FOR THE FIRST TIME EVER!

Date & Place: March 5 - Friday, 2010, Greater Columbus Convention Center, Columbus, Ohio, USA.
The 2010 Arnold Sports Festival - A Classic Productions, Inc event.
Arnold Classic Executive Producer: Jim Lorimer.
Classic Productions http://www.arnoldsportsfestival.com/
Camerawork by Live Technologies and Wayne Gallasch, GMV Productions.
Special thanks to Lorz Communications - Public Relations, Shawn Loevenguth - Live Technologies.
Please click here to read A brief History on the Arnold Sports Festival.

See the complete rounds for all three women's classes - BODYBUILDING, FIGURE & FITNESS from the exciting prejudging session, held on the main stage at the Greater Columbus Convention Center. For your viewing pleasure we edited together as a separate block, all rounds for each of FIGURE, FITNESS and BODYBUILDING. This means that you see the complete FIGURE CLASS followed by the complete FITNESS CLASS followed by the complete WOMEN'S BODYBUILDING CLASS.
As usual, we shot some incredible footage from our TV riser. Every compulsory pose and every single comparison is included. This exciting prejudging DVD presentation brings you a bird's eye view of each competitor, from every angle from walk-on to the end of each section. Always bringing you the best possible angle and close-up on each competitor.
We feel that this DVD is the best, most exciting Women's Prejudging DVD we have ever offered. It is shot in brilliant WIDE SCREEN 16:9 FORMAT for the first time ever at the Arnold Sports festival.
JULIE PALMER and ADELA GARCIA battled it out for Fitness International honours with Adela victorious. IRIS KYLE, YAXENI ORIQUEN and DEBI LASZEWSKI were the main standouts in the Ms International class with Iris taking the title yet again.
In the Figure Class is was a great battle between new young stars NICOLE WILKINS-LEE and the very tall ERIN STERN with Nicole making it the double after winning the 2009 Figure Olympia.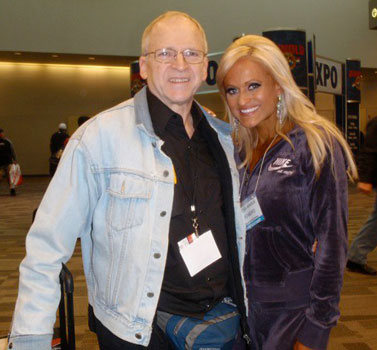 Australia's Rosa-Maria Romero, pictured right, with GMV's Wayne, taken after the Figure Class Prejudging.

Please click here for the 2010 Arnold Women's 2 DVD Set of Prejudging & Finals, GMV-777DVDSP.

For the 2010 Arnold Complete Women's Finals, please click here for GMV-776DVD.
For the 2010 Arnold Classic Men's DVD, please click here for GMV-774DVD.
EXTRAS:
Photo Gallery from Prejudging
National Anthem & Color Guard 5 mins
The Luge Guy - Victor Paru 3 mins
Dance Sport Performance 5 mins
Format: 16:9 Wide Screen.
Running time: 121 mins
Contest Results: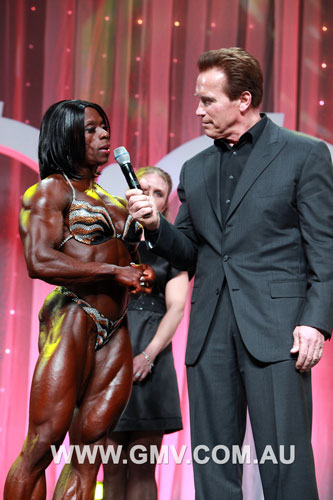 Ms. International
1 Iris Kyle - USA
2 Yaxeni Oriquen-Garcia - Venezuela
3 Debi Laszewski - USA
4 Lisa Aukland - USA
5 Betty Pariso - USA
6 Dayana Cadeau - USA
7 Zoa Linsey - Canada
8 Alina Popa - Romania
9 Elena Shportun-Willemer - Russia
10 Brenda Raganot - USA
11 Antoinette Thompson - USA
12 Jeannie Paparone - USA
13 Dena Westerfield - USA
14 Mah-Ann Mendoza - USA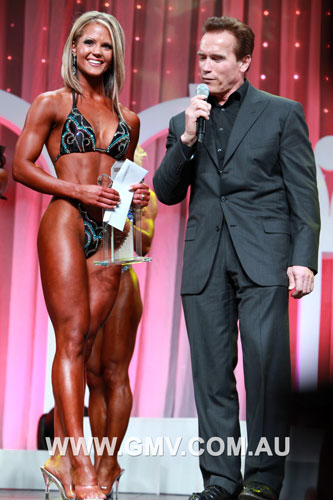 Figure International
1 Nicole Wilkins-Lee - USA
2 Erin Stern - USA
3 Heather Mae French - USA
4 Mindi Smith - USA
5 Felicia Romero - USA
6 Larissa Reis - Brazil
7 Monica Brant - USA
8 Kristi Tauti - USA
9 Andrea Watson - USA
10 Rosa-Maria Romero - Australia
11 Monica Mark-Escalante -USA
12 Latisha Wilder - USA
13 Candice Houston - USA
14 Cristiana Casoni - Italy
15 Kim Tilden - Canada
15 Krissy Chin - USA
16 Sherlyn Roy - USA
17 Alicia Harris - USA
18 Angela Mraz - USA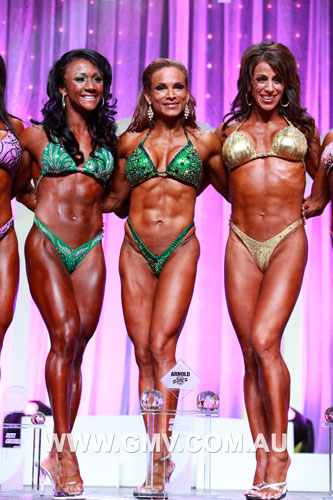 Fitness International
1 Adela Garcia - USA
2 Julie Palmer - USA
3 Tanji Johnson - USA
4 Trish Warren - USA
5 Oksana Grishina - Russia
6 Camala Rodriguez - USA
7 Tina Durkin - USA
8 Myriam Capes - Canada
8 Regiane Da Silva - Germany
10 Nicole Duncan - USA
11 Bethany Wagner - USA
12 Kizzy Vaines - UK
13 Sylvia Tremblay - USA
14 Kayde Puckett - USA
15 Allison Ethier - Canada


"In this DVD you will see an absolute bonanza of gorgeous figure women, remarkable fitness routines and rippling hard core female muscle. Plus the Photo Gallery."
All cover and Gallery photos are by Gary Phillips http://www.garyphillipsphotography.com/

Please click here to see our brief Arnold Classic Contest Report.

Please click here to see Wayne's Arnold Classic Complete Event Photos and Results.
Please click here for the Complete Arnold Classic DVD Collection - Men & Women including Strongman.

My personal thanks to the whole production crew at LIVE TECHNOLOGIES http://livetechnologiesinc.com/ and everyone connected with the 2010 Arnold Classic. Also my thanks to CNP Professional – the corporate sponsors of GMV. www.cnpprofessional.co.uk and www.cnp-professional.com

NTSC DVD, OPEN REGION

Customers who viewed this DVD also viewed:






Click here for GMV Productions complete list of Female Muscle and Fitness DVDs.