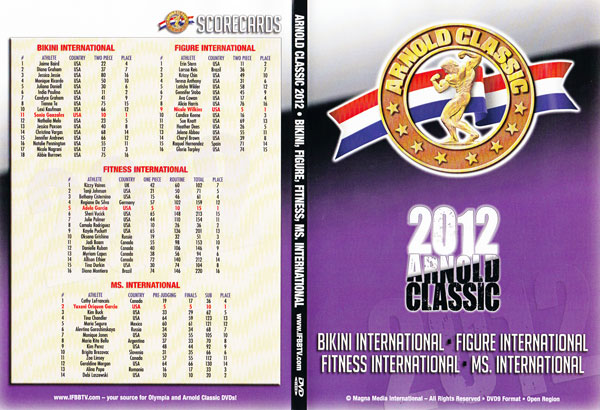 Click here for preview.
2012 Arnold Classic - The Women

Ms. International, Fitness International, Figure International & Bikini International.
Columbus, Ohio March 2nd & 3rd, 2012.
This year we are again offering a FOUR HOUR DVD of the Arnold Classic Women's Events.
This disc contains complete coverage of all WOMEN'S prejudging AND finals, plus awards presentations of these contests featuring the IFBB's diverse competitive divisions for professional female athletes.
The 4 International winners were:
Ms. International: Yaxeni Oriquen Garcia
Fitness International: Adela Garcia
Figure International: Nicole Wilkins
Bikini International: Sonia Gonzales
All athletes, all comparisons, all routines, all awards are included in this comprehensive DVD. 4 incredible hours on one disc in Open Region, suitable for all DVD players. Photos courtesy jasonbreeze.com
Click here for the COMPLETE 2012 ARNOLD CLASSIC EVENT RESULTS.

See the COMPLETE COLLECTION OF ARNOLD CLASSIC DVDs.

The 8 hours 2 DVD set on THE AMATEURS is now in stock, see details below.

Click here for the COMPLETE 2012 ARNOLD AMATEUR RESULTS.

Running time: 240 mins


2012 Arnold Classic & Arnold Strongman

See Branch Warren make it two victories in a row at the 2012 Arnold Classic as he triumphs over sensational Dennis Wolf and Evan Centopani. The top 6 were 1. Branch Warren, 2. Dennis Wolf, 3. Evan Centopani, 4. Ben Pakulski, 5. Dexter Jackson, 6. Lionel Beyeke.



A-1406DVD
2012 Arnold Classic Amateur 2 DVD Set

Over 600 athletes from more than 50 countries competed in 29 separate divisions for this amazing international festival of strength and fitness! This is our second Amateur offering in many years, and we are very proud to give the fans almost NINE HOURS of coverage in this Double-DVD set featuring Men's Bodybuilding, the new Men's Classic Bodybuilding, Women's Bodybuilding, Women's Fitness, Women's Figure, Women's Bikini, and highlights (the final 15 athletes) of Masters Figure.



A-1409DVD
Women's Bodybuilding -
Ms International
1. Yaxeni Oriquen
2. Debi Laszewski
3. Alina Popa
4. Cathy LeFrancois
5. Kim Buck
6. Brigita Brezovac
7. Alevtina Goroshinskaya
8. Maria Rita Bello
9. Kim Perez
10. Monique Jones
11. Zoa Linsey
12. Maria Segura
13. Tina Chandler
14. Geraldine Morgan
Figure International
1. Nicole Wilkins
2. Erin Stern
3. Candice Keene
4. Ava Cowan
5. Heather Dees
6. Teresa Anthony
7. Larissa Reis
8. Cheryl Brown
9. Gennifer Strobo
10. Krissy Chin
11. Jelena Abbou
12. Latisha Wilder
13. Sue Knott
14. Raquel Hernandez
15. Gloria Tarpley
16. Alicia Harris
Fitness International
1. Adela Garcia
2. Camala Rodriguez
3. Oksana Grishina
4. Bethany Cisternino
5. Tanji Johnson
6. Myriam Capes
7. Kizzy Vaines
8. Tina Durkin
9. Danielle Ruban
10. Jodi Boam
11. Julie Palmer
12. Regiane Da Silva
13. Kayde Puckett
14. Allison Ethier
15. Sheri Vucick
16. Diana Monteiro
Bikini International
1. Sonia Gonzales
2. India Paulino
3. Nicole Nagrani
4. Jaime Baird
5. Nathalia Melo
6. Juliana Daniell
7. Diana Graham
8. Jessica Paxson
9. Candyce Graham
10. Monique Ricardo
11. Natalie Pennington
12. Jennifer Andrews
12. Lexi Kaufman
14. Christina Vargas
15. Tianna Ta
16. Abbie Burrows
16. Jessica Jessie
2012 Arnold Classic & Arnold Strongman

See Branch Warren make it two victories in a row at the 2012 Arnold Classic as he triumphs over sensational Dennis Wolf and Evan Centopani. The top 6 were 1. Branch Warren, 2. Dennis Wolf, 3. Evan Centopani, 4. Ben Pakulski, 5. Dexter Jackson, 6. Lionel Beyeke.



See A-1406DVD
NTSC DVD, OPEN REGION