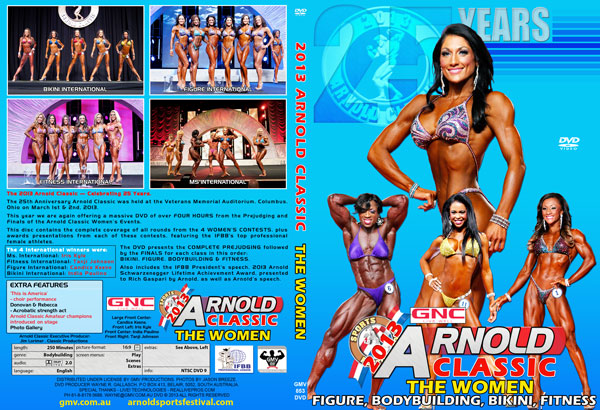 Click here for preview clip.

2013 Arnold Classic - The Women

Ms. International, Fitness International, Figure International & Bikini International.

Download Part 1.

Download Part 2.

(Part 1 includes Bikini, Figure & Extras. All the rounds – comparisons, posing routines and awards.
Part 2 includes Fitness and Bodybuilding. All the rounds – comparisons, posing routines and awards.)
****************************************************************************************

The 25th Anniversary Arnold Classic event was held at the Veterans Memorial Auditorium, Columbus, Ohio on March 1st & 2nd, 2013.
This year we are offering a massive DVD of over FOUR HOURS from the Prejudging and Finals of the Arnold Classic Pro Women's Events.
This disc contains the complete coverage of all rounds from the 4 WOMEN'S CONTESTS, plus award presentations from each of these events, featuring the IFBB's top professional female athletes.

STILL MORE RECORDS -
Iris Kyle, unbeknown to most, was ill during the weekend, suffering from a bad cold, but that didn't stop the once the many times Ms. International, who missed the 2012 event due to injury, from continuing to dominate the women's pro bodybuilding as she muscled her way to a record 7th victory in the women's contest.
In the process she bested her main rival, 5-time Ms. International winner Yaxeni Oriquen. Kyle and Oriquen have brought a familiar theme to the show over the years - one or the other of them has won every Ms. International since 2002. For Iris this was a fitting victory as 2013 was the very last Ms. International contest.

The 4 International winners were:
Ms. International: Iris Kyle
Fitness International: Tanji Johnson
Figure International: Candice Keene
Bikini International: India Paulino (pictured right)
See the ARNOLD CLASSIC PRO WOMEN'S PHOTO GALLERY. Thanks to Jason Breeze for the great photos.

THE COMPLETE COLLECTION OF ARNOLD CLASSIC USA DVDs & DOWNLOADS.
DVD CONTENTS:
The DVD presents the COMPLETE PREJUDGING followed by the FINALS for each class, seen in this order:
BIKINI, FIGURE, BODYBUILDING & FITNESS.
EXTRAS
'This is America' - choir performance
Donovan & Rebecca - Acrobatic strength act
Arnold Classic Amateur Champions introduced on stage
Arnold Classic Women's Photo Gallery
Also includes the IFBB President's speech, 2013 Arnold Schwarzenegger Lifetime Achievement Award presented to Rich Gaspari by Arnold, as well as Arnold's speech.
RUNNING TIMES: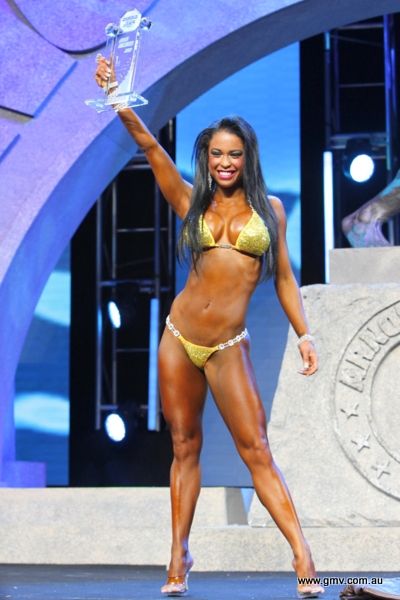 Introduction and credits – 2 mins
Bikini Class – 30.5 mins
Figure Class 46.5 mins
Bodybuilding Class – 84 mins
Fitness Class – 49 mins
Extras and Speeches - 38 mins
Total Running Time: 250 mins
The 2013 IFBB Arnold Classic & Arnold Sports Festival are Presented by Classic Productions.
Celebrating the 25th Anniversary of the Arnold Classic.
www.arnoldsportsfestival.com
COMPLETE WOMEN'S RESULTS
Women's Bodybuilding -
Ms International
1. Iris Kyle - USA
2. Yaxeni Oriquen - USA
3. Debi Laszewski - USA
4. Brigita Brezovac - Slovenia
5. Cathy LeFrancois - Canada
6. Angela Debatin - USA
7. Kim Buck - USA
8. Olga Puzanova - Russia
9. Tazzie Colomb - USA
10. Jeannie Paparone - USA
11. Elena Kava - Greece

Figure International
1. Candice Keene - USA
2. Heather Dees - USA
3. Erin Stern - USA
4. Candice Lewis - USA
5. Mallory Haldeman - USA
6. Camala Rodriguez - USA
7. Ava Cowan - USA
8. Gennifer Strobo - USA
9. Cheryl Brown - USA
10. Kamla Macko - USA
11. Ann Titone - USA
12. Aleisha Hart - Canada
13. Candice John - Trinidad, WI
14. Nicole Sims - USA
15. Alea Suarez - USA
16. Giada Simari - Italy
16. Natalie Waples - Canada
16. Olga Maria Morales Gallardo - Mexico
Fitness International
1. Tanji Johnson - USA
2. Oksana Grishina - Russia
3. Bethany Cisternino - USA
4. Trish Warren - USA
5. Regiane Da Silva - Germany
6. Ryall Graber-Vasani - Canada
7. Kizzy Vaines - UK
8. Nicole Duncan - USA
9. Fiona Harris - Canada
10. Amanda Hatfield - USA
Bikini International
1. India Paulino - USA
2. Nathalia Melo - Brazil
3. Nicole Nagrani - USA
4. Yeshaira Robles - USA
5. Jessica Paxson - USA
6. Jaime Baird - USA
7. Jennifer Andrews - USA
8. Tiffany Boydston - USA
9. Tawna Eubanks - USA
10. Ashley Kaltwasser - USA
11. Anna Virmajoki - Finland
12. Lacey Deluca - USA
13. Abbie Burrows - USA
14. Lexi Kaufman - USA
15. Noy Alexander - USA
16. Marcela Tribin - Colombia
2013 Arnold Classic – Celebrating 25 Years

The 25th Anniversary Arnold Classic was held at the Veterans Memorial Auditorium, Columbus, Ohio on March 1st & 2nd, 2013. Congratulations to the winner Dexter Jackson who also won the Arnold Classic in 2005, 2006 and 2008. This DVD presents the COMPLETE PREJUDGING with all of the compulsory poses and callouts, plus the complete FINALS and the Final Event of the Pro Strongman, the Circus DB Lift. See this complete Circus Lift contest, along with the winner's award by Arnold to Vytautas Lalas of Lithuania.


2013 Arnold Strongman Classic

Enjoy the complete coverage of this incredible display of skill and strength from Days 1 and 2. This DVD covers every moment of each of the 5 events. You will see the world's greatest Strongmen in action as they pit their skills against each other in these unique challenges of strength, power, stamina and determination. The events are designed to test brute strength and determine which competitor is the strongest man! New world records were set, and the exciting final event, the Circus Dumbbell Lift, was held on the Veterans stage in front of thousands of fans. The first time winner, VYTAUTAS LALAS of Lithuania was presented his award by Arnold Schwarzenegger.
2013 Arnold Classic Amateur Men

This massive contest DVD of over 4 hours has something for everyone. There are world class athletes in every category from lighter style Men's Physique through to the super heavyweight Men's Bodybuilding stars. This is an international event with the top amateur guys from around the world. See all of the lineups, key comparisons and callouts plus posing by the top guys, and all awards and posedowns.


Click here for the COMPLETE 2013 ARNOLD CLASSIC PRO EVENT RESULTS.
Click here for the COMPLETE 2013 ARNOLD AMATEUR RESULTS.

www.arnoldsportsfestival.com
www.arnoldclassicbrasil.com.br
www.arnoldclassiceurope.es
This Event is Officially Sanctioned by the IFBB Professional League.

International President
Rafael Santonja-Gomez

Chairman
Jim Manion

Event Promoters
Jim Lorimer
Bob Lorimer
Classic Productions

Meet Director
Arnold Schwarzenegger

Video footage
LIVE! TECHNOLOGIES
Columbus, Ohio
www.reallivepros.com

2013 Arnold Sports Festival Crew List

Veteran's Memorial

Event Producer Shawn Loevenguth
Production Assistant Sarah Joyce
Stage Manager Adriana Berger
Stage Manager Carrie Chew
Stage Manager Maxine Mendelson
FOH Audio Engineer Steve Jones
Audio Engineer Scott Robinson
Audio Engineers for
Amateur Events John McKown
FOH Lighting Technician Michael Hesmond
Lighting Technician Nathan Martin
Video Director Tim Jarmain
Tape Operator James Lewis
Camera Operator Ron Caruso
Camera Operator Randy Silcott
Camera Operator Eric Obert
Head Carpenter Dave Steinmetz
Carpenter Marce Righthouse
Set Design Jocelyn McDaniel

Expo Stage

Site Supervisor Andrew Stever
Audio Technician Gus Caulk
Lighting Technician Dayna Schlefstein
Video Director Brandon Mendenhall
Tape Operator Jerry Jack
Camera Operator Ryan Scott
Camera Operator Matt Gault

IFBB Professional League Official Judging Panel

Head Judges
James Rockell
Sandy Williamson

Judges
Debbie Albert
Juliette Bergmann
Tyrone Felder
Bev Francis
Vicki Gates
Ron Hache
Erich Janner
Mike Katz
Benedetto Mondelo
Victor Prisk
Lee Thompson
Steve Weinberger
Linda Wood Hoyte
Masters of Ceremony
Clint Richards
Lonnie Teper
Photography for DVD
Jason Breeze www.jasonbreeze.com
Sponsors:
Major Sponsor - GNC
National Sponsors:
Hollywood Casino
MHP
EAS
Bodybuilding.com
MET-RX
BSN
Universal Nutrition
Probiotica
MusclePharm
Gaspari
Justice & Brothers
Ricart
BPI
Optimum Nutrition
MRI
Vitamin Shoppe
All American EFX
Infinite Labs
Allmax
American Airlines
AEP
JanTana
Subway
Ten.1
Fight Magazine
GMV would like to thank:
Bob Lorimer
Brent LaLonde
Jerman Abney
Sarah Joyce
Jason Breeze
NTSC DVD, OPEN REGION